Dizzy Gillespie: Trumpet Pyrotechnician
We'd like to welcome Take Five, NPR Music's weekly five-song listening sampler, to A Blog Supreme. For years now, our own Lars Gotrich has helped produce these features, which spotlight great artists, styles, sounds and/or fun thematic programs. On Tuesdays, we'll run our lists here on this page. Follow the Take Five category for the full archive. --Ed.
Trumpeter John Birks Gillespie was born Oct. 21, 1917 in Cheraw, S.C. His family moved to Philadelphia when he was 14. It was there where he began picking up professional gigs. Early in his musical career, when he was playing with swing bands, he gained the nickname most know him by, "Dizzy."
Gillespie was one of the greatest jazz trumpeters of all time. He came into jazz through swing bands, but he had more complex melodies, harmonies and rhythms in mind. He would soon become one of the founders of the bebop jazz style (along with collaborator Charlie Parker) and a founder of Afro-Cuban jazz.
Aside from being an innovative musician, Dizzy Gillespie was also an extraordinary showman. He often clowned around, bantered with the audience and moved around onstage. Gillespie was also an educator, serving as a mentor to many great musicians who followed him.
It is hard to pick just five songs (or albums, even), but these five highlight not only Gillespie, but the many musicians who worked with and learned from him.
Dizzy Gillespie: Trumpet Pyrotechnician
Night in Tunisia
"Night in Tunisia" is one of Dizzy Gillespie's earliest and best known compositions. The piece exhibits Afro-Cuban rhythms and the sound of bebop when the style was still new to many ears. Though the music is more complex than swing, it is somehow still almost danceable. Gillespie's soaring trumpet solo is simply sublime. This version of the now well-known and often-played jazz standard was recorded in 1946. The band features Don Byas on tenor sax, Milt Jackson on vibes, Ray Brown on bass, Al Haig on piano, Bill DeArango on guitar and J.C. Heard on drums. If you don't own any Dizzy Gillespie recordings, this CD is a solid collection of tunes from 1946-1949 that is worth picking up.
In the Land of Oo-Bla-Dee
In the Land of Oo-Bla-Dee
"In the Land of Oo-bla-dee" is probably the hippest fairy tale you'll ever hear. Though Gillespie sometimes sang, he turned vocal duties over to Joe "Bebop" Carroll for this 1949 date. The music was composed by pianist Mary Lou Williams; the amusing lyrics by Milt Orent. This song shows some of the fun and humor that was always present in a Gillespie performance.
Dizzy's Blues
The Dizzy Gillespie big band assembled for this 1957 Newport Jazz Festival recording featured many members that had just been touring together internationally as musical ambassadors for the U.S. State Department. The band features jazz greats including a young Lee Morgan on trumpet, Melba Liston on trombone, Billy Mitchell and Benny Golson on tenor saxes and Wynton Kelly on piano. The musicianship is top notch for the top number on the album, "Dizzy's Blues." After a short introduction by Gillespie, the band immediately burns into the tune -- and the audience sounds into it. Gillespie must have been doing something funny during the introduction because the audience is laughing before the song even begins.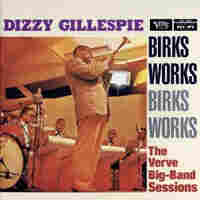 Joogie Boogie
"Joogie Boogie" is included here because it is rarely heard. The 1957 recording doesn't feature any of Gillespie's trademark trumpet pyrotechnics, but instead has a low-key boogie-woogie feel to it -- something you can tap your toes to. His trumpet is swinging and clear. The song is credited to Babs Gonzales, an early bebop singer with whom Gillespie worked.
Jessica's Day
Dizzy Gillespie spent much time traveling the world as a musical ambassador for the United States. This 1956 recording is the first of three volumes recorded during travels to South America for a U.S. State Department-sponsored tour. None of the recordings were released until 43 years later. The big band assembled for the tour is excellent. Quincy Jones, the composer of "Jessica's Day," served as a trumpeter and the musical director for the tour. Members also included Benny Golson on tenor sax, Melba Liston on trombone, Charlie Persip on drums and Phil Woods on alto sax, to name a few.
Get to know jazz...five songs at a time...with more Take Five lists.