The Many Moods Of James Moody
Brad Barket/Getty Images Entertainment
Millions of listeners know James Moody, even if they don't know him by name. He composed one of the most enduring songs in American music, "Moody's Mood for Love," and he did it with on-the-spot improvisation. Even Aretha Franklin sang it. He's made an unforgettable film appearance, walking an invisible dog in Clint Eastwood's Midnight in the Garden of Good and Evil. He splashes more cologne than any one person should use, yet his kiss-on-both-cheeks greeting is treasured for its sincerity, even if the scent marks the recipient for the rest of the day.
Moody is one of bebop's finest practitioners, and he's made tremendous music for more than 60 years. As a partially deaf child in Newark, N.J., he battled the perception that he was mentally retarded (to use the term of the day). As a member of a segregated Air Force band, he suffered the indignity of racism in 1940s America. He battled an addiction to alcohol.
Yet there's no one with a sunnier disposition than James Moody, an indomitable spirit in jazz music. He's one of this country's great treasures, and the spirit of jazz is better for having him as one of the music's leading lights. Hear a handful of great Moody recordings here, but be sure to explore further. There's plenty more.
Note: James Moody has been diagnosed with pancreatic cancer, and he has decided against continued treatment. He is convalescing in his California home. If you'd like to send him a note, please contact him here.
The Many Moods Of James Moody
Moody's All Frantic
from James Moody and His Modernists
by James Moody
James Moody's breakout moment came with "Emanon," a 1946 recording with Dizzy Gillespie's Orchestra. Two years later, he made his debut as a leader for Blue Note Records. James Moody and His Modernists included members of the famed Gillespie big band, including bebop arranger Gil Fuller and Cuban percussionist Chano Pozo. "Mood's All Frantic" features Moody blazing through chord changes at a "dizzying" pace. It's a remarkable tour de force, as well as a great introduction to Moody's ebullient solo style.  

I'm in the Mood for Love
from Moody's Mood for Love
by James Moody
This is James Moody's signature solo, and it catapulted him into the spotlight. Moody's improvisation in the Jimmy McHugh song "I'm in the Mood for Love" was recorded for Metronome with James Moody and His Swedish Crowns. It's the first time Moody recorded a solo on the alto saxophone (a borrowed horn), and it was performed on a whim. The song was a hit for Moody, and it brought him back to America from Paris. King Pleasure would later sing vocalist Eddie Jefferson's lyrics based on this improvisation, and Moody's Mood for Love became one of the pillars of his very long career in music.  

Last Train from Overbrook
Last Train From Overbrook
from Return from Overbrook
by James Moody
Moody's septet with singer Eddie Jefferson was among the best groups of the 1950s; one that could deftly cross from jazz into rhythm and blues seamlessly. They were making great music for Argo, a subsidiary of the famed Chicago label Chess Records. But a fire destroyed the band's instruments, and James Moody's alcoholism threatened to consume his career. Moody checked into Overbrook Hospital in Cedar Grove, N.J., determined to right himself.  Upon his release, Moody wrote "Last Train From Overbrook," one of the great locomotive songs. He'd defeated his addiction for good. 

Enter, Priest
from Cool World
by Dizzy Gillespie
Dizzy Gillespie figures prominently throughout the story of James Moody, from his earliest recordings in the Dizzy Gillespie Orchestra to his more recent membership in the Dizzy Gillespie Alumni All-Star band. Moody spent the majority of the 1960s working in Gillespie's quintet, which also featured a young Kenny Barron at the piano. The group recorded pianist Mal Waldron's music for The Cool World, a film about Harlem's seedy drug culture. "Enter Priest" has a catchy melody line, instantly hummable, and Moody's solo bursts after the first minute.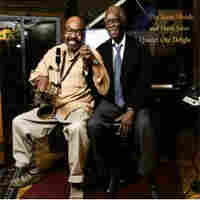 Body and Soul
from Our Delight
by James Moody
After some lucrative but forgettable time in Las Vegas show bands, Moody returned to jazz recording. He made a series of recordings for RCA in the '80s, then relaunched his career yet again on Warner Brothers in the '90s. He has also carried the bebop legacy of his mentor as a touring member of the Dizzy Gillespie Alumni All-Stars. His most recent recordings are for IPO Records, and abundant moments of beauty are scattered throughout them. His duet with the legendary Hank Jones in "Body and Soul," an anthem for tenor saxophonists, is one of his great statements. Moody made recordings well into his 80s, a remarkable marathon for a musician of any genre. Then again, James Moody is a remarkable man.