Songs For The Snowbound
If you find yourself stuck in the house due to recent snowfall around the country, huddling around the fire has surely become tiresome by now. So why not hover around your computer with some wintry tunes and a cup of tea instead? These five songs ought to make your winter a little brighter.
Snow Is Falling...
from Whirl
by Fred Hersch Trio
Fred Hersch composed "Snow Is Falling" not long before the recording of Whirl, while he was at a getaway in the woods. It must have been an inspiring, idyllic scene, because there's a gentle sparkling to the tune that evokes softly falling snow.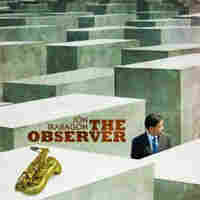 January Dream
from Observer
by Jon Irabagon
Alto saxophonist Jon Irabagon recorded The Observer not long after he was crowned winner of the 2008 Thelonious Monk International Jazz Saxophone Competition. Irabagon is known to many for his avant-garde leanings, but "January Dream" exhibits his straight-ahead side with this beautifully syncopated composition.
Snowfall
from Groove Brothers
by Wes Montgomery
Though Groove Brothers has a top Wes Montgomery billing, it actually features three Montgomery brothers: Wes (guitar), Buddy (vibes and piano) and Monk (bass). This classic Claude Thornhill composition is brought to life through cool guitar and almost tinkling vibes. "Snowfall" was recorded live at a club in Vancouver, B.C., in 1961.
Strange Place for Snow
This one is for those in parts of the country unaccustomed to seeing the white stuff at this time of year. Swedish group E.S.T. (led by the late Esbjörn Svensson) brought its modern European piano-trio sound stateside on this 2001 recording. "Strange Place for Snow" has a lively energy to it, and still sounds as fresh now as it did then.
Winter
from Poesia
by Edward Simon Trio
Pianist Edward Simon, accompanied by bassist John Patitucci and drummer Brian Blade, creates a beautifully flowing scene in "Winter." He does so with shifting tempos that evoke everything from running though snow to watching it fall gracefully. The other three seasons would do well to have Simon compose pieces for them.