I Went To See Wayne Shorter In North Carolina And All You Got Was This Post
Seeing saxophonist and composer Wayne Shorter perform has been on my personal bucket list for some time. And with all due respect, he's physiologically closer to kicking said bucket than I am. So when the Wayne Shorter Quartet recently went on a four-night North American tour, I put it down on my calendar to attend a show.
The band played in New York, but that was midweek, and it looked like all the Jazz Famous regulars would be there, and I could do without that hassle. Instead, I set my sights on Durham, N.C., where the band was playing at Duke University last Friday, Feb. 11.
Durham is a city of some 220,000 or so, but it over-represents itself in jazz. (The surrounding region, including Raleigh, Cary and Chapel Hill, is some 1.7 million, but I didn't end up leaving Durham in my 36-odd hours there.) Universities have something to do with this. Duke is home to The Jazz Loft Project, a research archive, jazz scholars, a music department and the type of concert presenter who would book Wayne Shorter. Plus, North Carolina Central University, an HBCU, has a strong performance program in jazz. There isn't anything in the way of a full-time jazz club in town, but there's a community of fans and musicians in and around the city.
So I made plans to arrive a day early and explore that community a bit. Here, in a tour diary format, are some of the stories I found in my time down there. My thanks to the good people of Durham for having me — I hope to be back. Ready:
---
Thursday, 4:55 p.m. Even around rush hour, downtown Durham isn't a particularly busy place. Around the time people ought to be getting out of work en masse, Main Street is eerily silent, at least by the standards of this big city dweller. I post up at a coffee shop to pass some time. I can get a cup of joe and an early dinner for under $5. I love the South.
7:00 p.m. Across the railroad tracks and down the road from downtown, Branford Marsalis was being interviewed (by Jazz Loft Project coordinator Sam Stephenson) at the Hayti Heritage Center, an old church converted to an African American arts center. Marsalis lives in Durham these days, one of the many idiosyncratic things about him. Why would a top tier jazz artist want to live outside New York or any another sizable scene, right?
He may have strong opinions, but Branford is no dummy. There's a sizable airport in town, and at least one good college jazz program (NCCU) where he was once asked to be artist-in-residence. That's really all a prominent jazzman needs for touring and teaching purposes. New York is a cold place, with a high cost of living and a highly competitive environment constantly filling up with young aspiring players and their fashions. The South is warmer, cheaper, more relaxed. And after years in the media spotlight — remember, he used to lead the Tonight Show band — one might want a bit of anonymity too. There was clearly experience and reason behind his words, frank as they were.
If there was a theme to his conversation, it was the importance of heart over head. Modern jazz was generally too "mathy," he kept saying in some variant, too dependent on complicated chord changes and book learning. There wasn't that sense of innate musicality from having grown up on church hymns, or learning in the home. There was an overemphasis on dense harmonies and unbalanced time signatures and individual heroism, not enough attention to melody or deeply-understood swing or group interaction. You got the sense this was part of his disaffection for New York: He was seeking a different sort of jazz community, or perhaps to simply withdraw from it altogether.
Memorably, he said that as musicians, "we need to get better." If jazz had a problem, it wasn't just lack of exposure, or smooth jazz ("If Kenny G quits, people won't suddenly buy Coltrane albums"), or dying arts education. Musicians just weren't capturing audiences they way they once did, and it's their fault for not communicating their passion.
Why was he so opinionated?, somebody asked him. Why so critical of others? He explained that his speaking out doesn't take gigs off the table for other musicians — he's happy to let them do what they want. But he's not going to stop having strong opinions — show me a great figure in history who didn't have strong opinions, he challenged — and he has an assured nonchalance toward his critics. Audience members kept asking him about the future of jazz, and he kept punting. Why should he, or any musician know that? Indeed, he only speaks on what he knows — not what he can't know.
10:30 p.m. In 2009, Duke Performances invited the phenomenal drummer Brian Blade to the Hayti for a special project. His father, Brady Blade Sr., is a singing pastor in Shreveport, La., where he hosted a gospel show on television for many years called The Hallelujah Train. So Blade wrangled his father, his brother (also a drummer) and a few of his close musical colleagues — plus busloads of parishioners from the Blades' Shreveport church — to recreate the program in concert.
While in Durham, Brian Blade ended up falling in love with a comfy bar and music venue in town called The Pinhook — so much so that he vowed to play a gig there the next time he was in town. He got his chance last Thursday when, between dates with the Wayne Shorter quartet, he played a solo show. When I walked in, it was just Blade, an electric guitar and some 40-odd moderately interested observers.
He was playing music from Mama Rosa, the singer-songwriter project he released a recording of in 2009. He's a thin reed of a man, and has a bit of a thin, reedy voice. But his are intensely personal songs, and here he played without even the backing band that normally accompanies this project.
So how was it? I don't know; I only got there for the last half-a-song. I know, I set you up for nothing. But I still ended up seeing music that night ...
11:15 p.m. A few blocks away, at a bar called Whiskey (guess what they specialize in) (local craft beer, too) (I love the South), the Brian Horton trio holds down Thursday nights. Horton is a saxophonist, an NCCU graduate who returned to teach at his alma mater, and he led a group of young recent graduates.
Now, Whiskey is not a listening venue — apart from a small handful of patrons, the crowd was largely oblivious to the music. The guest on a beat-up upright piano was next to inaudible over the din, even with amplification. But the band was swinging; the young drummer and bassist kept solid, chattery but unobtrusive time, and Horton wove his way in and out of it, with lots of tactful space. Among other tunes, they played a long riff on the first movement of A Love Supreme, and an Ornette Coleman blues ("Giggin'," I think) which opened up and turned flexible in the solos.
But here's another part of what makes it difficult to sustain a jazz scene in a place like Durham. The young bassist Jack Hill studied at nearby UNC-Chapel Hill before transferring to the conservatory at Oberlin College. He told me after a set that he was days away from moving to New York.
Friday, 10:45 a.m. Aaron Greenwald is the 30-something director of Duke Performances, the presenter which was bringing Wayne Shorter to town. Among their bookings this season in jazz: the Vijay Iyer Trio, Guillermo Klein and Los Guachos, SFJazz Collective playing Horace Silver, Jeff "Tain" Watts, Allen Toussaint with Nicholas Payton and the Joe Krown trio, The Bad Plus playing Stravinsky's The Rite of Spring. The schedule mixes this with classical, "new classical," rock, folk, dance, theater, etc. — all with the same aesthetic of one step in the past, one step in the future. I wanted to meet this guy.
Over coffee and pastries, we chatted about the ins and outs of working in a setting like Durham and Duke University: town-gown relations, the size of the market, the financial support he receives. He checked his Blackberry frequently; he had still to coordinate the pickup of the next day's performer from the airport before the show, and then somehow get tonight's bassist and his instrument to the venue. It was clear that Greenwald's was a very hands-on position; he wasn't the type of executive who spends his days in conferences and meetings. He was judge, jury and executioner, and then some.
He was frank about certain performances he felt were trainwrecks, or ones where the band didn't embrace the concept or setting properly, or ones which failed to sell and died on the vine. His program is known for high-concept pairings, like Brian Blade's aforementioned Hallelujah engagement, or the upcoming The-Bad-Plus-plays-Stravinsky show. But he's taken his lumps trying to force that issue too, and we talked about letting the artist simply be when he or she doesn't "get" the concept of having A Concept. We also talked about basketball.
When Greenwald split, he was off to pick up classical pianist Jeremy Denk. On Saturday night, Denk was presenting a program of Bach and Ligeti. Early modern and ultra-modern at once; it seemed about right.
2:15 a.m. I am walking around outside without a coat for the first time in months. I love the South.
2:30 p.m. The Duke University library system has a jazz archive. This is less common than you might think; the idea of having a professionally curated, restored and catalogued cache of jazz items is a bit complicated to execute. There aren't more than a handful of such places throughout the country.
Jeremy Smith, a product of the Duke graduate program in music, heads up the small but growing archive. He told me the collection focuses specifically on three areas: the history of jazz at Duke, the experience of women in jazz, and artists in and from the region (and the southeast U.S. at large).
At their base in Smith Warehouse — an old tobacco building, like many in town — he showed me some of the collections being processed into storage. The wife of late pianist John Hicks (b. Atlanta) gave boxes of tapes and sheet music to the archive; the documentarian of guitarist Tal Farlow (b. Greensboro, N.C.) also gave over his holdings. There were also boxes labeled "Frank Foster" and "Jeffrey" — i.e. Paul Jeffrey, Thelonious Monk's last saxophonist and Duke professor emeritus. It's almost thankless work, combing through miles of papers and weeks of personal recordings. But for that one researcher wandering in who finds what he or she needs, it must be invaluable.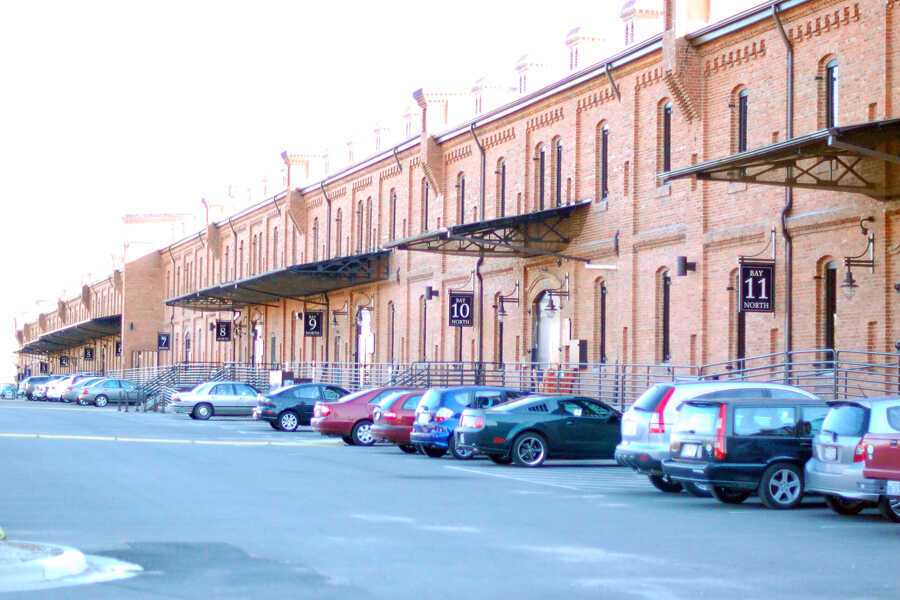 3:20 p.m. Across the street and up the hill from Smith Warehouse sits a large white house, with two separate structures connected by a second-floor walkway. That's the home of Duke's Center for Documentary Studies, which occasionally produces NPR pieces (and future employees) and, moreover, houses the Jazz Loft Project. But what caught my eye when I first walked in was a photo exhibit by Lourdes Delgado called Jazz in New York: A Community of Visions. (A sample.)
Delgado took portraits of hundreds of New York-based jazz artists — young and old, obscure and legendary — in their houses and apartments, and the results are rather stunning. For one, we don't normally think of jazz musicians as having lives outside smoky jazz clubs or packed auditoriums; Delgado's exhibit shatters that image. Musicians are people too, with their own family lives to attend to; scattered toys or stuffed animals or even children dot the backgrounds of many portraits.
But musicians are still musicians, and they have to find places for their massive record collections or instruments. One drummer, Sylvia Cuenca, put her kit in the space under a loft bed. Drummer Kenny Washington, known record collecting freak, was up against walls entirely filled with CDs and LPs. Home studios with stacks of keyboards and other creative arrangements proliferate. So did entirely spartan bedrooms, with just a mat and a few books and a horn.
The musicians were invited to situate themselves in ways that showed off their personality, e.g. subtle clues in dress or setting. (A good-natured LOL at Christian McBride, attired in a Philadelphia 76ers jersey in front of James Brown posters.) And they were selected in remarkably good taste: Many of the young phenoms of today were photographed in, say, 2004. How did she get such access to these musicians? It might have to do with the fact that she's married to drummer Jeff Ballard.
3:40 p.m. Dan Partridge is a research associate at the Jazz Loft Project, based at the Center for Documentary Studies. He took me on a short tour of the entire building, which houses other exhibits, plus various darkrooms, large-format printers, powerful multimedia computers and the like. The Jazz Loft Project's over 1,700 reels of tape, plus interviews done since, have been digitized, and live in one massive file cabinet of CD-Rs in a basement office.
With the exhibit touring, the radio series over and the book out, the project continues. But I came to do some listening. So I headed over to the Nasher Museum of Art on campus to check out the photo exhibit and sample some of the audio clips.
4:15 p.m. At the Nasher Museum, I take a minute to browse the photos I haven't seen yet. The audio excerpts from W. Eugene Smith's tapes are what I have in mind, though. Some 40 clips of 2-5 minutes have been loaded up into an iPad, and you can cue them up on demand. Some of them are random television broadcasts he left the tape on for — World Series, or news broadcasts, or the like — but there are plenty of jam sessions too. Rahsaan Roland Kirk is on tape; so is Chick Corea, with his perfect time; or Lee Konitz sounding like the Lee Konitz of the future; or Paul Bley, Zoot Sims, Thelonious Monk. It's of record quality neither in fidelity nor playing — they're getting loose and working ideas out. It's not trying to be great, I gather, and that's the treat.
5:45 p.m. I find myself off campus and in town again, killing time in Brightleaf Square. It's a small little hub of shops and restaurants, one of them being the record store called Offbeat Music. Naturally, that sort of thing is like moths to a flame for me. I consider picking up a Lucky Thompson LP and some early McCoy Tyner, but I find this to be the most amusing part of the shop:
8:20 p.m. What I'm about to see in Page Auditorium at Duke is the whole reason for this trip: the Wayne Shorter Quartet. It's not the most amazing space in the world: an old, somewhat boomy church converted to look something like a high school auditorium. But it seems mostly full and buzzing with excitement. A not-negligible amount of students are on hand too.
I'm about to give you some impressions. For more of my impressions, visit the Duke Performances blog, The Thread, to see highlights of an online e-mail exchange I had with fellow attendees. Yes, I compared Brian Blade to a Viagra commercial.
8:24 p.m. Here's a microcosm of the evening. When the band enters, they cast about for a groove, or a pattern. It's at least a minute and change before Wayne Shorter comes in on tenor sax. (He switches almost entirely to soprano halfway through the show.) There's a unique logic where Wayne doesn't appear to command the unfolding of tunes — it's very much a consensus enterprise. And when Wayne blows, it's often a note or two at a time, or a short burst. There aren't many virtuosic runs, even fewer over multiple chord changes.
But the band, I would find out, isn't the same without him. For one, these are his tunes; for another, he's the traffic cop on stage. I don't believe he said a single word to the audience the entire night, and barely any to his band. His melodies are moodsetters and signposts rather than intricate scores to follow, it seems — very little of the harmonic complexity of Shorter's early tunes. But he cues imperceptibly when he wants the group to shift direction, to end a tune or to start a new one. And what otherworldy moods he sets.
Around 8:52 p.m. Nearly half an hour into the show, it's clear that this band isn't going to stop collectively improvising until it takes its bows. There are few outright solos; just grooving groupthink. This is all right, as a loose logic has begun to emerge. Think of it like this:
Wayne Shorter plays a loose, ambling melody
Danilo Perez (or John Patitucci) establishes a countermelody
We segue into completely unrelated new territory, and a new groove
Seven minutes later, you realize it's morphed into something completely different
A stray, unexpected Brian Blade cymbal crash begins an intense climax
There's a denouement, and some meandering about
Surprise! There's that melody fragment again
Nebulous territory as everyone tries to figure out how to get to the next tune
Lather, rinse, repeat
This stuff works because the musicians are so good. Brian Blade hears fills and off-beat accents that mortal drummers do not; then he looks so surprised as he goes for them with a ninja's precision and force. John Patitucci is an amazing listener; he can follow anywhere, and what plays on bass always seems right. Danilo Perez seems completely in service to this music, frequently looking down at his sheet music, pounding big-ol' block chords to gird what Wayne and the band are putting down. Wayne is Wayne, seemingly adrift, probably in total control, but you can't quite tell either way.
Around 9:25 p.m. I'm thinking of how I've heard this sort of thing before in other bands — this trust in almost total spontaneity and communication. It's in the JD Allen trio, or Lee Konitz's projects, or The Necks, or in an even less structured sort of way, lots of completely "free" improvisation I've seen. But it doesn't sound at all like this.
9:35 p.m. Applause, standing ovation (deserved, I think), encore. It's "Joy Ryder," a favorite of this group. The electric recording of this is kind of unbearable, unless you're a robot c. 1983. But as an acoustic number, it feels way different, with sharp edges and sparks (thump thump thump SMASH), Wayne on soprano saxophone. It's forceful, and over quickly. We are pleased.
9:42 p.m. We get an even shorter second encore from Wayne Shorter and co., and a curtain call. The crowd had seemed a tad bit polite to me, but I'm told this is pretty good for Duke audiences. A group of young high-school and college age students go up to the stage to congratulate Brian Blade, who isn't coming back out any time soon. Typically, the Brian Blade fan club got some new members tonight.
10:15 p.m. I am not backstage. But my sources tell me that around now, the aforementioned saxophonist Paul Jeffrey is speaking with Wayne. Jeffrey calls Sonny Rollins on his cell phone. Sonny and Wayne speak for some 20 minutes — something about mouthpieces is the pretext. THIS IS WHAT HAPPENS BACKSTAGE AT WAYNE SHORTER CONCERTS, PEOPLE.
10:50 p.m. At a local bar called The Federal — wow, there really are a lot of craft beers from North Carolina — there's a Duke music graduate student hang. Their reviews for Wayne are mixed. (Most reviews for Wayne generally are, I gather.) But one thing we can all agree on is that it's been a pretty engrossing experience throughout. It didn't always click for all of us. But you wanted to pay attention.
A number of composition grad students have been working with The Bad Plus this semester. The trio has been coming down to Durham regularly to rehearse for its Rite of Spring commission, and working with the students on the side.
It's been a bit trying for some. "I thought this band was something different than they are," one confessed to me. Others pointed out the band's strong opinions about music — if you read Do The Math, this is no surprise — and how it really does prefer to work with conventional songs, with solid bass lines and melodies. This is something on which they and Branford Marsalis agree on — even if they express it in differing ways.
Saturday, 10:30 a.m. Southwestern eggs and cheese grits for breakfast. I love the South.