Hop And Bop: Jazz For Easter
Photo Illustration: Lars Gotrich/Photos: William Gottlieb/Library of Congress via Flickr, iStock.
With Easter coming up on Sunday, every store around seems to be filled with cheerful displays incorporating bunnies, chicks and Easter eggs. Marshmallow Peeps have taken over candy aisles. Television has been filled with commercials for a major film about the teenage son of the Easter Bunny who would rather be a drummer than take over the family business. But if being hopped up on baskets full of sugary springtime sweets doesn't put a spring in your step, then here are five songs to help you hop into the Easter spirit.
Hop And Bop: Jazz For Easter
I'm Putting All My Eggs In One Basket
from Ella and Louis Again
by Ella Fitzgerald & Louis Armstrong
Two of the most recognized voices in jazz history team up for this Irving Berlin tune. "I'm Putting All My Eggs in One Basket" was originally introduced by Fred Astaire and Ginger Rogers in the 1936 musical comedy film Follow the Fleet. It sounds decidedly different in the hands of Ella Fitzgerald and Louis Armstrong — much more jazz than Broadway.
Bunny
from Gerry Mulligan Meets Johnny Hodges
by Gerry Mulligan & Johnny Hodges
This 1959 album marked the only time Gerry Mulligan and Johnny Hodges recorded together in the studio; "Bunny" was penned by Mulligan with Hodges in mind. The title refers to one of Hodges' nicknames, "Rabbit." The two saxophonists blend together perfectly in this laid-back tune.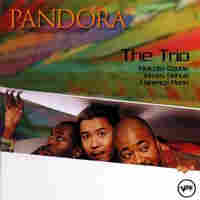 Lullaby For Rabbit
from Pandora
by Makoto Ozone
The first few notes of pianist Makoto Ozone's "Lullaby for Rabbit" bounce gently, evoking an image of a rabbit exploring here and there. Some might think a lullaby should be a nice, slow ballad, but there's a gentle playfulness to the song, which builds to a sprightly tempo fit for the titular rabbit.
Rustic Hop
from Stan Getz and the Cool Sounds
by Stan Getz
Valve trombonist Bob Brookmeyer joins saxophonist Stan Getz for this fast-paced romp. Getz, one of the fathers of the "cool jazz" sound, shows that he could border on the hot side if he wanted to. The interplay between Brookmeyer and Getz is fantastic, with the two talents seeming to inspire each other.
Big Butter And Egg Man
from Standard Time, Vol. 3: The Resolution of Romance
by Wynton Marsalis
"Big Butter and Egg Man" is a 1926 standard originally written for Louis Armstrong. Here, it's given a loving touch through the warm, clear tone of Wynton Marsalis' trumpet. The song's title was taken from slang of the era in which it was penned, referring to a man who's a big spender.