Jazz On The Range: 5 Cinematic Sides
Say, pardner. You ever hear the one about jazz being the only true American art form? Now, I love jazz just as much as the next fellow, but consider the Western: Established in the early years of the 20th century, affording many aesthetic pleasures, widespread in its cultural influences and indubitably made in the U.S. of A. It embraces space, freedom, history, pioneers and movement; it creates a mythology that can make the true past difficult to discern. Sound familiar?
There's actually a considerable jazz/Western lineage: Singing black cowboy film star and Duke Ellington big-band vocalist Herb Jeffries, the Western Swing phenomenon of the 1930s and '40s, saxophonist Charles Tyler's Western-inspired free-jazz epic Saga of the Outlaws and, of course, the famous Count Basie-in-the-desert moment in Blazing Saddles are just a few examples. Jazz's legendary cutting contests have often been compared to pistol-packing showdowns, and its exceptional players to fearless gunfighters; as one Charles Mingus composition put it, "If Charlie Parker Was a Gunslinger, There'd Be a Whole Bunch of Dead Copycats." Here are five recordings that address Western themes in a cinematically connected way.
David Johnson is the host of WFIU's Night Lights.
Jazz On The Range: 5 Cinematic Sides
Cow Cow Boogie
from Rocks
by Ella Mae Morse
"Cow Cow Boogie" was originally supposed to be sung by Ella Fitzgerald in the 1942 Abbott and Costello Western comedy Ride 'Em Cowboy. But it was dropped from the film's final cut, leaving Freddie Slack and genre-defying singer Ella Mae Morse to score a huge hit with it instead. The bluesy, loping, boogie-woogie-influenced swing of the song's music makes a good fit for the words, which describe a cowboy with certain peculiarities, possibly acquired during a trip to the city. ("He's got a knocked-out Western accent with a Harlem touch / He was raised on loco weed / He's what you call a swing half breed / Singin' his cow cow boogie in the strangest way.") Perhaps most significantly, "Cow Cow Boogie" made Johnny Mercer's fledgling label, Capitol Records, a serious player in the music business.
Rocks is available from Bear Family.
I'm an Old Cowhand (From the Rio Grande)
I'm An Old Cowhand (From The Rio Grande)
from Way Out West
by Sonny Rollins
Growing up in 1930s and '40s Harlem, the young Sonny Rollins was an avid film-goer and a devoted fan of Westerns. When he made his first trip to California in 1957, the 25-year-old saxophonist was approached by Contemporary Records head Lester Koenig to do an album; Rollins suggested a Western concept theme. That was bold enough, considering the risk that such an idea might come off as a gimmick, but Rollins upped the ante by using a piano-less trio format to make the record. Freed from the harmonic constraints of the keyboard, Rollins was able to flex his ever-increasing powers of thematic improvisation in tunes such as "Wagon Wheels" and "I'm an Old Cowhand (From the Rio Grande)," which leads off Way Out West. Rollins goes at the Johnny Mercer-penned song with his customary verve, warm wit and ease of phrase, extending a laid-back welcome to the listener that belies the strength and skill of a man quickly growing wise beyond his years.
High Noon
from Stan Kenton! Tex Ritter!
by Stan Kenton and Tex Ritter
Though the album's liner notes proudly claim that "neither one of these artists make any concessions to the style of the other," Stan Kenton said that he made this record with his good friend and labelmate in part because he wanted to "break down some of the bigotry in music." He jokingly distanced himself from the results years later, acknowledging that many fans of both artists had essentially said, "What the hell were you thinking?" Generally considered an artistic disaster — and there can be no revisionism about its commercial failure — this Ritter-Kenton mellophonium-era roundup makes for pleasantly melancholic listening, shot through with an elegiac vibe provided by the subdued, scaled-down settings.
The Big Gundown
from Big Gundown: John Zorn Plays the Music of Ennio Morricone (15th Anniversary Edition
by John Zorn
Just like jazz, the Western became an American cultural export that artists elsewhere could imitate and reinvent. And, just like almost any artistic artifact you can imagine, the results became fodder for the teeming musical mind of John Zorn. While deeply influenced by Ennio Morricone's music (his Italian "Spaghetti Western" soundtracks, in particular), Zorn had nevertheless resisted a suggestion to record an album of it, describing the master's work as already "too perfect. But his participation in a Thelonious Monk tribute sparked a change of heart. Enlisting a diverse posse of musicians that ranged from organist Big John Patton to vocalist Diamanda Galas and guitarist Robert Quine, The Big Gundown recast Morricone's themes in Zorn's comprehensive, channel-hopping idiom and announced that there was a new avant-garde icon in town.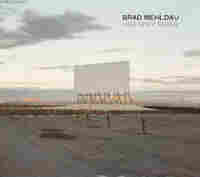 Old West
from Highway Rider
by Brad Mehldau
The duo is a favorite motif in Westerns: Butch Cassidy and the Sundance Kid, Wyatt Earp and Doc Holliday, Roy and Dale Rogers, Brooks and Dunn... you get the picture. Brad Mehldau's ambitious 2010 double-disc Highway Rider locates the pianist in a number of configurations, often with longtime friend and saxophonist Joshua Redman. Though Highway Rider was not composed for a film, its desert-set drive-in movie-screen album cover and its aural landscape suggest the soundtrack for a post-Western Western — a place where the existential romance of the journey, the desire for personal rebirth and the search for cultural justice still linger, even if such states seem increasingly elusive. In the duet "Old West," Mehldau's gracefully galloping figure spurs Redman on to greater creative soprano-saxophone paces, before the pianist forges on alone, finally rejoined by his partner for a meditation on the theme as they ride off together into a 21st-century digital sunset.