Sun Ra's '70s: From Solo Piano To Disco
Just a little more than 97 years ago, Sun Ra arrived on our planet. While here, he became probably the single most recorded jazz musician of all time. With more than 1,000 tunes to his credit, a "Take Five" is perhaps the height of folly. And yet here we are.
In order to take the subject down to a more manageable level, and to shine a light on a period of Sun Ra's career that is typically less celebrated, we're focusing on the third decade of the Arkestra's existence, and selected five tunes from the 1970s. We chose songs that reflect the super-wide range of sounds and approaches that Sun Ra generated during this period — from solo piano to languid big band, and from straight-up disco to full-on bananas "disco."
This rich assortment of sounds and tones provides further evidence, if any was still needed, that the 1970s hold jazz treasures that go well beyond Weather Report. This decade wasn't an endpoint for Sun Ra, who continued to churn out exceptional music through the 1980s; see this post for evidence of that. We hope you'll enjoy this cosmic ear candy from the musician from Saturn.
Jeff Golick and Jeff Jackson run Destination: OUT, a jazz blog for rare and out-of-print material.
St. Louis Blues
from St. Louis Blues
by Sun Ra
Pianist Vijay Iyer rightly noted that "Sun Ra's piano encompasses the 20th century." That's never been more evident than in this remarkable solo version of W.C. Handy's iconic 1914 blues. Hailing from Saturn, Ra was famed for his "space music." This track, however, showcases his equally deep roots in the tradition. He amps up the song's humor and pathos, fragmenting the melody and taking liberties with its rhythms. Somehow, the tune never loses its recognizable shape and bluesy feel. As far out as he can go, there's always a sense that Sun Ra is tethered to earthly concerns.
Interstellar Low Ways
"Interstellar Low Ways" dates back to the late 1950s, but it's given a stark update here. Languid almost to the point of being narcotic, it's a prime example of how, throughout his career, Sun Ra revisited his compositions and rearranged, refined or re-imagined them. What begins as a woozy keyboard cadenza is later joined by lovely, almost delicate orchestration. The combination is disorienting in the best way; before we can fully get our bearings, the song drifts away again into the ether.
Spring and Summer Idyll
from Other Voices, Other Blues
by Sun Ra Quartet
This Italian-made album features Sun Ra in a rare quartet setting. It offers a uniquely unfettered view of his music, allowing the band room to spread out and listeners an opportunity to focus on the players' interactions and dynamics. There's a laid-back intensity evident from the start of "Springtime and Summer Idyll," with its inventive and pleasantly ambling percussive patterns, which is ignited by trumpeter Michael Ray's incisive entrance. Longtime Arkestra tenor man John Gilmore further ratchets up the mood with several typically brilliant solos. Ra underpins the action, contributing phased synths and stuttering melodic lines that always hit their mark.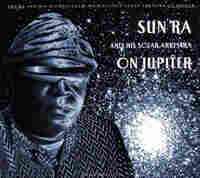 U.F.O.
from On Jupiter
by Sun Ra & His Solar Arkestra
We wonder if Sun Ra cut this intergalactic groove with a jealous eye toward Parliament-Funkadelic's Mothership connection, trying to remind everyone who really started the musical Space Race. Or maybe he was simply transmuting the heavy vibes of the Gamble and Huff contingent in his home base of Philadelphia? Whatever the case, this funky joint will "take you where you want to go." The divergent elements fall together effortlessly: a horn riff and vocal chant ripe enough to rock the dance floor, an atonal guitar solo scribbled in the margins of the song, a trumpet solo that's both flashy and squishy, the minimalist piano and organ lines that wind around the rhythms, the dubbed-out vocal breakdown. Some fans thought this disco-inspired track was frivolous, but Sun Ra knew that any truly cosmic vision had to be willing to flirt with the ridiculous. This tune perfectly embraces pure escapism, because why would you even bother to board a UFO if you're not looking to get away? As for picking up passengers, Ra knew the dance floor was as good an embarkation point as any.
Dance Of The Cosmo Aliens
from Disco 3000: Complete Milan Concert 1978
by Sun Ra
The previous track provided a taste of disco from the 1970s, but what about disco in the year 3000? No worries; Sun Ra has you covered. "Dance of the Cosmo Aliens" is a flabbergasting, forward-looking track that leaves us near speechless in trying to describe it. It's... breakbeat techno meets monster dub groove? Afro-glitch trance exotica? Space-rock psychotronica? There's a minimalist influence, as well — we hear echoes of Terry Riley's Rainbow in Curved Air in Ra's hypnotic organ drones — but this is darker, more textured, laced with serious electronics. And where a lot of Ra's music nods to the past in fairly recognizable ways, it's hard to hear jazz antecedents in "Cosmo Aliens." There are traces in the melody, but the overall tone and instrumentation are otherworldly. This track fully embodies his motto: "Space is the place."