'Treme,' Ep. 21: Jazz And Heritage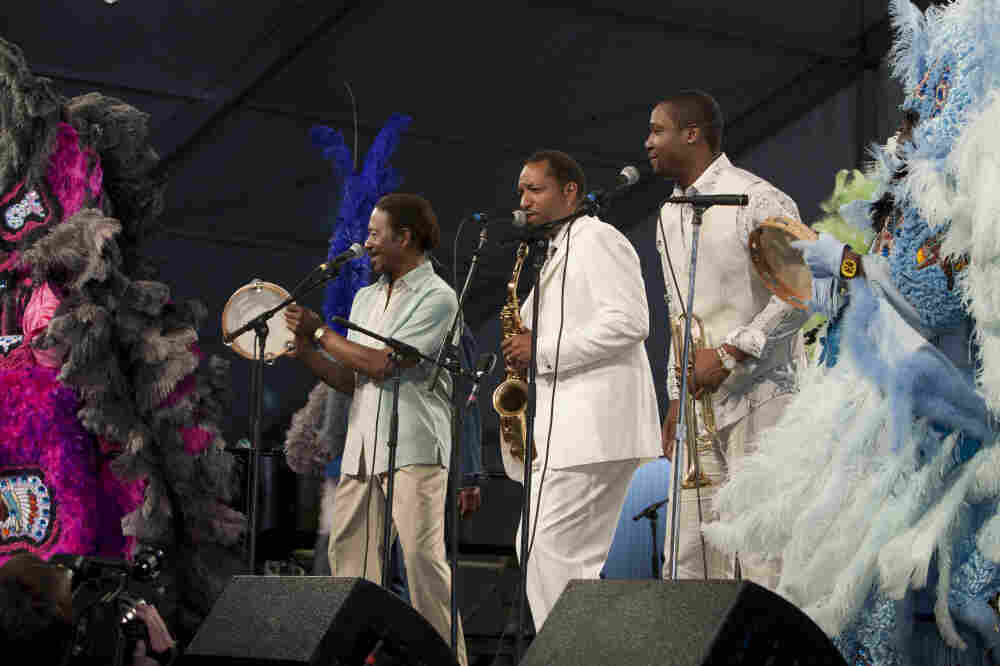 In 2010, WBGO's Josh Jackson and I were down at New Orleans Jazz and Heritage Festival, where we attended a panel discussion with the lead writers and actors of Treme. The show was only a few episodes old, but it had already won over a number of the locals and Jazz Fest regulars, from the audience's reaction. But after the show's producers admitted that Jazz Fest wouldn't make the program's first season, I distinctly recall several people expressing their disappointment. Apparently the first Jazz Fest after Hurricane Katrina was a rather cathartic experience.
Well, it's never too late to get to Jazz Fest.
Oh, hey Josh. You know, it struck me down there that Jazz Fest was a little bit more of a tourist draw than a locals' hangout. But here in the season finale, it's at least somewhat important for city residents — even if life goes on outside it — and clearly a joyous occasion.
The festival is a huge economic engine for tourism. It also functions as a homecoming party for some expats. Despite its programming philosophy of attracting every demographic profile, there's still a lot to love about Jazz Fest as a showcase for local talent.
I think so, anyway. Indeed, let's get to our weekly recap of the music of the show. This time, the season two finale.
---
Patrick Jarenwattananon: So as I can count it, we witnessed four shows at Jazz Fest 2007. We saw Antoine brush the salt off his shoulder for Wanda Rouzan's set. And Janette embracing her hedonism (and her sous-chef) at the Iguanas show, on the Fais Do-Do stage. They sang a Latin-flavored love song of some sort, I recall.
Josh Jackson: We hear them performing "Oye, Isabel," the leadoff song from their recording, Nuevo Boogaloo.
PJ: The Donald Harrison-Delmond-Chief Lambreaux recording turned out pretty fantastic, it sounded like — and their live hit in the WWOZ Jazz Tent was pretty majestic, too. (Dr. John seemed to be unavailable for the gig, but you noticed the Dr. Lonnie Smith cameo on organ, no?) But that whole "lying to your Indian chief dad" isn't going to end up well next season, though — especially now that Delmond is moving back home.
JJ: There's no way Delmond is going to be able to keep his elaborate scheme afloat. Let's just hope he can fix the house before dad gets wind of the plan.
PJ: And Annie and Davis witnessed a bit of the Lucinda Williams show too — Williams sang her tune "Crescent City." That was on the Acura stage, which is the headline stage. Now, I know that the New Orleans Jazz and Heritage Festival has lately been booking more and more not-jazz headliners for for its main stage shows, much to certain jazz fans' consternation. My impression, however, is that the "Jazz and Heritage" programming still comprises the great majority of this particular festival.
JJ: I'd complain a little more vociferously if I didn't know that the festival has such a blunt-force impact on the music and culture year-round. Jazz Fest supports the Jazz and Heritage Foundation initiatives, which includes programs for local youth and a whole lot more. Is it bloated? Absolutely. It's a force-fed goose with a golden liver.
That doesn't mean "real" jazz fans have to endure Kenny G unleashing his riot suppression. Go somewhere else. The smaller stages always have better local programming.
PJ: What other live music did we get this episode? We saw the Rebirth Brass Band, which by now is essentially this show's house band, play two of their regular residencies at The Maple Leaf.
JJ: Every Tuesday. Count on it. When Janette and Jacques visit, they're playing the Fats Domino hit, "I'm Walkin'." They performed "Shotgun Joe" and "We Come to Party" while Toni and Sofia visit the Maple Leaf. Rebirth's "Do Whatcha Wanna" also lends its name to this episode. We hear Antoine Batiste and the kids' band play it, and the Rebirth version rolls under the end credits.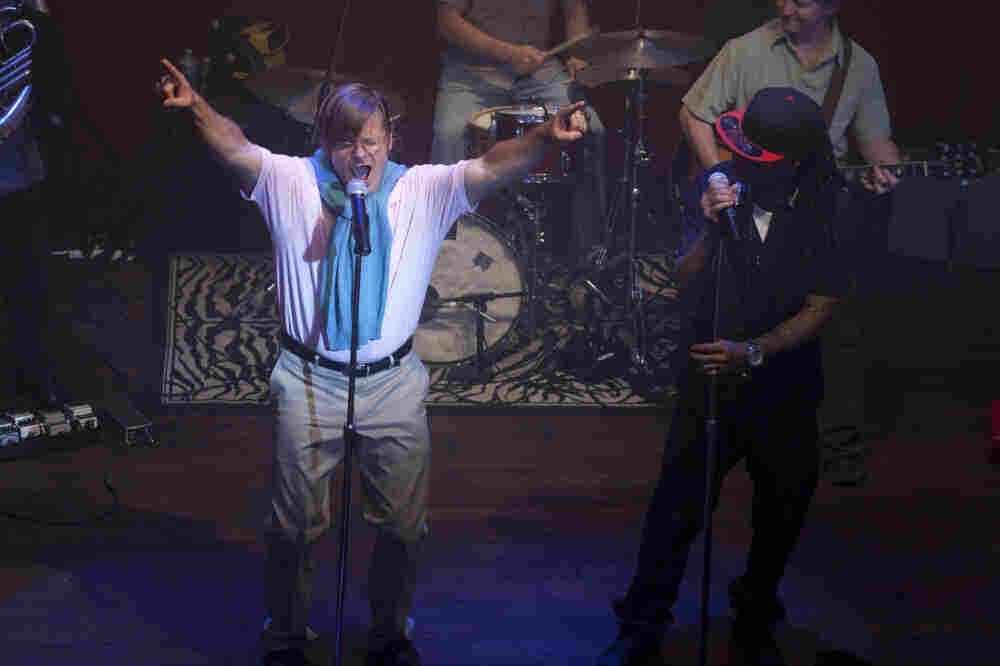 PJ: The Brassy Knoll eventually usurps Davis, as was to be predicted. He really struggled to keep up on the standard "Lil Liza Jane" (as performed with a non-standard rap verse from Lil Calliope). But once Davis realized he was "punching out of [his] weight class," as Janette put it — his emcee was optioned to industry heavyweight Cash Money Records — he made a nice save with a bit of theater on James Brown's "Sex Machine."
JJ: Steve Zahn really delivers. What a joy to watch him try to do a James Brown impression. Uncomfortable comedy is my favorite. Davis will no doubt return next season with another plan.
PJ: We also glimpsed a bit of Vietnamese karaoke. (Yes!) In a complete 180 from last season, it turns out that Sonny is going to be all right, at least for now. Even if he is "useless."
JJ: It's nice to not be wishing for this character's demise every week. Notice the oil slicks in the Gulf of Mexico? I think we'll see more of that next season.
PJ: Speaking of amateur musical performances and complete 180s, Antoine has really taken this teaching gig to heart, even as his bandleading career collapses around him. It's a really heartwarming detail to see him leading his students on the streets — the tradition regenerating itself, etc. Funny enough, Wendell Pierce recently told me he lasted all of two weeks in his sixth grade band in New Orleans — which, I guess even further illustrates the yeoman's work he's been doing in the classroom.
JJ: I like the adaptation of his "play for that money" line from the pilot episode in this context with the kids. The Soul Apostles have imploded. But Antoine gains another band with more purpose. This could be the leadership opportunity he was looking for.
PJ: Wendell Pierce and I also talked about about Antoine's singing this season — how many instrumentalists who decide to take up singing may not be the best crooners ever, but how people are willing to excuse it when it's got soul. But saxophonist Aurora Nealand, who we met in season one, sounds pretty good singing and playing a little sax in Irvin Mayfield's Jazz Playhouse. Plus, the subject matter properly reflects Nelson's getting sloshed and the bottom dropping out on his making of some money into more money.
JJ: Aurora and the Royal Roses do a couple of tunes. The first is "Indian Summer." Hidalgo has certainly lost his relevance as a rainmaker. Then we hear "Ferry Man." Both of those songs have a nice subtext to the action. In some metaphorical sense, Charon awaits our friend Hidalgo.
PJ: That about does it for the live music in this episode. Any background music stand out to you especially? I know I found it pleasing that New Orleans free jazz saxophonist Kidd Jordan got a track on the show, played on WWOZ — and it sounded quite good too.
JJ: It's "Last of the Chicken Wings," from the AUM Fidelity recording, Palm of Soul. My favorite backgrounder was hearing Johnny Adams singing "A Losing Battle" while Antoine loses his band. The Ohio Players "Pain" plays on the jukebox when LaDonna spots her assailant. Delmond listens to pianist Red Garland's "Red Beans," with Coleman Hawkins on tenor saxophone. When Annie is started by her dream, WWOZ is playing "Yesterdays" from Harold Battiste and the American Jazz Quintet. And when Davis relieves DJ Jeffy Jeff, he segues from Kidd Jordan to Louis Armstrong's "Wrap Your Troubles in Dreams," from Okeh Records. Much like Louis Prima in the first season, we get the whole song as a music bed for much dramatic exposition.
PJ: About that montage. I'll admit it made me quite pleased to see all the loose ends tied up this episode. For me, this episode felt a lot like really good television. Maybe it's because we're vivisecting it every week, but the show sometimes feels a little less than really good television to me — kind of like a social history polemic and fake music documentary at times.
I know there was at least one critic who recently made that same point too, in somewhat different terms. But this episode had so much in it — so much that we haven't even hinted at! The whole homicide unit storyline, the irony of the Colson-Toni interaction, the Oliver Thomas tale, Sofia, Janette's adventures in the culinary business and the Susan Spicer cameo, the incredible performance Khandi Alexander delivers as LaDonna. It felt like real drama, even if it was all fake. I mean, this show is really unlike any other when it fully lets art represent life, rather than the other way around — and is quite beautiful when it lets its hair down that way.
JJ: There's plenty of there there. The music makes this show meander a little, but maybe that's a refreshing thing for television these days. America's Got Talent is only so interesting ...
PJ: Well, in any event, thanks for joining me this season, Josh. I presume you'll be watching season three as well?
JJ: I'm in it to win it, bruh.