Monterey Jazz 2011: Donny McCaslin Group
Listen Now: Donny McCaslin Group In Concert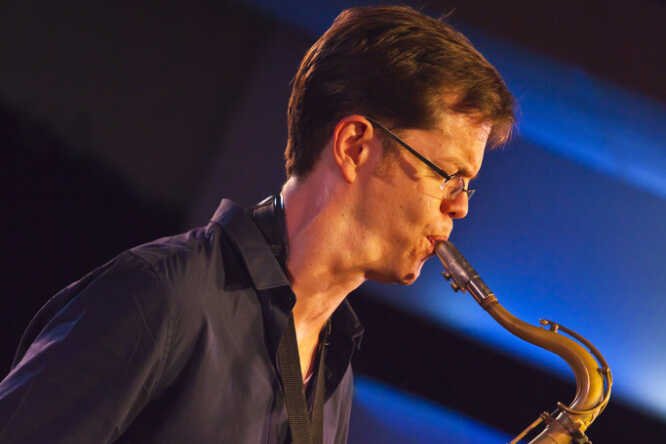 Craig Lovell/Monterey Jazz Festival
In New York City, where he lives now, Donny McCaslin is a top-notch tenor saxophonist. He's been a regular in the sorts of bands who can make the jazz festival circuit — the Dave Douglas quintet, Danilo Perez's band, the Maria Schneider Orchestra — and is increasingly recognized as a composer/bandleader in his own right. But at the Monterey Jazz Festival, he's also the lanky kid who grew up in nearby Santa Cruz and played in the Next Generation Orchestra, the Festival's high school all-star band. He's a local boy done good — who happens to be a world-class jazz musician.
So Saturday night's 11 p.m. slot on the Night Club stage was a homecoming for him. And he brought along a new, electrified band, the one at the core of his latest album, Perpetual Motion. There was fire and funk, and that other f-word, fusion. But about midway through, the roaring flame became a slow burn. After a graceful ballad ("Firefly") dedicated to his wife, he then introduced the next song, "Claire," as inspired by his daughter. For a moment, Donny McCaslin was just that hometown hero again, all grown up. And then the band launched into the jagged tune, and he was once again the saxophone slayer we know him as today.
---
Personnel
Donny McCaslin, tenor saxophone
Uri Caine, piano/electric piano
Fima Ephron, electric bass
Mark Guiliana, drums
Credits: Paul Cain, mix engineer.