Flamenco Jazz: Five Songs Where Andalusia And America Meet
Spanish flamenco guitarist Tomatito joined Dominican pianist Michel Camilo on the Latin Grammy Award-winning Spain.
Pablo Blazquez Dominguez/Getty Images
Forget Miles Davis' Sketches of Spain and Chick Corea's Spain. There's a whole other world of so-called "flamenco jazz" out there that lives unrecorded, often inside quaint, tiny rooms (in caves, quite literally) on the mountainside near Granada. There and in other cool Andalusian clubs, nightly musical experiments are taking place, where flamenco palos mix with other jazz influences.
Flamenco is one of Spain's richest musical exports: It parallels jazz in the sense that it's a hodgepodge art form, made up of influences from many cultures that span more than one continent. It's only natural that these styles eventually came together to make something special. Below, we've listed five examples.
Five Songs Where Andalusia And America Meet
Pedro Iturralde and Paco de Lucía
Song: Las Morillas De Jaen
from Jazz Flamenco, Vols.1 y 2
The first authentic "jazz flamenco" record? Many claim it to be so, although you'll be lucky if you can get your hands on it; the session only lives on blogs and in eBay bidding rooms. Yes, Gil Evans and Miles Davis' Sketches of Spain came years before, but this project was the first to be led by Spanish musicians, with stalwart saxophonist Pedro Iturralde and guitarist Paco de Lucía.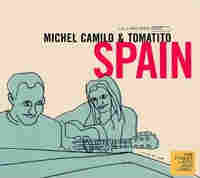 Michel Camilo and Tomatito
Song: Mi Niño José
from Spain
The pianist from the Dominican Republic made waves with the guitar virtuoso from Almería, a beach town in Andalusia. Michel Camilo and Tomatito's collaboration on A Mi Nino Jose was so successful that they received multiple awards, including Best Latin Jazz Album at the first Latin Grammy Awards, and inspired a reunion with the follow-up session Spain Again. They first came together at the 1997 Barcelona Jazz Festival in a tribute performance dedicated to the Spanish bebop pianist Tete Montoliu.
Solo Con Verte [Tangos, Letra: Luis de la Pica y Chonchi Heredia]
Chano Domínguez
Song: Solo Con Verte [Tangos, Letra: Luis de la Pica y Chonchi Heredia]
from Hecho a Mano
Perhaps no musician marries jazz and flamenco as smoothly as the pianist from Cádiz, Andalusia: Chano Dominguez. "There is no way to split the waters," he says. "Solo Con Verte" features traditional flamenco elements such as palmas (handclapping) and the wonderful Andalusian ancestral tradition featuring the great Chonchi Heredia.
Jerry Gonzalez
Song: Monk Soniquete
from Y los Piratas del Flamenco
When the Bronx-born Jerry Gonzalez toured Europe in celebration of the movie Calle 54, he stopped in Madrid for a day. The trumpeter and conguero never left. Four years later, Gonzalez introduced Y Los Piratas Del Flamenco, an experimental band that featured some of flamenco's top talent, including Diego "El Cigala." He continues to make intriguing flamenco jazz to this day with some of these same musicians. Here's a tribute to Thelonious Monk.
Alexis Cuadrado
Song: Por La Mínima [Bulerías]
from
Bassist Alexis Cuadrado became infatuated with jazz while growing up in Barcelona. Decades later, after settling in New York City, he discovered his calling to flamenco, the music of his native country. And, as with his innocent love affair with swing, bebop and beyond, the bassist passionately absorbed the many styles of his indigenous music, but also added a modern twist. His mastery is on full display with Noneto Ibérico, a nine-movement suite featuring futuristic arrangements of Alegrías, Seguiriya, Soleá and more. Here's a bulerías, a fast flamenco rhythm in 12 beats.