Norman Granz: Five Recordings By 'The Man Who Used Jazz For Justice'
Norman Granz at his office in July 1987.
Tad Hershorn/Courtesy of the artist
Norman Granz was one of the most important non-musicians in the history of jazz. By moving artists such as Ella Fitzgerald, Oscar Peterson and Charlie Parker out of nightclubs and into concert halls around the world, he not only assured them better showcases and paydays, but also helped strike a blow for civil rights.
Or so claims Tad Hershorn, an archivist at the Rutgers University Institute of Jazz Studies, in his new biography, Norman Granz: The Man Who Used Jazz for Justice.
As an impresario, Granz not only insisted on first-class treatment for his artists, but also integrated audiences in the early years following WWII.
"He was able, as few progressives are, in blending radical social ideas to making money," Hershorn said in a recent interview. "It's not just that he encounters segregation — he really set out to challenge it as directly and ferociously as he could."
Hershorn does not portray Granz as a plaster saint; Granz, who died a decade ago, could be "brusque, rude and incredibly difficult," he says. Hershorn quotes the lyricist and biographer Gene Lees as saying that, to the extent Granz hasn't been given his due in jazz history, "it is to some extent his own fault."
But Granz's legacy is immense. In addition to bringing great artists on tour together internationally with his Jazz at the Philharmonic series — and guiding the careers of Fitzgerald and Peterson for decades — Granz founded labels including Verve and Pablo that, particularly in their later careers, provided much of the documentation we have of signal artists such as Billie Holiday, Count Basie and Art Tatum.
I asked Tad Hershorn to share five of his favorite recordings made by Granz.
Five Recordings By 'The Man Who Used Jazz For Justice'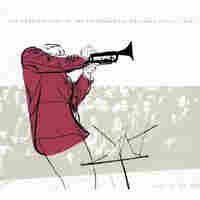 Nat "King" Cole And Les Paul
Song: Blues, Pts. 1-3
from Complete Jazz at Philharmonic on Verve 1944-1949
"'Blues' is really most famous for the solo of Illinois Jacquet, who is really the first hot musician of JATP. The record is considered by some to be the forerunner of rhythm and blues. But there's a segment where Nat 'King' Cole and Les Paul are playing together that Norman saw as the essence of the jam session, which he saw as the basis of his career. It was an interaction between musicians that Norman had become familiar with hanging out in the jazz scene in Los Angeles, and it was a short progression from organizing sessions in jazz halls and clubs into concerts in two years, and two years later taking it national."
Charlie Parker
Song: Just Friends
from Charlie Parker with Strings: The Master Takes
"I believe 'Just Friends' was the biggest-selling record that Charlie Parker ever had. Norman said flat-out that his Parker recordings in all likelihood did not have the revolutionary quality of his earlier recordings. The thing that I really enjoyed about the records was the opportunity to hear Charlie Parker alone. He wanted the recording with strings, so he could just bide his time and play where he wanted to. 'Just Friends' is a masterpiece. On his death bed, that's what he played for the doctor who was attending him."
Benny Carter
Song: Flamingo
from New Jazz Sounds: The Urbane Sessions
"Benny Carter is just one of my all-time favorite musicians. His version of 'Flamingo,' recorded on a 1953 tour of Japan, is just another of those masterpieces that sprung from Jazz at the Philharmonic, which would be chaotic, but could also create great music. This just stopped me in my tracks because it's so well-constructed, with such beautiful playing. You could take down that solo, note for note, and have someone play it in 100 years as classical music. It's that exquisite. There's also a studio version with strings, recorded at around the same time. It's every bit as good." [Note: The studio version is heard here.]
Ella Fitzgerald
Song: C Jam Blues
from Jazz at Santa Monica Civic '72
"It was really the first Pablo record. Norman had set up a date with Ella, Oscar, the Basie band, Stan Getz, Harry 'Sweets' Edison and Roy Eldridge. Ella's last tune was 'C-Jam Blues,' and it was a jam session like she had done any number of times with JATP. But unlike any I've ever heard, she went down the line with every musician on the stage and they would trade fours. She knew their music and could imitate them and swing as hard as any of them. She ended up blowing everyone away. It's a truly extraordinary piece."
Oscar Peterson And Joe Pass
Song: I Gotta Right to Sing the Blues
from Oscar Peterson et Joe Pass à la Salle Pleyel
"It was around the time this recording came out that I first had the opportunity to see Oscar Peterson. It's a quiet masterpiece by both of them. To hear virtuosos of such caliber play separately and then together, when you don't have the safety net of a bass or rhythm... When it comes to Oscar Peterson, there are any number of great examples of him using that overpowering technique, just the romps he had playing piano, but 'I Gotta Right to Sing the Blues' is contemplative, and you can hear him thinking about the blues. A lot of people thought that he could overplay anything, but this is just one of those recordings that shows the great feeling he brought to standards over a 60-year career — 45 of those with Norman Granz."
Buy Featured Book
Title

Norman Granz: The Man Who Used Jazz for Justice

Author

Tad Hershorn
Your purchase helps support NPR programming. How?