5 Bands To Discover At Winter Jazzfest
New York City's annual Winter Jazzfest, held this weekend, speeds ahead. After hitting a brief roadblock — a dispute between the musicians union and the festival's curators — the event's course layout has expanded to five venues throughout two nights on some of the busiest blocks in Manhattan.
Musicians, agents, managers, concert presenters and fans swarm around to scope out the latest offerings — some by legends, but mostly by emerging artists. It's a sensory overload, stacked with all-star lineups, wall-to-wall performances and curious crowds. In the spirit of last year's preview, be on the lookout for these musicians at Winter Jazzfest.
5 Bands To Discover At Winter Jazzfest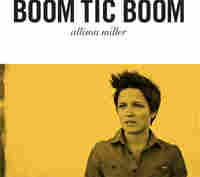 CFS (Candy Flavored Sidewalks)
Allison Miller
Song: CFS (Candy Flavored Sidewalks)
from Boom Tic Boom
When Allison Miller isn't touring with singer-songwriters (Erin McKeown, Ani DiFranco), the drummer displays her innate passion for swing in Honey Ear Trio and Boom Tic Boom. The latter received some critical attention in 2010, even popping up on some year-end Top 10 lists. A highlight of the disc — "CFS," which stands for "Candy Flavored Sidewalk" — features the irrepressible Jenny Scheinman (who also showcases at Winter Jazzfest this year) fiddling over Miller's joyful bluegrass shuffle.
You Don't Know What Love is
Dominick Farinacci
Song: You Don't Know What Love is
from Dawn of Goodbye
A trumpet tone forged at The Juilliard School, Dominick Farinacci's warm and round sound could be best described as romantic. A smooth silkiness flows from his horn, caressing any standard he touches, and his balladry takes listeners straight to the boudoir. Despite the candle-lit polish, his finesse is admirable.
Bernie Worrell
Song: Take the "A" Train
from Standards
Self-proclaimed "Wizard of Woo" Bernie Worrell (Parliament, Funkadelic) returns to his childhood. Before this keyboard magician became massively popular for his inventions on synthesizers, he impressed his early professors with piano concertos and jazz standards. The repertoire of his youth re-emerges with the Bernie Worrell Orchestra, where he pays homage to one of his unlikely musical heroes: Duke Ellington. Whatever instrument he touches, he's likely to cast a spell.
David Murray Cuban Ensemble
Song: Tres Palabras
from Plays Nat King Cole en Espanol
David Murray plows forward wherever he chooses, this time adapting obscure sessions by Nat King Cole, originally targeted for a Latin global audience. The saxophonist, in typically uncompromising fashion, takes refined and polished material — made for strings in 1958 and 1962 — and renders it rough and loose around the edges without losing any of its musicality. The groove that builds and crescendos at the end of "Tres Palabras" is particularly memorable.
Gilad Hekselman
Song: Hazelnut Eyes
from Hearts Wide Open
Burning on New York's jazz scene this year is Israeli guitarist Gilad Hekselman with his most mature outing to date, Hearts Wide Open. His working band features fiery talents Mark Turner on sax, Joe Martin on bass and Marcus Gilmore on drums; no shortage of ideas or inspiration there. Look for all the beat writers and hardcore jazz enthusiasts to circle this performance on the festival's calendar.