Max Roach: Drums, Front And Center
Pioneering jazz drummer Max Roach was born on Jan. 10, 1924 in Newland, N.C., and grew up in Brooklyn, N.Y. Roach began playing in New York jazz clubs in the early 1940s. From those early days until his death in 2007, he never stopped creating and exploring new possibilities for jazz drumming.
In this installment of Take Five, we remember Roach with five recordings from his amazing body of work. As always, we ask you to leave your favorite Max Roach moments in the comments section below.
Max Roach: Drums, Front And Center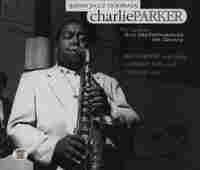 Groovin' High
from Complete Savoy Live Performances: Sept. 29, 1947-Oct. 25, 1950
by Charlie Parker
Max Roach wasn't the first bebop drummer. That honor goes to Kenny Clarke, but Roach was right behind him — and can certainly share credit for creating the bebop drumming style in which the drums became a more expressive instrument. Prior to the Clarke/Roach revolution, jazz drummers playing in 4/4 time would keep time with their bass drum. Clarke and Roach found it more freeing to keep time on the cymbals and use the bass for accents and counterpoint in their performances. That use of the bass drum became known as "dropping bombs." In this live recording from the late 1940s, you can hear early examples of Max Roach's bombing pattern as he plays behind Charlie Parker and Miles Davis.
Parisian Thoroughfare
from Alone Together: The Best of the Mercury Years
by Clifford Brown/Max Roach
After his apprenticeship in the crucible of bebop, Max Roach stepped up to become a bandleader... or co-leader. He and trumpeter Clifford Brown put together a quintet and immediately began making brilliant music. Brown's untimely and accidental death (along with that of the group's pianist, Richie Powell) ended the project and sent Roach into a long depression. There's no depression in this song, however, as Roach and Brown improvise together to create a lively, musical portrait of the titular Parisian thoroughfare.
Driva Man
from We Insist! Max Roach's Freedom Now Suite
by Max Roach
Max Roach was one of the first jazz musicians to overtly blend jazz and the politics of civil rights. For this project, released in 1960, Roach worked with lyricist Oscar Brown Jr., vocalist Abbey Lincoln (who was soon to become Roach's second wife) and, in this song, tenor saxophone legend Coleman Hawkins. Although "Driva Man" is now more than 60 years old, it has lost none of its power — and, sadly, far too little of its relevance.
Epistrophy
In pursuit of his mission to make drumming a more musical, lyrical experience, Max Roach founded the percussion group M'Boom in 1970. Over the course of its life, the group had between six and ten members playing percussion instruments that ranged from trap set, congas and bongos to tympani, glockenspiel and marimba. In this delightful interpretation of Thelonious Monk's "Epistrophy," M'Boom shows us how drums can sing.
Bright Moments
from Bright Moments
by Max Roach
In the mid-'80s, Roach founded his Double Quartet. This consisted of his jazz quartet (with saxophonist Odean Pope, trumpeter Cecil Bridgewater and bassist Tyrone Brown) and The Uptown String Quartet, which featured Roach's daughter Maxine on viola. This successful melding of classical chamber music and jazz produced lovely results, not least among them this poignant arrangement of Rahsaan Roland Kirk's composition, "Bright Moments." For more bright moments, just dig deeper into the life's work of Max Roach. They're there in abundance.