The Once-Thriving Jazz Scene Of ... Indianapolis?
Nyttend/Public domain via Wikimedia Commons
In the segregated years of the 20th century, many American cities with significant black populations had what was known as a "main stem": a primary boulevard of business and cultural activity for the African-American community. In Los Angeles, it was Central Avenue; in Detroit, it was Hastings Street; in Harlem, it was 125th Street; and in Indianapolis — the city that bequeathed us jazz greats such as J.J. Johnson, Freddie Hubbard, David Baker, Slide Hampton and Wes Montgomery — it was Indiana Avenue.
Indiana Avenue and Indianapolis jazz history have been in the spotlight recently as a result of the new Wes Montgomery CD Echoes of Indiana Avenue, which presents previously unknown studio and nightclub recordings of Montgomery made in Indianapolis in the late 1950s. They provide further evidence that "India-no-place," as the city was once derisively called, is a significant jazz capital, knowledge that Gunther Schuller was already hip to in 1959. That's when he wrote in Jazz Review that Indianapolis offered "a caliber of jazz quite superior to the often blasé big-name jazz of the metropolitan centers."
Today, few of the original buildings from Indiana Avenue's glory days remain, save for the majestic Madame Walker Theater. Like many once-thriving black city neighborhoods, the area faded in the decades following WWII, a victim of interstate highway construction, "urban renewal" schemes and changing residential patterns. The clubs, the businesses and most of the people who inhabited the avenue at the height of its vitality are gone. But the influence of the era lingers, like light from a vanished star, in the artists who have come of age listening to the recordings of Johnson, Hubbard and Montgomery — and studying with David Baker.
While the contributions of those masters have been well-documented, the Indianapolis scene, like those of other major jazz centers, produced numerous other musicians who made the sound of mid-20th-century American jazz flourish. Organist Mel Rhyne, saxophonist David Young, trumpeter Virgil Jones, drummer Killer Ray Appleton and the Hampton Sisters are among those who made their mark, both in the city and beyond. Here are five recordings by other artists that further reflect the musical legacy of Indiana Avenue:
Take Five: Indiana Avenue: Further Echoes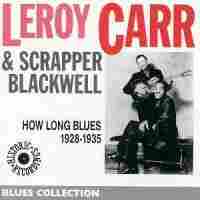 How Long Blues
from How Long Blues 1928-1935
by Leroy Carr/Scrapper Blackwell
Pianist Leroy Carr and guitarist Scrapper Blackwell produced some of the most popular blues standards of the late 1920s and early 1930s. They are part of Indiana Avenue's pre-modern jazz history, which includes songwriter Noble Sissle (co-writer of the 1922 Broadway hit musical Shuffle Along), vocal group The Ink Spots, and pianist and bandleader Reginald Duvalle Sr., who was a mentor to the young Hoagy Carmichael. The duo's debut and hit 1928 recording of Carr's "How Long Blues," with its coolly resigned and displaced vocal mood and jazzy guitar work, is a signal moment in the transition from rural to urban blues.
Way 'Cross Town
from Introducing Carl Perkins
by Carl Perkins
He's the other Carl Perkins; not the guitar-playing rockabilly legend, but a diminutive jazz pianist from Indianapolis who developed a unique left-hand approach described by bassist Red Callender as "crablike" — Perkins would keep his left arm nearly level with the piano as he played and sometimes hit bass notes with his elbow. Perkins held down the piano chair in one of the 1950s' finest hard bop groups, the West Coast-based Curtis Counce Quintet. The quintet's saxophonist, Harold Land, told jazz historian Ted Gioia, author of West Coast Jazz, that "Carl's chord constructions were beautiful; his solos always interesting; he knew how to use space so that his phrasing was beautiful, too. And there was no end to the funk in his playing." No small wonder, then, that one of Perkins' foremost fans was Miles Davis. Perkins died at the age of 29 in 1958 and left behind only one album recorded under his own name, a trio date made with drummer Lawrence Marable and fellow Indianapolis native Leroy Vinnegar (another notable presence on the West Coast scene). "Way Cross Town" serves up Perkins' blues-bright voicings and sharp, smartly playful rhythms with just a hint of Bud Powell and other influences.
Bock To Bock
from Fingerpickin'
by Wes Montgomery
"No one talks about an Indianapolis school of jazz, but you could," Ted Gioia once told me in an interview. "The players from there always had a distinctive style, a tremendous but relaxed sense of swing. They fit in really well with the West Coast sound; their music always cooked along, but without ever sounding anxious or rushed. I always wondered, 'Is there something in the water out there?'" Like Carl Perkins and Leroy Vinnegar, Buddy and Monk Montgomery eventually headed to the West Coast and formed the Mastersounds, a group with a cool, light sound that was often compared to the Modern Jazz Quartet, and which scored some commercial success with its recording of the music from the Broadway show The King and I. Before forming the Mastersounds, however, Buddy and Monk and their brother Wes played around Indianapolis as the Montgomery-Johnson Quintet, and the group's nucleus made some recordings at the end of 1957. "Bock to Bock" exhibits the more laid-back aspects of the Quintet's energetic bop- and blues-fueled sound and features a two-minute-long contribution from Wes Montgomery; it also gives us a chance to hear a 19-year-old Freddie Hubbard laying down one of his first recorded solos, as well as local-legend saxophonist Pookie Johnson.
After Hours Joint
from Livin' in the House of Blues: Smokey Blues
by Various Artists
Wes Montgomery was famously "discovered" at an Indiana Avenue neighborhood after-hours club called the Missile Room, when a touring Cannonball Adderley stopped by after an all-star gig in the city and subsequently rushed off in the middle of the night so that he could telephone his producer, Orrin Keepnews of Riverside Records, and tell him of the wondrous octave-driven sounds he'd just heard. After-hours "joints" such as the Missile Room, which opened in the early hours of the morning after other nightclubs had closed, were immortalized in this 1950s early-morning bar-crawl hit by Indianapolis saxophonist Jimmy Coe, who worked with and eventually replaced Charlie Parker in Jay McShann's early-1940s big band.
Breaking Point
from Breaking Point
by Freddie Hubbard
Saxophonist and flutist James Spaulding was a member of Sun Ra's Arkestra in the late 1950s — he even helped bring about a rare (at the time) out-of-town gig for the intergalactic bandleader when the Arkestra came down from Chicago to play at the Indiana Avenue neighborhood YMCA, with hometown heroes Freddie Hubbard and Wes Montgomery sitting in. (Oh, to hear a tape of that concert!) He was also a member of the Jazz Contemporaries, a group that included a teenage Freddie Hubbard and bassist Larry Ridley, and which performed frequently on Indiana Avenue in the summer of 1957. Like Hubbard and Ridley, Spaulding was a mainstay on a number of classic 1960s Blue Note albums, including Hubbard's landmark 1964 date Breaking Point. On the adventurous avant-calypso title track, Spaulding, Hubbard and the rest of the band go inside and outside, producing a sound that's at once exotic, edgy and hard-swinging in the most modernistic sense.