Five DC Jazz Festival Artists Actually From The Washington Area
Patrick Jarenwattananon/NPR
Like many such events, the DC Jazz Festival brings an overload of great musicians to town. The festival kicks off with Ron Carter's quartet in one place, and the Randy Weston trio in another. On Sunday, Dianne Reeves, David Sánchez and Mark Turner are all playing at the same time — in different locations. The following Saturday, listeners will have to choose between Monty Alexander, Marcus Strickland and Marc Cary. And that's just a tiny selection of the jazz happening in the nation's capital between June 1-10.
But Washington is itself home to an active jazz scene, and the Festival has a way of heightening that energy (or at least turning a bit of the spotlight on it) through its Jazz in the 'Hoods branding. That means many of the great musicians who happen to live in the area will perform for a wider audience in coming days — and the festival provides a good excuse to spotlight musicians deserving of wider attention.
Here are five such D.C.-area jazz artists — musicians who happen to be playing DC Jazz Festival events this year. It's certainly not a comprehensive breakdown — apologies to Lenny Robinson, Marshall Keys, Brad Linde, Elijah Jamal Balbed, Christie Dashiell and many others — but it ought to be a good introduction to artists who keep the nation's capital buzzing with activity well after early June.
Five DC Jazz Festival Artists Actually From Washington, D.C.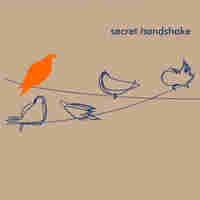 Brian Settles
Song: Zui Quan
from Secret Handshake
The saxophonist Brian Settles has a band called Central Union — a reference to his grandfather's Baptist church in Northeast Washington. Indeed, he grew up in D.C., did his graduate studies at Howard University and plays many a satisfying hard-bop gig throughout the area. But Central Union the band mostly met in Brooklyn, where most of its members lived in the same house, and features Settles' fully liberated, exploratory side. "Zui Quan" is from Central Union's (and Settles') 2011 debut recording, Secret Handshake — here, he builds a progressively freakier solo of penetrating timbre over a simple groove. The band plays June 2 as part of a free all-day show at The Phillips Collection, a modern art museum.
Fred Foss
Song: Journey
from Journey
Musicians usually move to New York City in search of opportunities a smaller jazz scene can't provide. Not so with reedman Fred Foss. Seeking a change of pace, he moved to the District from his New York hometown at age 30, after making several tour visits with the Lionel Hampton Orchestra. When he hasn't been on the road with musicians like Abdullah Ibrahim or Hugh Masekela, he's been a hard-swinging presence on the D.C. scene, especially as a youth music educator — he's still "Mr. Foss" to D.C.-bred rising stars like bassist Ben Williams. At D.C. Jazz Fest, he'll play at a senior center on June 8 as part of a series of concerts east of the Anacostia River, home to a huge portion of D.C.'s black community. (With him will be other area stalwarts like bassist James King and drummer Nasar Abadey.) For a taste, here's the title track from The Journey (1995), his first and only album; he was already in his mid-forties when it was recorded.
Reginald Cyntje
Song: Queen Mary
from Freedom's Children: The Celebration
Though active in the D.C. area for more than a decade, Reginald Cyntje (sin-tchee) was born on the island of Dominica and grew up in the U.S. Virgin Islands. That bred a deep-seated knowledge of Caribbean music and culture which has settled into his jazz trombone playing, and certainly into his 2011 album Freedom's Children: The Celebration. The album is lightly programmatic, its tracks corresponding to various stages of life, and is filled with positive vibrations. It also features Baltimore vibraphonist Warren Wolf and steel pan master/fellow U.S.V.I. native Victor Provost, especially on this post-bop recasting of the Virgin Islands traditional "Queen Mary." The Reginald Cyntje Group plays as part of the East River Jazzfest on June 2, in a double bill with Sine Qua Non, the new band of standout bassist Michael Bowie.
Dwayne Adell
The pianist Dwayne Adell doesn't read music. He's self-taught; he doesn't gig a whole lot; he has no recordings or even any YouTube clips documenting his playing. But musicians and casual fans alike are almost universally blown away when they do hear his thorough mastery. His is the kind of virtuosity that garners comparisons to Erroll Garner and Art Tatum, Bud Powell and Oscar Peterson. He can learn difficult classical repertoire by ear; indeed, he has even arranged parts of Handel's Messiah for gospel choir with jazz ensemble and dancers (see embedded video). That talent is why the premier jazz club in town, Bohemian Caverns, has invited the local legend for a June 7 trio gig during the DC Jazz Festival.
Todd Marcus
Song: Ma'aelsalama
from In Pursuit of the 9th Man
In considering jazz in the nation's capital city, it's wise to remember that D.C. constitutes part of a mid-Atlantic metropolis with Baltimore, less than an hour up the Parkway. The composer and bass clarinetist Todd Marcus is based in Charm City, where he regularly plays with musicians from the entire region. Many musicians, in fact; among his bands is a mid-size jazz orchestra, which will appear at Capitalbop's D.C. Jazz Loft Series on the festival's opening night. "Ma'aelsalama" — "Goodbye, God bless" in Arabic — is his acknowlegement of his father's Egyptian heritage, which appears on the 2005 recording In Pursuit Of The 9th Man. Marcus has continually updated the group's repertoire since that document, and is also preparing to release a new quartet album this year. Another D.C. connection: His albums are produced by Hipnotic Records, a small but mighty District-based label.