5 Great Works Of Modern Chamber Jazz
Thomas Dorn/Verve Records
Musical genres always evolve in parallel worlds.
In the 1920s, composers of classical music such as Stravinsky and Copland began incorporating sensibilities of American jazz into their otherwise European musical culture. Various styles of folk music have always been fountainheads of inspiration for "classical" composers, so it was almost inevitable that blues-based music would make its way into the Western concert-music tradition.
At the same time, jazz artists were creating unique, personal music by blending in elements of classical and folk music. Western classical influences include the use of orchestral instruments, through-composed music and the formal presentation of a concert setting. And there are myriad examples of borrowing from other U.S. folk musics, as well as traditions from South America, North and West Africa, Eastern Europe and Asia.
To me, this merger of jazz, folk and classical music — perhaps best described as "chamber jazz" — works best when played dynamically by a relatively small ensemble of soulful, knowledgeable musicians with singular voices. The music I wrote for my new album, By a Little Light, was indeed inspired by Romantic-era classical music, American minimalist composers, Eastern European folk music, modern indie rock and the entire jazz spectrum. But I looked at the project not as going back and forth between jazz and classical worlds; I looked at it as working with great musicians.
What makes these five chamber-jazz tracks interesting is that the composers lead the band, interpret the music and improvise on it; their ensembles are made up primarily of other composer/improvisers.
5 Great Works Of Modern Chamber Jazz
Wayne Shorter
Song: Serenata
from Alegría
Saxophonist and composer Wayne Shorter is one of the most greatest musicians living today. Having written many pieces for Art Blakey and the Jazz Messengers, the late-'60s Miles Davis Quintet, Weather Report and his own groups, Shorter spans multiple generations of jazz styles and movements. He continues to innovate today. On his 2003 studio album Alegria, Shorter expands his quartet with woodwinds, brass and percussion. "Serenata" is his arrangement of a piece by the once-popular American composer Leroy Anderson.
Brad Mehldau
Song: When It Rains
from Largo
The pianist Brad Mehldau is no stranger to living in both "jazz" and "classical" worlds, having released several solo and trio jazz records as well as collaborative works with modern classical composer Patrick Zimmerli (Modern Music, 2011) and opera superstar Renee Fleming (A Love Sublime, 2006). On Largo, Mehldau works with legendary producer Jon Brion, whom he met during Brion's long-standing weekly engagement at the Los Angeles club Largo. The lush woodwind octet accompanying the piano trio in the opening track "When It Rains" has been an inspiration to me since I first heard it in 2001. Besides the instrumentation and orchestration of this track, the wide range of textures throughout the album showed me what a "jazz" record could sound like.
Chico Hamilton
Song: Lost in the Night
from Truth
When talking about chamber music in the jazz spectrum, I feel it necessary to bring up one of the unsung heroes of this ever-evolving genre. Drummer Chico Hamilton led his own quintet on the West Coast from 1955 to 1965. The third version of this band featured then-unknown saxophonist/bass clarinetist Eric Dolphy. Before Dolphy made any albums of his own, this particular Chico Hamilton Quintet recorded the LP That Hamilton Man — later reissued as Truth by another label — in May 1959 in Los Angeles. Hamilton's quintet was unique for its instrumentation, with cello, bass clarinet, guitar, bass and drums; it also focused on musical forms more commonly associated with classical music than jazz.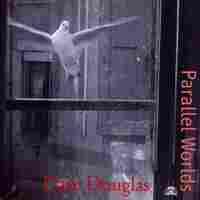 Dave Douglas
Song: Remains
from Parallel Worlds
Dave Douglas, perhaps the most prolific trumpeter and composer of his generation, is a major inspiration as a composer/bandleader. He's released more than 30 recordings since 1993 and is consistently finding new musical outlets in the jazz idiom, always with forward-thinking focus. Having developed work for many of his unique ensembles — including the Dave Douglas Quintet, Brass Ecstasy, Keystone and many others — he also operates a record label, Greenleaf Music. [By a Little Light was issued by Greenleaf Music. This Dave Douglas album was not. --ed.] Parallel Worlds, from 1993, is one of Douglas' early releases, featuring string masters Mark Feldman (violin), Erik Friedlander (cello) and Mark Dresser (bass). Michael Sarin plays drums.
Anne Mette Iversen
Song: East (Allegro)
from Best of the West + Many Places
I recently discovered the music of bassist and composer Anne Mette Iversen upon a recommendation by my good friend Zach Brock, a Brooklyn-based violinist. Born in Denmark and living in New York City since 1998, Iversen leads a jazz quartet and has also written for several chamber-jazz ensembles. On her 2008 double album Best of the West + Many Places, one disc is dedicated to the Anne Mette Iversen Quartet, while the other combines her band with the Danish string quartet 4Corners.
Matt Ulery
Song: Wilder Years
from By A Little Light
I wrote this piece after watching many classic movies by Hollywood filmmaker Billy Wilder. I was inspired by the way his stories unfold, combined with the thoughtful presentation, character development and overall tone and mood — especially during more serious moments. Also, the scores from his films, many written and conducted by Hungarian composer Miklos Rozsa, are full of deeply expressive and dramatic gestures. This music and emotion — along with other Romantic Eastern European composers I was listening to at the time, such as Rachmaninov and Chopin — crept easily into what I was writing. I embraced it all happily. While the full ensemble includes cello, violin, alto flute and clarinet, this arrangement features the trio of piano, bass and drums. It's a great honor to release this as part of my double album By a Little Light.