A Cirque Du Soleil For The Senses: Five Jazz Groups From Montreal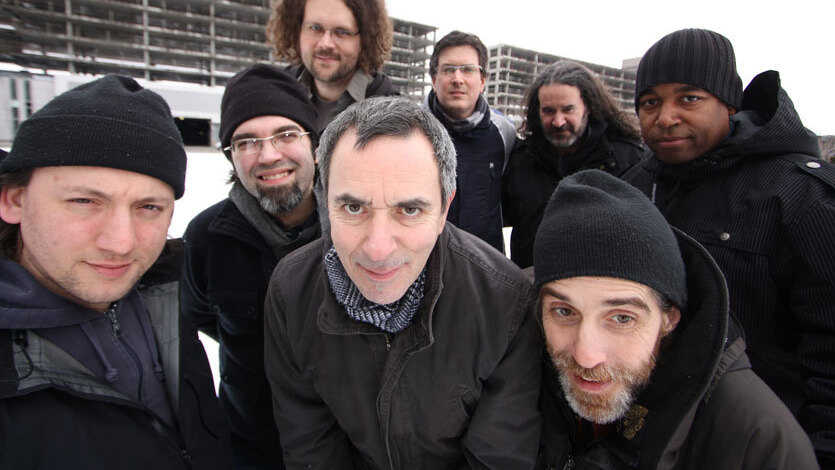 C'est la saison de jazz à Montreal! Starting Thursday night and running through next weekend, Francophone Canada's cultural metropolis hosts its grand prix: the Montreal International Jazz Festival. The self-proclaimed "largest jazz festival in the world" casts a musical spell over the city, across 10 outdoor stages, 15 concert halls and clubs galore with more than 1,000 shows.
Much of the festival's magic comes from its two million attendees. High society in bow ties and evening gowns peacefully intermingles with young fans in high-top sneakers. Toddlers and old folks dance together in the streets. Brass bands battle across intersections. Jugglers, puppeteers, clowns — street performers of all stripes — compete for your attention. Mix in Montreal's wondrous culinary pleasures, and it's Cirque du Soleil for your senses.
As for the on-stage talent, it comes from everywhere, but many featured performers have a well-known Canadian connection. The singer-songwriter Rufus Wainright will give a free homecoming concert for an anticipated record-setting crowd. Many of the city's local jazz artists are propped up, too. Here are five to catch.
Five Jazz Groups From Montreal
Oliver Jones
Song: Dizzy-Nest
from Just 88
Montreal's most famous living jazz pianist is Oliver Jones, whose fascinating history with Oscar Peterson is widely discussed in Canada's jazz lore. He may not pack all of Peterson's virtuosic punch, but he spiritedly commands 88 keys, as demonstrated here, solo, in "Dizzy - Nest," his own bebop tune. His annual appearance will feature his compositions with Canada's celebrated vibraphonist, Peter Appleyard, who won this year's Oscar Peterson Award.
Fortin Leveille Donato Nasturica
Song: Notre Sentier
from Baie des Anges
This "gypsy jazz" group of two guitars, acoustic bass and accordion explores music across the hemispheres. From Brazilian choro to Argentine tango to Spanish flamenco and beyond, this easy-on-the-ear quartet keeps it rustic and down-home while displaying the finesse and polish found in chamber classical music. Each player is highly regarded in Canada — including Montreal's Michel Donato, who played with Bill Evans, Charlie Haden and Oscar Peterson.
Remi Bolduc
Song: Bobino
from Cote d'Ecoute
A local hero in Montreal's jazz scene as an educator at McGill and Concordia universities, this alto saxophonist celebrates his 50th year with special guests. The melodies on this recording may ring familiar to locals — they're popular Canadian television jingles. But Bolduc somehow turns a sappy number like "Bobino" into an elegant gem.
Rafael Zaldivar
Song: Baila Mi Changüi
from Life Directions
Pianist Rafael Zaldivar's trajectory has only pointed upward since his auspicious recording debut Life Directions: Invitations to perform at almost every jazz festival in Quebec have followed. On this album, he displays similarities to other Cuban jazz modernists: superb technique, harmonically suffocating compositions and irrepressible Afro-Cuban percussion.
L'Orkestre des Pas Perdus
Song: La Belle Affaire
from Projet 9
L'Orkestre des Pas Perdus, translated as "The Lost Steps Orchestra," puts its own shuffle on a New Orleans brass-band tradition. Besides taking the usual instrumentation — trumpet, saxophone, trombone, percussion –- the band steps out with French horn, electric guitar and other plugged-in gizmos, adding its own funky fun to its quirky arrangements.