Django's Legacy: 21st-Century Gypsy Jazz
Django Reinhardt has achieved an almost godlike status among those who love jazz guitar. When he and violinist Stephane Grappelli formed the Quintet of the Hot Club of France in 1934, they created a new sound in jazz: The guitar and violin served as the lead instrumental voices, propelled by two hard-swinging rhythm guitars and a bass. No drums, no piano, no saxophone — just five stringed instruments doing what became known as "hot swing" or "Gypsy jazz." (Reinhardt was of Romani origin.)
Many Reinhardt compositions have become jazz standards, and the basic Gypsy jazz sound still holds great appeal. Here, then, are five examples of how his style and spirit are influencing 21st-century American musicians.
Django's Legacy: 21st-Century Gypsy Jazz
Pearl Django
Song: Lester Leaps In
from Mystery Pacific
Django Reinhardt loved to adapt American jazz standards to his style. Following that tradition, Pearl Django, Seattle's premier Gypsy jazz band, transforms saxophonist Lester Young's composition "Lester Leaps In" — based on Gershwin's "I Got Rhythm" — into exuberant swing. The lead guitarist here is the late Dudley Hill, one of Pearl Django's founding members.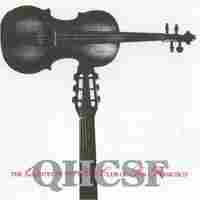 Quintet Of The Hot Club Of San Francisco
Song: Armando's Rumba
from QHCSF
With "Lester Leaps In," we heard a contemporary Gypsy jazz band performing a song from Reinhardt's era. Here, the Quintet of the Hot Club of San Francisco, featuring guitarist Paul Mehling, applies Reinhardt's style and spirit to a jazz composition of more recent vintage: Chick Corea's "Armando's Rhumba."
Frank Vignola
Song: Tears
from 100 Years of Django
As previously mentioned, Django Reinhardt was a fine composer, as well as a groundbreaking guitarist. Here's guitarist Frank Vignola and his arrangement of one of Reinhardt's most beautiful songs.
John Jorgenson Quintet
Song: Ultraspontane
from Ultraspontane
John Jorgenson is the only guitarist on this list to have actually portrayed Django Reinhardt in a movie. He's also the only guitarist on this list to have played lead for The Desert Rose Band and The Hellecasters. Jorgenson gets creative when he's playing Gypsy jazz. On this title track from his 2007 album Ultraspontane, Jorgenson replaces one of the two rhythm guitars with a drummer, then adds a distinctly Middle Eastern feel. But the spirit of Django is definitely still there.
Hot Club Of Detroit
Song: Seven Steps to Heaven
from Night Town
If you're interested in all the possible futures Gypsy jazz might have, listen to the Hot Club of Detroit. Over the course of four releases, it's gone from fairly faithful renditions of Reinhardt's music to supercharging his spirit and shooting it straight into outer space. The band's arrangement of Victor Feldman's "Seven Steps to Heaven," originally made famous by the Miles Davis Quintet, was recorded in 2008, right around the time Hot Club Of Detroit decided to engage the thrusters.