Survey The Portland Jazz Scene With Five Great Tunes
Hiroshi Iwaya/Courtesy of the artist
No matter what a certain television series tells you, Portland, Ore., isn't all that weird. Sure, we make great coffee, ride bicycles, eat organic food — and, yes, there are a lot of hippies and hipsters here. But Portland is much more than that.
Jazz fans are undoubtedly familiar with some of the artists that make and have made this city their home. The much-recorded bassist Leroy Vinnegar lived here for a while, as did saxophonist and Monk sideman Charlie Rouse. The late Native American saxophonist Jim Pepper called Portland home. You may have heard of Portland native Esperanza Spalding.
There's also vocalist Nancy King, bassist Glen Moore (of the band Oregon), pianist and singer-songwriter Dave Frishberg, bassist Chuck Israels, trumpeter and educator Thara Memory, young saxophonist Hailey Niswanger and many more that I'm probably forgetting. (Believe me, I'll hear all about it after this article.) And many world-class jazz musicians secretly call Portland home, as the Pacific Northwest has long served as a covert getaway for artists.
This Friday, the 10th annual Portland Jazz Festival will bring audiences in my fair city a bevy of jazz experiences from near and far. These 10 days in February give our community a chance to celebrate creative music in venues around town — and show off its own diverse local scene. In that spirit, here are five examples of what's happening now in Portland jazz.
Surveying The Portland Jazz Scene
The Bridge Quartet
Portland is all about bridges: Since our city sits on the banks of the Willamette River, 12 major bridges connect one side of the city to the other. The Bridge Quartet features pianist Darrell Grant with drummer Alan Jones (who composed this song), saxophonist Phil Dwyer and bassist Tom Wakeling. This long tune builds from a place rooted in late-period Coltrane into a sublime feature for the rhythm section — one of Portland's finest.
Grandpa's Hands [For Frank Wall Sr.]
Blue Cranes
Song: Grandpa's Hands [For Frank Wall Sr.]
from Observatories
Call it "creative music" or "post-jazz" or whatever you like, but the Blue Cranes sound is steeped in the ideas and concepts of jazz. The driving pulse and horn melodies of "Grandpa's Hands" opens the 2010 album Observatories. Somewhere around the two-minute mark, the twin saxophones of Reed Walsmith and Joe Cunningham begin to trade solos, culminating in a beautifully improvised sonic experience.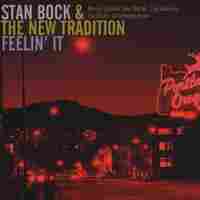 Stan Bock & The New Tradition
Song: Bein' Green
from Feelin' It
This new release features a sextet led by educator, songwriter and trombonist Stan Bock. If something seems familiar about the tune, it's probably because you're used to hearing Kermit the Frog sing it: It's an arrangement of "It Ain't Easy Bein' Green." Saxophonists Renato Caranto and John Nastos deliver a soft burn on their solos, and this cut gives everyone a chance to stretch out a bit, including the excellent rhythm section of Christopher Brown on drums and Clay Giberson on keys. What really makes it for me, however, is the Jaco Pastorius-influenced fretless bass playing of Tim Gilson.
Trio Subtonic
Song: There We Were
from I'll Meet You There Tomorrow
Trio Subtonic has been playing funky, feel-good rhythms in Portland for years now. The group's newest record, I'll Meet You There Tomorrow, made KMHD's Top 10 list for 2012 because of its terrific songwriting and a diverse assortment of tunes. "There We Were" is a bit of an outlier for the band's sound, which normally sits somewhere between Medeski Martin & Wood and organ master Dr. Lonnie Smith. The gospel-tinged groove in this song feels like summertime.
Farnell Newton & Marcus Reynolds Quintet
Song: Bluest Eyes
from Sense of Direction
Trumpeter Farnell Newton, the nephew of free-jazz pioneer Sunny Murray, is one of Portland's many musical treasures. On Sense of Direction, his collaborative effort with pianist Marcus Reynolds, he explores post-bop originals like this one. The opening bass line, laid down by Ameen Saleem, is worth the price of admission by itself.