Woody Herman At 100: 'A Blues Player From His Heart'
Woody Herman was one of the premier bandleaders in jazz, saxophonist Joe Lovano says.
"He didn't have the same chops and virtuosic approach like Benny Goodman or Artie Shaw, but he told a deep story," says Lovano, who played with Herman early in his career. "He was a blues player from his heart, and really had a beautiful voice on alto saxophone."
Born in 1913, Herman would have turned 100 on Thursday. Over the course of a long career, the reedman explored many of the styles of 20th-century jazz, and was one of the first big-band leaders to incorporate melodic lines from bebop.
Herman's bands were generally known as the Herd — later, the Thundering Herd — and featured a tremendous rhythmic drive. His was one of the country's most popular musical acts in the 1940s, and respected enough musically to inspire and introduce an "Ebony Concerto" from Igor Stravinsky. His records from that period remain touchstones and still swing hard. (Well, maybe not the Stravinsky.)
Herman was also an amazing talent scout, giving work to not only countless arrangers, but also an unending roster of strong soloists, including Flip Phillips, Stan Getz, Zoot Sims, Pete and Conte Candoli, Gene Ammons, Sal Nistico, Frank Tiberi and Dave McKenna.
"He heard all kinds of young players all the time, and was attracted by the modern sounds as different generations developed under him," Lovano says. "He featured cats and let them really be themselves."
Herman performed nearly all of his life. As a child performer on vaudeville, he was known as the Boy Wonder. Later in life, he kept working long after his health started to fail him, as he sought to pay off a never-ending debt to the IRS.
Here are five songs that sound fresh decades down the road, offering just a sample of Woody Herman's many sounds.
Woody Herman At 100: 'A Blues Player From His Heart'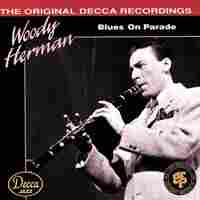 Woodchopper's Ball
from Blues On Parade
by Woody Herman
Herman was still in his 20s when he formed his first band, drawing on players who had played with him under bandleader and composer Isham Jones. No one thought much of this record — a simple head arrangement of a blues — when he first recorded it in 1939. It didn't sell, but Decca Records, where Herman led the house band, kept reissuing it. Over the period of a few years, it became his biggest hit, selling five million copies and ending up a standard.
Sidewalks Of Cuba
from Blowin' Up a Storm: The Columbia Years, 1945-1947
by Woody Herman
Like world wars, Herman's bands were numbered retrospectively. The group later dubbed the "First Herd" was one of the country's most popular acts in the mid-1940s. It played with exuberance, the horn sections and first-rate soloists supported by energetic, bomb-dropping drummers. This Ralph Burns arrangement features Herman with a Latin tinge, but as critic Gary Giddins once wrote, "The heart of the performance is a crazed 'Bumble Bee' and half-chorus trumpet solo by Sonny Berman."
Four Brothers
from Blowin' Up a Storm: The Columbia Years, 1945-1947
by Woody Herman
Here's a track that leaves you happier every time you hear it. The Second Herd featured a young Stan Getz, who demonstrates the incredible influence Lester Young's phrasing and tone had on his generation of sax players. The bop-inflected tune (by Jimmy Giuffre) features Getz playing over the baritone sax of Serge Chaloff, with fellow tenor "brothers" Zoot Sims and Herbie Steward taking solos, as well. The unanimity of their approach and the sheer forward momentum of the piece made this recording an enduring favorite of musicians.
23 Red
from Woody's Winners [Bonus Tracks]
by Woody Herman
Like a lot of bandleaders, Herman was fronting smaller units by the late 1950s, but he kept putting together big bands. One powerhouse group that played from 1962 to 1965 became known as the "Renaissance Herd," captured here on a live date in San Francisco. Herman's bands may have been best known for their sax sections, but three trumpeters — Bill Chase, Dusko Goykovich and Don Rader — are featured on a relentless exchange of choruses in this tune.
Giant Steps
from Giant Steps
by Woody Herman
There were certain tunes Herman played nightly for 40 years ("Woodchopper's Ball," "Apple Honey"), but he kept exploring new repertoire. His recordings of rock tunes have dated badly, but he enjoyed greater success recording tunes by younger jazz composers such as Chick Corea and Thad Jones. Trumpeter Bill Stapleton reworked John Coltrane's standard for an album that took home a Grammy in 1973 — the same year Herman played halftime at the Super Bowl. In classic Herd fashion, the recording features a dynamic chase between tenors Frank Tiberi and Gregory Herbert.