The 2014 NPR Music Jazz Critics Poll
Willie Davis/Courtesy of the artist
NPR Music is pleased to present a poll in which 140 jazz critics picked their favorite recordings of 2014.
For nine consecutive years, this poll has been a labor of love by eminent critic Francis Davis. It's grown tremendously since he initially submitted the consensus of 30 writers to The Village Voice in 2006. Over the last month, print journalists, bloggers and broadcasters nominated more than 700 different albums. We're thrilled to welcome his exhaustive project back to our site.
Below are full results of the 2014 NPR Music Jazz Critics Poll, highlighted by a playlist of the Top 10 overall picks. You'll find a list of the entire Top 50 in the voting for Jazz Album of the Year, with the top finishers in Latin Jazz, Vocal, Debut and Reissue/Historical categories as well. (You can find all the raw data, including individual ballots, at a website operated by Tom Hull, who annually collates all the information from the poll.)
Davis shares his thoughts on each of 2014's Top 10 Jazz Albums below. You'll also want to read his breakdown of the poll results, including his personal picks for the year's 10 best. We invite you to browse and have a listen. —Patrick Jarenwattananon, NPR Music
The 2014 NPR Music Jazz Critics Poll
1. Steve Lehman: 'Mise En Abîme' (Pi)
Song: Chimera/Luchini
from Mise En Abîme
by Steve Lehman
The album title is from deconstructivist literary theory, where it can refer to an image within an image, a story within a story, a dream within a dream and so forth. This 36-year-old New Yorker's compositions — including one that mutates into rap duo Camp Lo's "Luchini" and three others that abstract Bud Powell beyond recognition — use live electronics and computer-assisted spectral harmonies. Lehman also recently earned his doctorate in composition from Columbia University; his webpage even links to his dissertation on "Liminality as a Framework for Composition: Rhythmic Thresholds, Spectral Harmonies and Afrological Improvisation." You almost expect this CD to bear a warning sticker: "WARNING: THIS PRODUCT MAY CONTAIN ALGORITHMS."
But don't be put off by all this overt intellectualism or you'll miss out on some of 2014's most robust and eventful music. For general point of reference, think Eric Dolphy's Out to Lunch, Jackie McLean's 1960s recordings with Bobby Hutcherson and Tony Williams and Anthony Braxton's 1970s Creative Orchestra Music. It isn't only the electronics that identify Lehman's music as post-millennial (and they're employed so sparingly, by the way, they come across as subliminal). It's also the playfully stiff-legged gait of Tyshawn Sorey's drumming, the kaleidoscopic textures created by Chris Dingman's vibes, the hard punch of Lehman's own just-short-of-strident alto solos, the simultaneity of harmonic events and the overlapping and interlocking of different meters — all preventing this music from losing itself in arcana. It's a fine consensus choice for Jazz Album of the Year, one that might very well presage the immediate future.
266 points, on 40 ballots.
2. Wadada Leo Smith: 'The Great Lakes Suites' (TUM Records)
Song: Lake Huron
from The Great Lakes Suites
by Wadada Leo Smith
What attracted Smith to the Great Lakes, he tells us in the booklet that comes with this double CD, was their surface flatness and underlying volatility — "restrained, but explosive," in his words. He might as well be describing his own trumpet style. Though he can growl and cuss with the best of them (including Lester Bowie, who overshadowed him when they were both coming up in Chicago in the late '60s and early '70s), Smith's brass signature is a dead calm that lets the boldness of his lines sneak up on you. The latest in a succession of ambitious projects including 2012's Ten Freedom Summers and last year's Occupy The World, Great Lakes reunites Smith with saxophonist and flutist Henry Threadgill, who rarely records as a sideman anymore, and whose headlong solos contrast nicely with Smith's. The pianoless rhythm section features bassist John Lindberg and drummer Jack DeJohnette, both from various editions of Smith's Golden Quartet, and DeJohnette hasn't sounded this fiery (or this sensitive, as the music demands) in years. Note the plural Suites in the album title; there are six extended performances and each is truly a suite, with the rhythm team marking the transitions from movement to movement.
254 points, on 32 ballots.
3. Ambrose Akinmusire: 'the imagined savior is far easier to paint' (Blue Note)
Song: Our Basement
from The Imagined Savior Is Far Easier To Paint
by Ambrose Akinmusire
This young trumpeter seems determined not to repeat himself. Whereas 2011's When the Heart Emerges Glistening, his first album for Blue Note, spotlighted his quartet and his own improvisational prowess, this one finds him stretching his wings as a composer for different configurations. It marks a giant leap forward, I think, though on first hearing, it can seem diffuse, off-putting in its unbroken solemnity; the payoff comes only once you learn to listen to it on its own terms. A piece featuring singer Becca Stevens achieves a synthesis of voice and instruments as moving as George Russell's version of "You Are My Sunshine" with Sheila Jordan, or Mike Westbrook's settings of William Blake poems; another number in the same vein featuring Theo Bleckmann is very nearly as good. "Rollcall For Those Absent" confronts us with the voice of a small child, accompanied by only a pair of ominous keyboards, delivering a litany of the names of unarmed black men slain in cold blood — and you can't hear it now without mentally adding the names of Michael Brown, Eric Garner and Tamir Rice. It's extremely powerful, like taking part in a die-in. Akinmusire is bidding to reintroduce jazz to the social activism and spiritualism that defined so much of it in the 1970s. More power to him for doing it without falling back on vapid grooves and ostinatos; blind faith in blackness or a fuzzy, undefined deity; or any other period cliché.
223 points, on 30 ballots.
4. Sonny Rollins: 'Road Shows, Vol. 3' (OKeh)
Song: Solo Sonny
from Road Shows, Vol. 3
by Sonny Rollins
The usual caveats apply: Attention wanes during the solos of Sonny Rollins' sidemen, and those bouncy little numbers of his, like this volume's opener, don't give the saxophonist much to work with harmonically. But rhythmically? Oh, my! And when the undiminished octogenarian teases Noel Coward's "Someday I'll Find You" to a boil or rifles through Jerome Kern's "Why Was I Born" for more than 20 minutes, the only possible response is awe.
174.5 points, on 25 ballots.
5. Mark Turner Quartet: 'Lathe Of Heaven' (ECM)
Song: Lathe of Heaven
from Lathe of Heaven
by Mark Turner
Saxophonist Mark Turner's quartet — also pianoless, but quieter and more circumspect than Wadada Leo Smith's — is so airy that any chording instrument would have only gotten in the way. Turner first attracted attention in the late '90s for reconciling Coltrane's harmonic involvement and lengthy improvised lines with a coolness more typified by Warne Marsh or Lee Konitz; Turner's sound remains unmistakable. And if you still haven't heard the gifted trumpeter Avishai Cohen, this is as good a place as any to start.
159 points, on 24 ballots.
6. Marc Ribot Trio: 'Live At The Village Vanguard' (Pi)
Song: I'm Confessin' (That I Love You)
from Live At The Village Vanguard
by Marc Ribot Trio
With his performances of "The Wizard" and "Bells" — both of which sound like hoedowns in a hailstorm, thanks in no small part to Chad Taylor's surging drums — guitarist Marc Ribot again proves himself Albert Ayler's most insightful contemporary interpreter. Ribot extends his reach to John Coltrane on two numbers originally from the neglected Sun Ship, and if no guitarist has ever come as close to matching the gale force of Coltrane's saxophone, it hasn't been for lack of trying. Along with providing a break from all this intensity, "I'm Confessin' (That I Love You)" and "Old Man River" demonstrate that Ayler's one-time bassist Henry Grimes still knows his way around chord changes. So does Ribot. I was at the Vanguard earlier in the week of June 2012 when this album was recorded, and I only wish it included the masterful version of "My Foolish Heart," ringing with tremolo and riddled with silence, which the band played the night I was there.
147 points, on 25 ballots.
7. Jason Moran: 'All Rise: A Joyful Elegy For Fats Waller' (Blue Note)
Song: Jitterbug Waltz
from All Rise: A Joyful Elegy For Fats Waller
by Jason Moran
This sounded promising, given Moran's prior success in finding foreshadowings of modernism in tunes by James P. Johnson and Bert Williams. But Meshell Ndegeocello and label honcho Don Was' hip-hop-cum-smooth-jazz production makes for too much fat and too little Fats, in my opinion. A "Jitterbug Waltz" punctuated by fractured drum beats and sporting nifty, relaxed solos by Moran and Steve Lehman suggests what might have been. And at least you don't have to endure the vocals that help do this in elsewhere.
135.5 points, on 22 ballots.
8. Brian Blade & The Fellowship Band: 'Landmarks' (Blue Note)
Song: Ark.La.Tex.
from Landmarks
by Brian Blade
If I didn't know that Wayne Shorter's longtime drummer Brian Blade was from Louisiana, and that keyboardist (and virtual co-leader) Jon Cowherd was from Kentucky, the sense of prairie and open campfires conveyed by their compositions might lead me to assume that at least one of them was from the Southwest. From the tom-tom rhythms on "He Died Fighting" and "Ark.La.Tex.," I might have assumed that one or the other was of Native American heritage as well. The genre often referred to as "Americana" doesn't get more finely textured or nostalgically evocative as this.
133.5 points, on 18 ballots.
9. Kenny Barron & Dave Holland: 'The Art Of Conversation' (Impulse)
Song: In Walked Bud
from Art of Conversation
by Kenny Barron/Dave Holland
When it comes to suave, rhythmically incisive piano, Kenny Barron is the successor to Hank Jones and Tommy Flanagan, much as they were to Teddy Wilson and Nat "King" Cole. Bassist Dave Holland, on leave from leading his own bands, is with Barron every step of the way, never leading or following. And given that the pianist has long made Monk a habit, it shouldn't be surprising that a spinning "In Walked Bud" is the most felicitous of these performances.
101 points, on 17 ballots.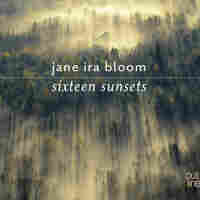 10. Jane Ira Bloom: 'Sixteen Sunsets' (Outline)*
Song: Good Morning Heartache
from Sixteen Sunsets
by Jane Ira Bloom
It's tempting to call this late 2013 release an album of ballads at all tempos. More accurately, soprano saxophonist Bloom and an attentive rhythm section captained by pianist Dominic Fallacaro sustain the most reflective of moods. When the tempo quickens, it's not by much. But that's OK, because this is when Bloom's tone deepens, her lines become slightly fretful and her solos begin to sting. Ballads test a player's storytelling ability, and Bloom passes with room to spare.
95.5 points, on 15 ballots.
The Rest Of The Top 50
11. Miguel Zenón, Identities Are Changeable (Miel Music) 95 points (on 15 ballots)
12. The Bad Plus, The Rite of Spring (Sony Masterworks) 88.5 (15)
13. Keith Jarrett/Charlie Haden, Last Dance (ECM) 83 (14)
14 (tie). David Virelles, Mbókò (ECM) 80 (13)
14 (tie). Tyshawn Sorey, Alloy (Pi) 80 (13)
16. Vanguard Jazz Orchestra, Over Time: The Music of Bob Brookmeyer (Planet Arts) 73.5 (9)
17. Chick Corea Trio, Trilogy (Stretch/Concord) 72 (10)
18. Fred Hersch Trio, Floating (Palmetto) 67 (12)
19. Jeff Ballard Trio, Time's Travels (OKeh) 66 (12)
20. Vijay Iyer, Mutations (ECM) 64 (12)
21. Mary Halvorson/Michael Formanek/Tomas Fujiwara, Thumbscrew (Cuneiform) 63.5 (14)
22. Trio 3 & Vijay Iyer, Wiring (Intakt) 60.5 (10)
23. Matt Wilson Quartet + John Medeski, Gathering Call (Palmetto) 60 (12)
24. Aki Takase & Alexander von Schlippenbach, So Long, Eric! Homage to Eric Dolphy (Intakt) 59.5 (9)
25. Billy Hart Quartet, One Is the Other (ECM) 59 (11)
26. Tom Harrell, Trip (HighNote) 56 (9)
27. Eric Revis, In Memory Of Things Yet Seen (Clean Feed) 53.5 (11)
28. Jason Roebke Octet, High/Red/Center (Delmark) 53 (9)
29. The Nels Cline Singers, Macroscope (Mack Avenue) 52 (10)
30. Christine Jensen Jazz Orchestra, Habitat (Justin Time) 52 (8)**
31. Marty Ehrlich Large Ensemble, A Trumpet in the Morning (New World) 47 (7)***
32. Frank Kimbrough, Quartet (Palmetto) 45.5 (8)
33. Hafez Modirzadeh, In Convergence Liberation (Pi) 44 (7)
34. Nels Cline & Julian Lage, Room (Mack Avenue) 43.5 (7)
35. Jason Adasiewicz's Sun Rooms, From the Region (Delmark) 43 (9)
36 (tie). Joshua Redman, Trios Live (Nonesuch) 43 (6)
36 (tie). Yosvany Terry, New Throned King (5Passion) 43 (6)
38. Avishai Cohen's Triveni, Dark Nights (Anzic) 42.5 (11)
39. James Brandon Lewis, Divine Travels (OKeh) 42 (10)
40. The Cookers, Time and Time Again (Motéma) 40.5 (9)
41. Darius Jones, The Oversoul Manual (AUM Fidelity) 40.5 (5)
42. Henry Butler, Steven Bernstein, Viper's Drag (Impulse!) 40 (8)
43. Pat Metheny Unity Group, Kin (←→) (Nonesuch) 40 (7)
44. Melissa Aldana & Crash Trio, Melissa Aldana & Crash Trio (Concord Jazz) 39.5 (9)
45. Farmers By Nature, Love and Ghosts (AUM Fidelity) 39 (11)
46. Arturo O'Farrill & The Afro Latin Jazz Orchestra. The Offense of the Drum (Motéma) 38.5 (6)
47. Sean Jones im•pro•vise (never before seen) (Mack Avenue) 37 (6)
48. Dave Douglas & Uri Caine, Present Joys (Greenleaf) 35 (7)
49. Ideal Bread, Beating the Teens: Songs of Steve Lacy (Cuneiform) 34.5 (7)
50. Mary Halvorson, Reverse Blue (Relative Pitch) 34 (5)
*Includes 21.5 points (on three ballots) from 2013.
**Includes 23 (4) from 2013.
***Includes 12 (3) from 2013
Reissue/Rara Avis
1. John Coltrane, Offering: Live at Temple University (Resonance) 149 points, on 62 ballots
2. Jimmy Giuffre 3 & 4, New York Concerts (Elemental Music) 73 (34)
3. Charles Lloyd, Manhattan Stories (Resonance) 69 (35)
4. Miles Davis, Miles At The Fillmore (Columbia/Legacy) 51 (29)
5. Louis Armstrong, The Columbia and RCA Victor Live Recordings (Mosaic) 33 (13)
6. Charlie Haden/Jim Hall, Charlie Haden - Jim Hall (Impulse!) 32 (17)
7. Keith Jarrett/Charlie Haden/Paul Motian, Hamburg '72 (ECM) 26 (14)
8. Frank Lowe, Out Loud (Triple Point) 15 (8)
9. Bud Powell, Birdland 1953 (ESP-Disk') 13 (7)
10. Horace Tapscott Quintet, The Giant Is Awakened (International Phonogram) 13 (6)
Vocal
1. Andy Bey, Pages from an Imaginary Life (HighNote) 13 votes
2 (tie). Dianne Reeves, Beautiful Life (Concord) 5
2 (tie). Catherine Russell, Bring It Back (Jazz Village) 5
Debut
1. Jeff Ballard Trio, Time's Tales (OKeh) 16
2. Otis Brown III, The Thought of You (Blue Note) 8
3. Rudy Royston, 303 (Greenleaf) 7
Latin
1. Arturo O'Farrill & the Afro Latin Jazz Orchestra, The Offense of the Drum (Motéma) 19
2. Miguel Zenón, Identities Are Changeable (Miel Music) 16
3. Yosvany Terry, New Throned King (5Passion) 11
4. Danilo Pérez, Panama 500 (Mack Avenue) 8
5. David Virelles, Mbókò (ECM) 6
6. Alfredo Rodriguez, The Invasion Parade (Mack Avenue) 5
Methodology
Voters were asked to submit choices for their top 10 new releases in descending order. Points were weighted by preference: 10 for 1st place, 9 for 2nd place, etc. Albums on unranked lists were awarded 5.5 points each. Voters also submitted their top three reissues/historical recordings and their lone choices for the year's best vocal, debut and Latin jazz albums. A complete list of ballots is available here.