The 2015 NPR Music Jazz Critics Poll
NPR Music is pleased to present the results of a poll where 147 jazz critics selected their favorite recordings of 2015.
For 10 consecutive years, this poll has been a labor of love by eminent critic Francis Davis. It's grown tremendously since he initially submitted the consensus of 30 writers to The Village Voice in 2006. Over the last month, print journalists, bloggers and broadcasters nominated more than 700 different albums. We're thrilled to host his exhaustive project on our site.
Below are full results of the 2015 NPR Music Jazz Critics Poll, led by a playlist of the Top 10 overall picks. You'll find a list of the entire Top 60 in the voting for Jazz Album of the Year, with the top finishers in Latin Jazz, Vocal, Debut and Reissue/Historical ("Rara Avis") categories as well. (You can find all the raw data, including individual ballots, at the website of Tom Hull, who annually collates all the information from the poll.)
Davis shares his thoughts on each of 2015's Top 10 Jazz Albums below. You'll also want to read his take on the poll results — and by extension, the year in jazz — including his personal picks for the year's 10 best. We invite you to browse and have a listen. —Patrick Jarenwattananon, NPR Music
The 2015 NPR Music Jazz Critics Poll Top 10
1 (tie). Rudresh Mahanthappa, 'Bird Calls' (ACT)
The first of 2015's two winners embraces Charlie Parker as a renewable resource. Rudresh Mahanthappa tells us in a liner note that each of the album's originals (presumably excluding a series of five interstitial "Bird Calls") is "directly based on a Parker composition or solo." But it would take bigger ears than mine to detect "Donna Lee" in Mahanthappa's "On the DL," for example, or "Now's the Time" in his "Maybe Later," without access to the track listings. Rife with scales and meters derived from the alto saxophonist's investigations of Coltrane and his own South Asian heritage, this isn't latter-day, by-the-numbers bebop. It doesn't sound much like vintage hard bop, either, despite Mahanthappa's deliberately strident tone and the ferocity of his attack and that of his front-line partner, the impressive young trumpeter Adam O'Farrill (son of this year's repeat Latin Album poll winner Arturo O'Farrill and grandson of Chico O'Farrill, composer of an ambitious Latin jazz suite Parker himself recorded with Machito). It's something wholly original, using Parker as a springboard to personal expression, with as much aplomb as he and his contemporaries used standards. (350 points, on 53 ballots.)
1 (tie). Maria Schneider Orchestra, 'The Thompson Fields' (ArtistShare)
Inspired by orchestra leader Maria Schneider's recent visit to her childhood hometown in rural Minnesota, this year's other winner is a masterpiece of uncategorizable modern composition. It's frequently similar in reach to Aaron Copland, but recognizably jazz even before the soloists step in. As with virtually all of Schneider's music these last 25 years, the thread unifying these eight ecologically-themed pieces is the idea of memory as the one place where beauty never fades. Listening to them one after the other can induce synesthesia: On several pieces, including "Home," "Walking by Flashlight," and the title track, we "see" the misused prairie, the nearly extinct birds and wildlife, and the departed friends and relatives she wants us to see — and find ourselves missing them as much as she does. The tempo is pretty much moderato throughout, but Schneider achieves variety with shifts in dynamics and voicings, sudden rhythm surges and a flock of soloists who've been with her practically from the beginning and know her every intention by now, including pianist Frank Kimbrough and saxophonists Donny McCaslin and Scott Robinson. (Their sequential contest as male birds preening and showing off their plumage in midair on "Arbiters of Evolution" is an absolute highlight.) A key element in the orchestral passages, meanwhile, is Gary Versace's accordion, scored by turns like a synthesizer or a harmonica. (350 points, on 49 ballots.)
3. Jack DeJohnette, 'Made in Chicago' (ECM)
This complete set from the 2013 Chicago Jazz Festival is the veteran drummer's best album since those Special Edition LPs of the early '80s that helped usher David Murray, Arthur Blythe and others from that era's avant-garde into the mainstream. This one reunites Jack DeJohnette with fellow Chicago natives Muhal Richard Abrams, Roscoe Mitchell and Henry Threadgill, who were among those who founded the Association for the Advancement of Creative Musicians around the time he was hitting the road with Charles Lloyd and then Miles Davis. (The bassist is Larry Gray, whose work I know only from his time with Ramsey Lewis but who holds his own in this faster company.) Along with a lengthy collective improvisation, the titular leader and the three avant- patriarchs each contribute a piece or two, and the resulting interplay is as stimulating for us as we assume it was for them and their live audience. My favorite pieces here are two by Mitchell: "Chant," the playfully minimalistic opener, and "This," which manages to be pensive and jocular simultaneously, in the best AACM tradition. (279 points, on 40 ballots.)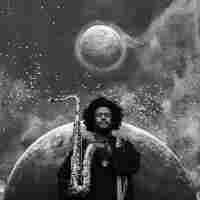 4. Kamasi Washington, 'The Epic' (Brainfeeder)
Song: Change of the Guard
This sprawling 3-CD debut by a Los-Angeles-based tenor saxophonist who's recorded with Kendrick Lamar as well as Gerald Wilson is being talked about by its more fervent admirers as if it were jazz like we've never heard it before. It's not, though. Strings, voices, cosmic graphics, Washington's dashiki and all, it's merely jazz like we haven't heard it in a while — an intentional throwback to those "spiritual," early '70s Impulse, Black Jazz and Strata-East LPs whose greatest appeal might be to listeners too young to remember the dead end for jazz this sort of thing led to back then. Washington's obvious sincerity, while admirable, isn't enough to save The Epic for those like me, who do remember all too well. Then, I don't hear what others say they do in Lamar's To Pimp a Butterfly or Broadway's Hamilton, either. (241 points, on 33 ballots.)
5. Vijay Iyer Trio, 'Break Stuff' (ECM)
As good if not better than 2012 poll topper Accelerando and almost as good as 2009's breakthrough Historicity, this new one confirms that today's most cohesive and inventive piano trio is well on its way to becoming one of the most cohesive and inventive ever. A key to it all is the zeal with which the pianist Vijay Iyer, the bassist Stephan Crump and the drummer Marcus Gilmore swap places, each taking his turn supplying something resembling a pulse while leaving the other two free to roam. No hip-hop covers this time around, just penetrating interpretations of numbers by Monk, Strayhorn and Coleman interspersed among the typically compelling Iyer originals. (229.5 points, on 36 ballots.)
6. Henry Threadgill Zooid, 'In for a Penny, In for a Pound' (Pi)
Song: In For a Penny, In For a Pound
Let's see if I got this straight. What the ever-enigmatic Henry Threadgill is up to on this double CD involves folding four separate suites for quintet together into one larger suite for quintet. (Also included are not one but two "introductions," the second midway through.) Each of the inner suites focuses on an individual member of the band Zooid — the tubist and trombonist José Davila, the guitarist Liberty Ellman, the cellist Christopher Hoffman and the percussionist Elliot Humberto Kavee — though not exclusively, as the lone soloist. What matters is that the program unfolds like one extended piece, not a series of 18 loosely interwoven vignettes. And even though Threadgill doesn't give himself a feature, as always with his bands, his flute or alto saxophone is the instrument edging all the others forward every time this lively music gathers full steam. (216.5 points, on 33 ballots.)
7. Mary Halvorson, 'Meltframe' (Firehouse 12)
What separates Mary Halvorson from many another young noisemaking guitarist is her unexpected melodic flair, on full display on her first album sans accompaniment. Aside from Ellington's "Solitude" and recent numbers from her generational peers Chris Lightcap and Tomas Fujiwara, the program consists of ... not standards, exactly, but tunes from the 1960s onward that ought to be, by Ornette Coleman, Carla Bley, Annette Peacock and their like. The absolute stunner is her interpretation of Roscoe Mitchell's out-of-tempo ballad "Lenora," where she counterbalances distortion and effects of the sort favored by rockers with silences that give you time to appreciate both the tune's sturdy construction and the risks that Halvorson is taking with it. By the time it's over, you're emotionally devastated. (170 points on 28 ballots.)
8. Steve Coleman and the Council of Balance, 'Synovial Joints' (Pi)
Not to play one artist's big ambitions against another's, anyone impressed by Kamasi Washington's use of voices and strings to create orchestral mass owes it to himself to hear this. And maybe I'm not the one to ask, but I don't hear a trace of hip-hop on The Epic, notwithstanding Washington's associations with Kendrick Lamar and Flying Lotus. I sure do here, though, in Marcus Gilmore's stuttered drumming and alto saxophonist Steve Coleman's on-the-one attack. Even when it grows to as many as 22 pieces, this ensemble remains light on its feet. Coleman himself was the subject of unrealistic hype in the late 1980s, but with his albums from the last five or six years have finally justified it. You can hear why so many younger musicians, including Vijay Iyer and Ravi Coltrane, have claimed him as an influence. I do wish, however, that he'd stop with the physiological and microskeletal titles, which risk scaring away more listeners than they attract. You don't have to be told how this sprightly music works to know in your bones that it does. (160 points, on 26 ballots.)
9. Charles Lloyd, 'Wild Man Dance' (Blue Note)
Song: Flying Over the Odra Valley
Reedman Charles Lloyd is a model of consistency, both musically and for his almost semi-annual occupancy in this poll's top 10. This new recording adds lyra (a harp-like, three-stringed instrument from Greece) and cimbalom (sort of a Hungarian hammered dulcimer) to Lloyd's working quartet, and though the mood remains as reflective as ever, the exotic instruments supply a hint of greater urgency. It's as if having exhausted Coltrane's Ballads, Lloyd has moved on to A Love Supreme. He's still playing Coltrane, in other words, but nobody does it better by this point. (133.5 points, on 19 ballots.)
10. Chris Lightcap's Bigmouth, 'Epicenter' (Clean Feed)
Chris Lightcap is a spry bassist (and occasional guitarist), as well as an inventive composer whose tunes prove to be more complicated than first meets the ear. His longstanding, on-and-off quintet featuring Craig Taborn on keyboards, Gerald Cleaver on drums, and Tony Malaby and Chris Cheek on saxophones (practically a collection of underground all-stars), is one of jazz's best-kept secrets, but maybe Epicenter's high ranking means the secret is finally out. The highlight this time is a version of "All Tomorrow's Parties" that captures the essence of Nico's deadpan chant and the ominous drone of John Cale's electric viola. It's the best Velvet Underground cover I remember ever hearing. (132 points, on 18 ballots.)
50 MORE ALBUMS
11. Fred Hersch, Solo (Palmetto). 105.5 points (on 19 ballots).
12. The Bad Plus Joshua Redman, The Bad Plus Joshua Redman (Nonesuch). 103.5 (19)
13. Cecile McLorin Salvant, For One To Love (Mack Avenue). 99.5 (16)
14. Tim Berne's Snakeoil, You've Been Watching Me (ECM). 98.5 (14)
15. Myra Melford, Snowy Egret (ENJA/Yellowbird). 94.5 (15)
16. Ryan Truesdell's Gil Evans Project, Live at Jazz Standard: Lines of Color (ArtistShare). 88 (15)
17. John Scofield, Past Present (Impulse). 84 (15)
18. Arturo O'Farrill & The Afro Latin Jazz Orchestra, Cuba: The Conversation Continues (Motéma). 83.5 (13)
19. Jose James, Yesterday I Had the Blues (Blue Note). 81.5 (16)
20 (tie). Chris Potter, Imaginary Cities (ECM). 72 (12)
20 (tie). Matt Mitchell, Vista Accumulation (Pi). 72 (12)
22. JD Allen Trio, Graffiti (Savant). 71 (11)
23. Mike Reed's People Places & Things, A New Kind of Dance (482 Music). 66.5 (11)
24. Matthew Shipp Trio, The Conduct of Jazz (Thirsty Ear). 66 (16)
25. Amir ElSaffar, Crisis (Pi). 63 (14)
26. Liberty Ellman, Radiate (Pi). 62 (11)
27. Ran Blake, Ghost Tones: Portraits of George Russell (A-Side). 61 (9)
28. Nicole Mitchell/Tomeka Reid/Mike Reed, Artifacts (482 Music). 57.5 (13)
29. Dave Douglas Quintet, Brazen Heart (Greenleaf). 56 (10)
30. Charlie Haden & Gonzalo Rubalcaba, Tokyo Adagio (Impulse). 51 (8)**
31. Roscoe Mitchell Quartet, Celebrating Fred Anderson (Nessa). 49 (7)
32. Chris Dingman, The Subliminal and the Sublime (Inner Arts Initiative) 46 (9)
33. Irene Schweizer & Han Bennink Welcome Back (Intakt). 46 (8)
34. Tony Bennett & Bill Charlap The Silver Lining: The Songs of Jerome Kern (Columbia). 45 (8)
35. Brad Mehldau, 10 Years Solo Live (Nonesuch). 43 (7)
36. Terell Stafford, Brotherly Love: Celebrating Lee Morgan (Capri). 42 (5)
37 (tie). Mostly Other People Do the Killing, Mauch Chunk (Hot Cup). 41 (7)
37 (tie). Danilo Perez/John Patitucci/Brian Blade, Children of The Night (Mack Avenue). 41 (7)
37 (tie). Dave Stryker, Messin' With Mister T (Strikezone). 41 (7)
40. Barry Altschul's 3Dom Factor, Tales of the Unforeseen (TUM). 41 (6)
41. Wadada Leo Smith & John Lindberg, Celestial Weather (TUM). 39.5 (9)
42. Anat Cohen, Luminosa (Anzic). 39 (7)
43. Jazz at Lincoln Center Orchestra with Wynton Marsalis, Live in Cuba (Blue Engine). 38.5 (6)
44. Tom Harrell, First Impressions: Debussy and Ravel Project (HighNote). 38 (7)
45. Noah Preminger, Pivot: Live at the 55 Bar (self-released). 37 (8)
46. Kris Davis Infrasound, Save Your Breath (Clean Feed). 37 (7)
47. Julian Lage, World's Fair (Modern Lore). 36 (6)
48. Christian McBride Trio, Live at the Village Vanguard (Mack Avenue). 35.5 (6)
49. Rez Abbasi Acoustic Quartet, Intents and Purposes (Enja). 35 (8)
50. Tomeka Reid, Quartet (Thirsty Ear). 34.5 (6)
51. Erik Friedlander, Oscalypso (Skipstone). 34 (8)
52 (tie). Jon Irabagon, Behind the Sky (Irrabagast). 33 (8)
52 (tie). Jacob Garchik, Ye Olde (Yestereve). 33 (8)
54. James Brandon Lewis, Days of FreeMan (OKeh). 32 (6)
55. Harold Mabern, Afro Blue (Smoke Sessions). 31 (6)
56 (tie). Chick Corea & Bela Fleck, Two (Concord Jazz). 31 (5)
56 (tie). Ingrid Laubrock, Roulette of the Cradle (Intakt). 31 (5)
58. Makaya McCraven, In the Moment (International Anthem). 30 (5)
59. Gary McFarland Legacy Ensemble, Circulation: The Music of Gary McFarland (Planet Arts). 30 (4)
60. Joe Lovano & Dave Douglas, Sound Prints: Live at Monterey Jazz Festival (Blue Note). 29 (5)
**Includes 2 (1) transferred from the Reissue category.
---
REISSUE/RARA AVIS
1. Miles Davis, At Newport 1955-1975: The Bootleg Series Vol. 4 (Columbia/Legacy). 83 (36)
2. Erroll Garner, The Complete Concert by the Sea (Columbia/Legacy). 73 (36)
3. Wes Montgomery, In the Beginning (Resonance). 46 (25)
4. John Coltrane, A Love Supreme: The Complete Masters (Impulse). 40 (17)
5. Sonny Rollins Quartet with Don Cherry, Complete Live at the Village Gate 1962 (Solar). 29 (12)
6. Bobby Bradford & John Carter Quintet No U-Turn: Live in Pasadena, 1975 (Dark Tree). 23 (12)
7. David S. Ware/Apogee, Birth of a Being (AUM Fidelity). 22 (11)
8. Red Garland Trio, Swingin' on the Korner: Live at Keystone Korner (Elemental Music). 19 (10)
9. John Abercrombie, The First Quartet (ECM). 19 (8)
10. Weather Report, The Legendary Live Tapes 1978-1981 (Legacy). 17 (9)
11. Various Artists, The Complete Bee Hive Sessions (Mosaic). 16 (7)
12. Mike Osborne, Dawn (Cuneiform). 14 (8)
13 (tie). Keith Jarrett/Charlie Haden/Paul Motian, Hamburg '72 (ECM). 14 (7)
13 (tie). Sonny Sharrock, Ask The Ages (M.O.D. Technologies). 14 (5)
---
VOCAL
1. Cecile McLorin Salvant, For One to Love (Mack Avenue). 21 votes.
2. Jose James, Yesterday I Had The Blues: The Music Of Billie Holiday (Blue Note). 18
3. Jen Shyu, Sounds and Cries of the World (Pi). 10
4. Cassandra Wilson, Coming Forth by Day (Legacy). 8
5. Tony Bennett & Bill Charlap, The Silver Lining: The Songs of Jerome Kern (Columbia). 7
6 (tie). Katie Bull, All Hot Bodies Radiate (Ashokan Indie). 4
6 (tie). Charenee Wade, Offering: The Music of Gil Scott-Heron and Brian Jackson (Motéma). 4
6 (tie). Joanna Wallfisch with Dan Tepfer, The Origin of Adjustable Things (Sunnyside). 4
---
DEBUT
1. Kamasi Washington, The Epic (Brainfeeder). 43 votes
2. Mette Henriette, Trio and Ensemble (ECM). 7
3. Tomeka Reid, Quartet (Thirsty Ear). 6
4. Joey Alexander, My Favorite Things (Motéma). 4
5. Katie Thiroux, Introducing (Bass Kat). 4
---
LATIN
1. Arturo O'Farrill & The Afro Latin Jazz Orchestra, Cuba: The Conversation Continues (Motema). 41 votes
2. Gabriel Alegria Afro-Peruvian Sextet, 10 (Zoho). 7
3. Dafnis Prieto Sextet, Triangles and Circles (Dafnison Music). 5
4. Samuel Torres Group, Forced Displacement (Zoho). 4
---
Criteria
Voters were asked to rank their top 10 albums released in 2015. A No. 1 ranking earned 10 points, a No. 2 earned 9 points, and so on. Listings on unranked ballots received 5.5 points each. In the Reissue/Rara Avis category, voters ranked three releases of either previously-published material or unreleased recordings from over 10 years ago. Voters also picked their single favorite Vocal, Latin jazz and Debut recordings of the year.