Manu Chao, Stan Getz, Andrew Bird, Variations on the All Things Considered Theme
Manu Chao, Stan Getz, Andrew Bird, Variations on the All Things Considered Theme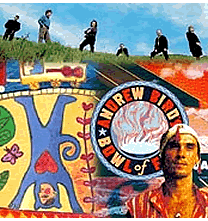 George Pelecis, a string quartet tribute to REM, Manu Chao, NewGrange, variations on the All Things Considered theme song, Stan Getz, and Andrew Bird's Bowl of Fire!
Download this show in the All Songs Considered podcast.
Sign up for the All Songs Considered newsletter and we'll tell you when new music features are available on the site.
Manu Chao, Stan Getz, Andrew Bird, Variations on the All Things Considered Theme
Three Pieces For Two Pianos, Third Movement
Three Pieces For Two Pianos, Third Movement
from Art & Electronics
by George Pelecis
Selections from this album were also featured as part of the All Songs Considered memorial to those lost in the terrorist attacks against the United States on the eleventh of September, 2001.
It's The End Of The World As We Know It; The One I Love
It's The End Of The World As We Know It; The One I Love
from The String Quartet Tribute to R.E.M.
by Arrangers: Ron Hannah & Todd Rubenstein
From their very first single, the 1981 tune "Radio Free Europe," REM became a model for American rock acts. The four musicians insisted on doing things their own way, recording what they wanted, and building an audience slowly.
Bongo Bong
Bongo Bong
from World Playground: A Musical Adventure for Kids
by Various Artists
In addition to this Manu Chao track, the ,em>World Playground CD has a great selection of songs for children.
Music Tree
Music Tree
from NewGrange
by NewGrange
"A really important thing I've learned from working in Newgrange is that a real traditional kind of music can be an absolutely creative kind of music."
-- Phil Aaberg of Newgrange
Trio Theme
Trio Theme
from Billboard Themes
by Arranger: Wycliffe Gordon with Reginald Veal on bass, Herlin Riley on drums, and Loston Harris on piano
The band in NPR's recording studio 4-A
Blood Count
Blood Count
from Anniversary!
by Stan Getz
"I took a few saxophone lessons at the beginning, but that's about all. I went on the road when I was 15, and everything I learned has been in what you might call the traveling academics."--Stan Getz
Candy Shop
Candy Shop
from Oh! The Grandeur
by Andrew Bird's Bowl of Fire
"What's so wonderful about this music, and so rare now, is that those musicians would play each note like it was, you know, the last note they would ever get to play."
-- Andrew Bird