Marc Ribot, Beach Boys, Los Zafiros
Marc Ribot, Beach Boys, Los Zafiros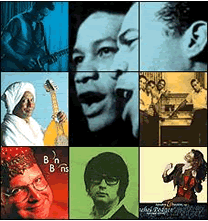 On this fifth edition of NPR's All Songs Considered, you'll hear the edgy guitar of Marc Ribot; a Cuban doo wop style band, Los Zafiros; the amazing tuba of Patrick Sheridan; dreams of the Nile with Hamza El Din; Bach performed on a baroque violin by Rachel Podger; the Beach Boys without the singing and a band you may never have heard, Monkeyworks.
Download this show in the All Songs Considered podcast.
Sign up for the All Songs Considered newsletter and we'll tell you when new music features are available on the site.
Marc Ribot, Beach Boys, Los Zafiros
Aquí Como Allá
Aquí Como Allá
from The Prosthetic Cubans
by Marc Ribot & Los Cubanos Postizos
This album, Marc Ribot's Y Los Cubanos Postizos, was voted as one of 1998's "Essential Albums" in Rolling Stone magazine.
Bossa Cubana
Bossa Cubana
from Bossa Cubana
by Los Zafiros
Los Zafiros lived up to the challenges of touring, selling out venues around the world.
Good Vibrations
Good Vibrations
from Good Vibrations: 30 Years of the Beach Boys
by The Beach Boys
With the exception of Dennis Wilson, none of the Beach Boys played an instrument on "Good Vibrations." Dennis played the slow, church-like organ later in the song.
Adagio from Sonata No. 1 in g minor, BWV 1001
Adagio from Sonata No. 1 in g minor, BWV 1001
from Johann Sebastian Bach: Partitas and Sonatas for Violin Solo, vol. 1
by Rachel Podger
Rachel Podger says she's wanted to play this selection by Bach since she was a young child.
The Hot Canary
The Hot Canary
from Bon Bons
by Patrick Sheridan
Patrick Sheridan made his solo debut playing an arrangement of "The Blue Bells of Scotland" accompanied by his mother, Diana when he was just ten years old.
A Wish
A Wish
from A Wish
by Hamza El Din
Hamza El Din discovered the oud instrument while studying engineering in Cairo. The oud is a short-knecked Arab precursor to the lute.
Monkeyworks
Monkeyworks
from Monkeyworks
by Monkeyworks
Monkeywork = doing the same repetitive task over and over again.