Vic Chesnutt, Clem Snide, Antibalas
Vic Chesnutt, Clem Snide, Antibalas
Jackie Brenston and his Delta Cats; the amazing world of Joe Meek; motor-boating with Vic Chesnutt; a career-making hit from Clem Snide; Loudon Wainwright as the last man on earth; one giant leap with Baaba Maal; and Afrobeats from Brooklyn's Antibalas.
Download this show in the All Songs Considered podcast.
Sign up for the All Songs Considered newsletter and we'll tell you when new music features are available on the site.
Vic Chesnutt, Clem Snide, Antibalas
Rocket "88"
Rocket "88"
from Loud, Fast & Out of Control: The Wild Sounds of the '50s [Box]
by Various Artists
This song, from Jackie Brenston and his Delta Cats, is considered to be the first rock and roll record ever made. It's available now on the compilation, Loud, Fast and Out Of Control.
Telstar
Telstar
from It's Hard To Believe: The Amazing World of Joe Meek
by The Tornadoes
The Tornados recorded this Joe Meek tune in 1962. It was the biggest hit for Meek, Britain's enigmatic independent record producer. (Joe Meek Photo copyright © Clive Bubley 1967-2005)
Very Friendly Lighthouses
Very Friendly Lighthouses
from Left to His Own Devices
by Vic Chesnutt
One of the most loved and admired artists on the art/alt rock scene, Vic Chesnutt wrote, recorded, and mixed this CD by himself with a desktop computer.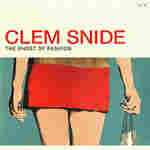 Moment in the Sun
Moment in the Sun
from The Ghost of Fashion
by Clem Snide
Clem Snide was a punkish band from Boston before morphing into a New York City rock band. This song, used as the theme for NBC TV's show, Ed, put Clem Snide on the map.
Last Man on Earth
Last Man on Earth
from The Last Man on Earth
by Loudon Wainwright III
Loudon Wainwright III is known for comical, playful songs. But this collection is more somber, reflecting on grief and loss.
Dunya Salam
Dunya Salam
from 1 Giant Leap
by Baaba Maal
Baaba Maal's "Dunya Salam" is part of a new collection of music and spoken word gathered from around the world and the basis for the film, "1 Giant Leap."
Gabe's New Joint
Gabe's New Joint
from Talkatif
by Antibalas
Nigerian musician Fela Kuti created the Afrobeat sound in the 1960s. Today it's kept alive with Brooklyn's multiethnic Antibalas.