Linda Thompson, The Blind Boys of Alabama, David Bowie
Linda Thompson, The Blind Boys of Alabama, David Bowie
The return of folk rocker Linda Thompson; Remembering Sept. 11th with Steve Earle; Latin drummer Roberto Juan Rodriguez; Israel's answer to the Beatles: RockFour; Unreleased Motown from Brenda Holloway; Get ready for the Blind Boys of Alabama; and new music from David Bowie.
Download this show in the All Songs Considered podcast.
Sign up for the All Songs Considered newsletter and we'll tell you when new music features are available on the site.
Linda Thompson, The Blind Boys of Alabama, David Bowie
Dear Mary
Dear Mary
from Fashionably Late
by Linda Thompson
Because of a rare anxiety disorder known as hysterical dysphonia, Linda Thompson hasn't recorded a new album of music in 17 years. She returns with Fashionably Late, a collection featuring her ex-husband, Richard Thompson and two of their children.
John Walker's Blues
John Walker's Blues
from Jerusalem
by Steve Earle
Rockabilly, country-blues guitarist/songwriter Steve Earle says of his latest CD: "This is a political record because there seems no other proper response to the place we're at now." It's due for release in September.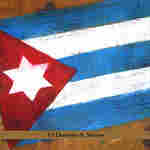 Shron
Shron
from El Danzon de Moises
by Roberto Juan Rodriguez
The music of Robert Juan Rodriguez frequently appears betwteen stories on NPR's All Things Considered. On this CD, he blends the sounds of Cuba with Jewish culture.
Smell of Sweets
Smell of Sweets
from Another Beginning
by RockFour
This amazing group from Israel will probably sound a bit familiar. Like many of their songs, this selection borrows heavily from the Beatles.
All Your Love
All Your Love
from Cellarful of Motown
by Brenda Holloway
This previously unreleased song from singer Brenda Holloway is finally available on a new 2-CD set of great unknown Motown tunes.
People Get Ready
People Get Ready
from Higher Ground
by Blind Boys of Alabama
The Blind Boys of Alabama first formed in 1939 at the Albama Institute for the Negro Blind. Now, more than sixty years later, they've released a new CD collection of classic and contemporary spiritual songs.
Slow Burn
Slow Burn
from Heathen
by David Bowie
David Bowie rejoins the producer of his Ziggy Stardust and Space Oddity albums for this new recording -- a mix of cover tunes and original work.