Hoagy Carmichael, Youssou N'Dour, Django Reinhardt
Hoagy Carmichael, Youssou N'Dour, Django Reinhardt
New acoustic music from Youssou N'Dour; The African fusion of Mali's Salif Keita; The remastered Nonesuch Explorer Series; Stardust memories of Hoagy Carmichael; A jazz revolution from Django Reinhardt; An All Songs great unknown: Piñataland; And an infectious tune from Kim Richey.
Download this show in the All Songs Considered podcast.
Sign up for the All Songs Considered newsletter and we'll tell you when new music features are available on the site.
Hoagy Carmichael, Youssou N'Dour, Django Reinhardt
Tan Bi (Heat, Breeze, Tenderness)
Tan Bi
from Nothing's in Vain (Coono du réér) [US]
by Youssou N'Dour
Youssou N'Dour is known for his great African dance records. His new CD is more subdued and mostly acoustic.
Yamore
Yamore
from Moffou
by Salif Keita
Salif Keita is one of Mali's most popular artists, known for his fusion of traditional African rhythms and melodies with the sounds of Cuba, Spain and the Middle East.
Nhemamusasa
Nhemamusasa
from Explorer Series: Zimbabwe - Shona Mbira Music
by Various Artists
The Nonesuch Explorer series, originally released on vinyl in the late '60s and early '70s, was the first to expose the West to what would later be called "world music." The series is now being re-mastered.
Stardust
Stardust
from Stardust Melody
by Hoagy Carmichael and Friends
Hoagy Carmichael is remembered as the author of several timeless classics, including "Lazy River," "Georgia On My Mind," and this unforgettable tune, "Stardust."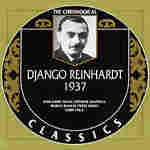 Body and Soul
Body and Soul
from 1937
by Django Reinhardt
Django Reinhardt was the first non-American to have a major impact on the development of jazz. Along with Stephane Grappelli on violin, Reinhardt's inimitable acoustic guitar work introduced the idea of jazz without drums or trumpet.
1939
1939
from Songs for the Forgotten Future, Vol. 1
by Piñataland
Piñataland describe themselves as "Brooklyn's finest old-world dark oompah orchestrette."
Girl in a Car
Girl in a Car
Kim Richey got her start writing music for other artists, but with her fourth solo album, Richey is making a name for herself.