Glenn Gould on Bach, The Wallflowers, John Coltrane
Glenn Gould on Bach, The Wallflowers, John Coltrane
Glenn Gould's Goldberg Variations; A reissued masterpiece from John Coltrane; New Orleans meets Brazil in the work of Tom McDermott; A Bossa Nova tribute by Ryuichi Sakamoto; Afghani fusion from Kabul Workshop; and the Wallflowers' Red Letter Days.
Download this show in the All Songs Considered podcast.
Sign up for the All Songs Considered newsletter and we'll tell you when new music features are available on the site.
Glenn Gould on Bach, The Wallflowers, John Coltrane
Aria from Goldberg Variations, BWV 988
Aria from Goldberg Variations, BWV 988
from A State of Wonder
by Glenn Gould
Nearly 30 years after Glenn Gould recorded the Goldberg Variations, he went back into the studio to do it again. This release features both the 1955 version and the 1981 take, which was released shortly before Gould's death.
Acknowledgement
Acknowledgement
from A Love Supreme
by John Coltrane
Widely considered to be his greatest recording, A Love Supreme was Coltrane's musical celebration of the grace of God.
Garoto
Garoto
from Danza
by Tom McDermott & Evan Christopher
Tom McDermott pairs with Evan Christopher for this collection of tangos, rags, choros, waltzes and a little jazz.
O Amor em Paz
O Amor em Paz
from Casa
by Morelenbaum²/Sakamoto
Pianist Ryuichi Sakamoto pays tribute to Brazilian Bossa Nova composer Antonio Carlos Jobim, featuring Jobim's vocalist, Paula Morelenbaum.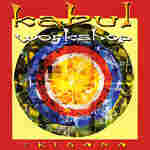 Trigana
Trigana
from Trigana
by Kabul Workshop
It's safe to say music like this would never have made it in a Taliban-controlled Afghanistan. On their debut release, Kabul Workshop blend traditional Afghani elements with electric sounds from the West.
When You're on Top
When You're on Top
from Red Letter Days
by The Wallflowers
This is the fourth album from the Wallflowers, fronted by Bob Dylan's son, Jakob Dylan.