Wilco side projects, Abdullah Ibrahim, Gidon Kremer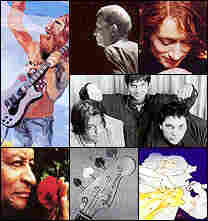 Down With Wilco and The Minus Five; Latvian violin virtuoso Gidon Kremer; Celtic country bluegrass from Ponticello; South African pianist Abdullah Ibrahim; Folk rock adventurer Patty Larkin; Atmospheric rock hip hop from Sue Garner; The new indie supergroup Loose Fur
Download this show in the All Songs Considered podcast.
Sign up for the All Songs Considered newsletter and we'll tell you when new music features are available on the site.
Wilco side projects, Abdullah Ibrahim, Gidon Kremer
The Days of Wine and Booze
The Days of Wine and Booze
from Down With Wilco
by The Minus Five
Scott McCaughey gathers some of his closest friends from R.E.M., the Posies, Wilco and more for his latest invention.
Polka
Polka
from Happy Birthday
by Kremerata Baltica/Gidon Kremer
This is an odd but beautiful album with a dozen different variations on the "Happy Birthday" theme.
The Escape Artist
The Escape Artist
from The Escape Artist
by Ponticello
Ponticello is a Seattle trio that plays their own blend of ecclectic American Roots music.
The Mountain
The Mountain
from African Magic
by Abdullah Ibrahim
This selection will likely sound familiar to listeners of All Things Considered.
All That Innocence
All That Innocence
from Red = Luck
by Patty Larkin
Singer/songwriter Patty Larkin has been a self-described musical "adventurer" for more than 15 years.
Yes
Yes
from Shadyside
by Sue Garner
Sue Garner got her start in the fertile music scene of Athens, Georgia more than 20 years ago. On this album she blends scraping, angular sounds with poetry.
Chinese Apple
Chinese Apple
from Loose Fur
by Loose Fur
Three remarkable artists get together for a more experimental project and come up with Loose Fur.