Daniel Lanois, Boubacar Traoré, Willie Nelson
Daniel Lanois, Boubacar Traoré, Willie Nelson
A new solo release from Daniel Lanois; The early demo sessions of Willie Nelson; A new look at Lucinda Williams; Gentle tunes from Mali: Boubacar Traore; Memphis bluesman Robert Belfour; World lullabies from Montserrat Figueras.
Download this show in the All Songs Considered podcast.
Sign up for the All Songs Considered newsletter and we'll tell you when new music features are available on the site.
Daniel Lanois, Boubacar Traoré, Willie Nelson
I Love You
I Love You
from Shine
by Daniel Lanois
Daniel Lanois has produced albums for U2, Willie Nelson, Bob Dylan, Emmylou Harris and others. This is his first solo recording in ten years.
Crazy
Crazy
from Crazy: The Demo Sessions
by Willie Nelson
These early demo recordings from Willie Nelson were never meant to be released. They were used instead to interest other, more established singers in Nelson's songs.
Minneapolis
Minneapolis
from World Without Tears
by Lucinda Williams
This is Lucinda Williams' follow-up to 2000's Essence. It's a loose collection of mostly live recordings, produced with few overdubs.
Baba Dramé
Baba Dramé
from Desert Blues 2
by Boubacar Traoré
It took more than 30 years, but Boubacar Traoré is now considered one of Mali's greatest musical treasures.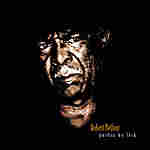 Hill Stomp
Hill Stomp
from Pushin' My Luck
by Robert Belfour
Robert Belfour has been playing the blues for nearly 60 years, but this is only his second album. His debut was What's Wrong With You, released in 2000.
José Embala o Menino (Joseph Rocks the Baby)
José Embala o Menino (Joseph Rocks the Baby)
from Ninna Nanna
by Montserrat Figueras
This is a collection of gorgeous lullabies from around the world, sung by soprano Montserrat Figueras.