Cassandra Wilson, Christopher O'Riley on Radiohead, The Polyphonic Spree
Cassandra Wilson, Christopher O'Riley on Radiohead, The Polyphonic Spree
Modern torch songs with Cassandra Wilson; the gloomy, introspective Lisa Germano; Christopher O'Riley's piano transcripts of Radiohead; have a day with The Polyphonic Spree; Doo wop pioneers The Ravens; and the Stagger Lee story from Taj Mahal.
Download this show in the All Songs Considered podcast.
Sign up for the All Songs Considered newsletter and we'll tell you when new music features are available on the site.
Cassandra Wilson, Christopher O'Riley on Radiohead, The Polyphonic Spree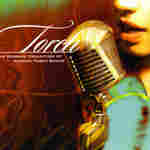 Harvest Moon
Harvest Moon
from Torch: A Six Degrees Collection of Modern Torch Songs
by Various Artists
This collection updates the classic torch song with trip hop rhythms and electronica.
Pearls
Pearls
from Lullaby for Liquid Pig
by Lisa Germano
This is a gorgeous but gloomy CD from Lisa Germano who says her music is best listened to alone.
Everything in Its Right Place
Everything in its Right Place
from True Love Waits: O'Riley Plays Radiohead
by Christopher O'Riley
Christopher O'Riley fell in love with Radiohead's 1997 album, OK Computer and decided to transcribe the music for solo piano.
Have a Day/Celebratory
Have a Day / Celebratory
from The Beginning Stages Of...
by The Polyphonic Spree
This happy-go-lucky group includes 23 musicians performing upbeat songs of celebration.
Lilacs in the Rain
Lilacs in the Rain
from Roots of Doo Wop: Savoy Vocal Groups
by Various Artists
The Ravens were one of the most influential R&B groups, creating a style and sound that would be imitated for decades to come.
Stagger Lee
Stagger Lee
from Hanapepe Dream
by Taj Mahal & the Hula Blues
Stagger Lee" has been covered hundreds of times by all kinds of artists. It tells the true story of Lee Sheldon murdering William Lyons (reportedly) over a Stetson hat.