Youngblood Brass Band, Van Morrison, The Magnetic Fields
Youngblood Brass Band, Van Morrison, The Magnetic Fields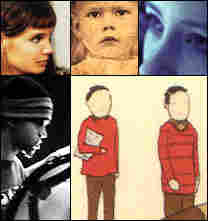 Ethiopian roots music from Abyssinia Infinite, Clarinetist Aker Bilk and Van Morrison, A singing cat from The Weakerthans, San Francisco chanteuse Noe Venable, Stephin Merritt's Magnetic Fields, The Neil Young-inspired Sun Kil Moon. Featured Artist: The Youngblood Brass Band.
Download this show in the All Songs Considered podcast.
Sign up for the All Songs Considered newsletter and we'll tell you when new music features are available on the site.
Youngblood Brass Band, Van Morrison, The Magnetic Fields
Diaspora
Diaspora
from Center. Level. Roar
by Youngblood Brass Band
Not your average brass band, this Wisconsin-based group mixes brash acoustic horns with rap, dj effects and Afro-Brazilian rhythms.
Embe Ashafergne
Embe Ashafergne
from Zion Roots
by Abyssinia Infinite/Gigi Shibabaw
Abyssinia Infinite make experimental Ethiopian music, with the mellifluous voice of Ejigayehu "Gigi" Shibabaw, one of Africa's most accomplished young artists.
Somerset
Somerset
from What's Wrong With This Picture?
by Van Morrison
On his debut release for the Blue Note label, Van Morrison mixes classic pop with jazz, Celtic swing and Rhythm and Blues.
Plea from a Cat Named Virtue
Plea from a Cat Named Virtue
from Reconstruction Site
by The Weakerthans
This is a song sung from the point of view of a cat trying to cheer up his owner.
Juniper
Juniper
from World Is Bound by Secret Knots
by Noe Venable
Noe Venable is part Tori Amos, part lounge singer with a touch of Kate Bush and sampled, polyphonic rhythms.
Salvador Sanchez
Salvador Sanchez
from Ghosts of the Great Highway
by Sun Kil Moon
If you're a fan of Neil Young's work with Crazy Horse, you'll probably like this debut album from Sun Kil Moon - a collection of often melancholy, elegant dirges.