Of Montreal, Madeline, Menomena
A new recording from Arcade Fire; The atmospheric Apostle of Hustle; Athens, Georgia rockers Of Montreal; Delicate new-folk from Madeline; A preview of new music by The Shins; Portland's experimental rockers Menomena.
Download this show in the All Songs Considered podcast.
Sign up for the All Songs Considered newsletter and we'll tell you when new music features are available on the site.
Of Montreal, Madeline, Menomena.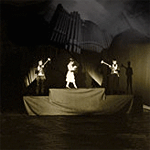 Intervention
from Neon Bible
by Arcade Fire
The Arcade Fire stunned listeners with its 2003 release Funeral, a critical favorite for that year's best album. The band has been mostly silent since, but is about to release a much anticipated follow-up. This track was released early to raise money for the charity, Partners in Health.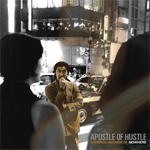 My Sword Hands Anger
from National Anthem of Nowhere
by Apostle of Hustle
Apostle of Hustle is an experimental rock group from Canada featuring Broken Social Scene guitarist Andrew Whiteman. They describe their sound as Ry Cooder meets Yo La Tengo meets Roy Orbison.
We Were Born the Mutants Again with Leafling
from Hissing Fauna, Are You the Destroyer?
by Of Montreal
Of Montreal is one of the innumerable talented bands to come from Athens, Georgia. It features musicians from the Elephant Six collective -- a group of artists who worked in some of the most memorable acts of the '90s, like Neutral Milk Hotel, The Olivia Tremor Control and The Apples in Stereo. Of Montreal makes bold, lush and multi-layered music largley under the direction of frontman Kevin Barnes.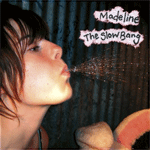 Good Houses
from The Slow Bang
by Madeline
Madeline is a young singer-songwriter also from Athens, GA. Her latest CD is a collection of gentle acoustic songs in the spirit of '60s and '70s British folk. But her earlier work was in the psychedelic pop band The Sugar Shakers.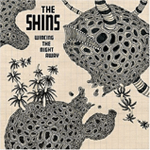 Phantom Limb
Song: "Phantom Limb"
from Wincing the Night Away
by The Shins
Fans of The Shins' first two albums -- 2001's Oh, Inverted World and 2003's Chutes Too Narrow have been anxiously awaiting new material from the band. Listeners should be pleased with The Shins' latest release, due out in late January. Wincing the Night Away picks up where the last album left off, with inspired, guitar-driven pop.
Evil Bee
from Friend and Foe
by Menomena
Menomena (pronounced muh-NAH-muh-NUH, like the Muppets song), is a trio from Portland, Oregon that fills its songs with wonderfully quirky instrumentation built on the glockenspiel, baritone sax, drums and guitar. They say their name has no meaning but was chosen for "the way it rolls off the tongue, sexually, or something."