Dylan In Pictures: Newport 1963
Photographer Rowland Scherman went to the Newport Folk Festival only once, in the summer of 1963. He went up for the weekend, in between days working for the Peace Corps, with a couple Leica cameras and no press pass. And he happened upon a 22 year-old Bob Dylan in a transformative moment. Scherman thinks the changes to folk music which the '63 festival wrought won't happen again soon, both because that was an exceptional time in history, and because the chances of someone as genius as Dylan getting up on stage anywhere this year are slim. He spoke to me about the stories and shots he brought back from the trip he made to, basically, chase Mary Travers. --Frannie Kelley, NPR Music
-----
Folk music was at its zenith in those days. The Kingston Trio and Peter Paul and Mary were selling more records than anybody else. And then Dylan came along. And then when the Beatles came along in '64 it sort of changed the direction. So folk music I don't think ever got any bigger or more important to the American music public than it did in 1963. Folk music was the music. That was the time. Everyone started getting guitars and it sort of set the stage for rock 'n' roll. Because everyone had a guitar already.
That seminal moment at the 1963 Newport Folk Festival, Dylan went from zero to hero in the course of a weekend. I was crazy about Mary, of Peter Paul and Mary, so I took the weekend off from my Washington job and came up to Newport to the Folk Festival and hung out, waiting to see her. The very best music I heard all that weekend was Paul doing the sound check. Peter was at the sound board, and Paul has the voice of a male angel. God, it was so good.
Anyway, it was all at the Newport tennis club in those days, and there were a bunch of cats standing around, four or five guys, and I went over to them. One of them had a bullwhip around his shoulder, and it was the young Bob Dylan. I was shooting with a wide lens, and I got this portrait of him -- of this kid with a bullwhip around his shoulder. And it was Dylan.
I thought it was a fashion statement for the longest time, but I heard from someone not too long ago that he and the Farinas and Baez were all pals, and they were playing cowboy that week, and they all had whips. But Dylan was the only one who wore his like a fashion statement. It's a terrific snap of him -- you don't see Dylan smiling that much -- but there he was, the young guy.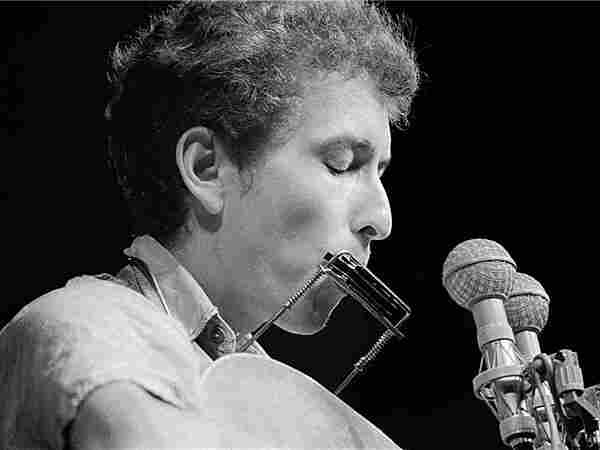 Pretty soon I was standing around talking to them. Later on that day, they had workshops, and Dylan had one of the workshops, so we sat up there at the tennis courts and sang a couple of his songs. There was a crowd of maybe 60 or 100 people. And then Joan Baez sat in with him, and all of a sudden the crowd was two or three hundred people. It was all his stuff, and she was singing the harmonies to them. Fabulous stuff. The crowd got bigger and bigger, and everyone was enthralled. It was because if Baez is singing with this guy, he must have something.
Astounding access one could have in those days. They didn't throw you out for taking pictures -- they wanted you to take pictures. I was a working photographer. I was the photographer for the Peace Corps at the time, but I wasn't a member of the press, and I didn't have a press pass. But I had two or three cameras and everyone assumed I was a professional. I couldn't have been closer to him. I could have leaned over and asked Joni to hold my camera while I got the shot. I was sitting in their laps shooting away, crawling around the stage and all. I was terrifically young and slender and cute in those days.
When it was Dylan's turn to do a set -- I think it was Saturday night -- he sang for a huge crowd, I'm sure the biggest crowd he'd ever sung in front of. But he didn't just sing those mournful ballads; it was really a performance. He was funny; he did "Talkin' World War III Blues," "I'll Let You Be in My Dream if I Can Be in Yours." The crowd loved him. Standing ovation. And by the end of the weekend, he was the one star. Peter Paul and Mary and Pete Seeger and Joan Baez and The Freedom Singers were all his back-up group while he did "Blowin' in the Wind." It was his emergence from just a songwriter to the grand guru, grand poobah of all folk music. From just that little kid. By the end of the weekend he was untouchable.
To Dylan, I said, "I would like to do a story about you." And that was total b------t. I didn't know anything about doing a story or who to send it to or anything. But he said that would be cool, that would be fine. He couldn't have been sweeter. I shot maybe 20, 30 rolls that weekend, and then went back to D.C. Those pictures just hung around -- I didn't know where to send them. It could have been an essay for Life if I had known what I was doing.
I shot everybody that moved -- I shot the Carters, the Freedom Singers, Peter Paul and Mary, Baez, the crowds. I was a folkie myself and I played guitar on the beach and played volleyball. I don't know how I had the time to do all this. We covered everything. Well, youth, you know.
I was a classic photojournalist. I had hopes for shooting for Life one day, which I finally did. Not that much later, maybe four years later I was shooting for Life. I had three Leicas, and they were very quiet. That was, like, the standard fare for photojournalists of the day. Shooting Tri-X. I was really in the zone, because all the pictures came out. Everything came out great.
A couple years later, Dylan went electric, and I snuck backstage in Washington, D.C. and shot him with that blue light, with the white halo, and it became the cover of his Greatest Hits album. And it won a Grammy Award! I didn't think much of it, but now it turns out that that shot is one of the icons of the '60s. Quite proud of it, but at the time I didn't think it was that big of a deal.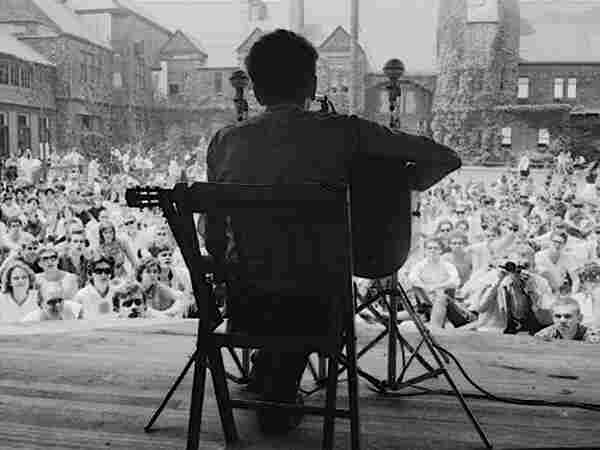 [Joan Baez] could go anywhere. She was like the superstar, and Dylan was this scruffy-looking tramp that followed her around. The way she tells it, they didn't want to let him in the hotel because he was so scruffy, and she had to use her influence as a superstar to get him to be allowed in the hotel. And then he goes upstairs and writes a song about how he's been mistreated, and the song is, "When the Ship Comes In." He used to take whatever happened to him and turn it into some major opus.
I didn't appreciate him, maybe, enough in those days. In the 40 years it's been since he started writing songs, the sum total of his output is just astonishing. He's done everything. He's influenced virtually everybody.
A new talent like Dylan comes along at the new Newport Folk Festival? No, I don't think so. It's the lyrics and the poetry of Dylan that gave music its literary qualities that hadn't existed since Cole Porter and Gershwin and Irving Berlin. His songs are so much more important than what anybody else has tried. If someone were to come along that was greater than Dylan, he'd have to be awfully great indeed.
The timing of it also had to be taken into consideration. The Vietnam War was underway and there was a protest movement. The protesters utilized folk music as part of the protest. I don't see people getting that excited, folkwise, about the war in Afghanistan.
Rowland Scherman's Web site
Rowland Scherman's photographs are available for sale here.