Bonnaroo Preview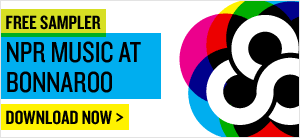 Every June, nearly a hundred thousand people descend on a farm outside of Nashville, Tenn. for Bonnaroo, one of the world's largest outdoor music and arts festivals. This year, NPR Music will broadcasting and webcasting live from the festival, along with NPR stations WFUV (Bronx, NY), KUT (Austin, TX) and Minnesota Public Radio's The Current, bringing you full concerts by artists such as The Flaming Lips, LCD Soundsystem, Norah Jones, John Prine, Dan Deacon and many more. You can see a full list of bands and a schedule, and listen to our Bonnaroo mix here.
On this edition of All Songs Considered host Bob Boilen talks with WFUV's Rita Houston, Andy Uhler of KUT and Jill Riley of The Current about some of the acts they're most looking forward to seeing at this year's Bonnaroo. Houston, a long-time veteran of the festival, also shares some of her past experiences battling Bonnaroo's crowds, heat and mud, all while enjoying some memorable live performances.
Baaba Maal
Song: Television
from Television
Neon Indian
Song: Deadbeat Summer
from Psychic Chasms
Just Ain't Gonna Work Out
Mayer Hawthorne
Song: Just Ain't Gonna Work Out
from Strange Arrangement [Bonus Tracks]
The Flaming Lips/Stardeath and White Dwarfs
Song: Great Gig in the Sky
from Dark Side of the Moon
Daryl Hall and Chromeo
Song: No Can Do
from Live From Daryl's House
This version of "No Can Do" is from a live performance recorded at Daryl Hall's house. Read and hear more at Daryl Hall's website.
The Temper Trap
Song: Sweet Disposition
from Conditions
John Prine
Song: Taking a Walk
from Fair & Square