New Mix: Bob Dylan Bootlegs, Tom Tom Club Acoustic And Live, Marah And More
Just when you think you've heard all the Bob Dylan there is to hear, another little nugget always resurfaces. On this week's show we take a listen to a track from the legendary folk singer's latest release, The Witmark Demos. It's a series highlighting songs written and performed before Dylan reached the ripe age of 24. (Select tracks from these raw recordings can be streamed on our First Listen series.)
We've also got new music from Animal Collective's Avey Tare, a brilliant and never-before-played acoustic version of Tom Tom Club's "Genius of Love," and Swedish singer-songwriter Kristian Matsson, better known as The Tallest Man on Earth.
Download this show in the All Songs Considered podcast.
Sign up for the All Songs Considered newsletter and we'll tell you when new music features are available on the site.
Register with the NPR.org community to join in our discussions.
Contact us with your questions and comments.
New Mix: Bob Dylan Bootlegs, Tom Tom Club Acoustic And Live, Marah And More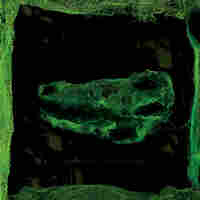 Tom Tom Club: A Tiny Desk Performance
Song: Genius Of Love
by Tom Tom Club
For more information on their CD, visit the artist's website.
The Witmark Demos: 1962-1964 (The Bootleg Series Vol. 9)
Song: The Death of Emmett Till
by Bob Dylan
Sometimes The Blues Is Just A Passing Bird
Song: Little River
by The Tallest Man on Earth