Bob Boilen's Top 10 (Really 9) Albums Of 2010
The fact that I couldn't come up with 10 albums I'm passionate about says it all: The trend from albums to songs in 2010 is stronger than it's been since 1965. That said, there were some really ambitious album projects, and my top three serve as proof. I also love the fact that five of my top nine are debuts, so that's a promising sign. Dig in and listen.
Bob Boilen's Top 9 Albums Of 2010
Bob Boilen's Top 10 (Really 9) Albums Of 2010
1. Sufjan Stevens, 'The Age Of Adz'
This one came out of nowhere. It's been five years since an album of new songs came from Sufjan Stevens. Illinois was NPR listeners' pick for 2005. This one won't do as well in our 2010 poll. It's a challenging record, but spend some time with it. The mix of strings and electronics and choral voicing are brilliant, swirling and electrifying. It took me five listens when I had my epiphany. It sounds like no other record I own; no one is making music like this.  It's so personal, so complex and lyrically devastating and uplifting.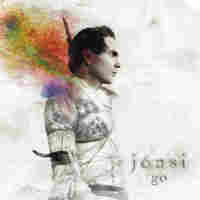 2. Jonsi, 'Go'
My album of the year all year long until this past weekend. Honestly, it's a constant, shifting landscape, and so is this record. Go is sonically brilliant, and like the Sufjan Stevens record, Go is another brilliant marriage of strings and electronics. Jón "Jónsi" Thór Birgisson worked with composer and arranger Nico Muhly, and together they created an album that took me from unexpected joy to jubilation. Jonsi's concert was the most thrilling show I saw this year, too, and I saw a lot of shows.
All Alone In An Empty House
3. Lost In The Trees, 'All Alone In An Empty House'
Song: All Alone In An Empty House
This record is a treasure. All year long, I crack open CDs and listen to MP3s in hopes of finding a new artist that speaks from their heart to mine. Lost in the Trees did just that. This small, folksy orchestra sings the songs of Ari Picker. These songs that Picker sings began as a bedroom project back when he was at the Berklee College of Music. Eight years later in Chapel Hill, N.C., his band Lost in the Trees is breathing life into his painful family stories. These are not "angry young man" tales, but rather thoughtful observations of his mom and dad, turned into incredible art and catharsis that are both sad and beautiful.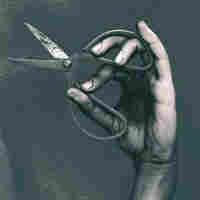 Your Face Left Before You
4. Buke & Gass, 'Riposte'
Song: Your Face Left Before You
Buke & Gass makes music that sounds like it's about to fall apart. It's angular and crisp, fierce and danceable, but not an easy first listen. Buke & Gass is Arone Dyer and Aron Sanchez; Dyer plays a modified baritone ukelele (Buke), while Sanchez plays a homemade hybrid bass/guitar (Gass). They play their music through homemade amplifiers to make a fabulous and powerful sound. A quick introduction to their music can be found by watching a recent Tiny Desk Concert of the duo, in which Sanchez pounds out the rhythm with a kick drum; it's that kick drum that seems to glue it all together. It's the freshest sound I've heard this year.

5. Surfer Blood, 'Astro Coast'
On its surface, Surfer Blood is a simple, fun, guitar-based pop record. But dig into Astro Coast and you'll hear why, song for song, this may be my favorite album of 2010. What jumps out on first listen are catchy tunes -- not enough to make a great record, but enough to get my constant attention. The beats are sometimes straight-ahead, sometimes bouncy Americanized South African rhythms. The guitar lines shine, however, and if they stopped there, I'd still love Surfer Blood -- but dig into the words. See this band live, and hear America's best new pop band.
6. The Tallest Man On Earth, 'The Wild Hunt'
It would be easy to cast off Kristian Matsson as another Dylan-esque singer-songwriter. You'd be a fool. Matsson is a songwriting giant, and this tiny guy has a big, bold voice that serves his songwriting impeccably. I saw The Tallest Man on Earth leave 1,000 people hanging on to every finger-picked note and turn of phrase. This Swedish singer of ballads and tales is a true poet and a prolific, fiery spirit. This year, he released two records, an album called The Wild Hunt and an EP called Sometimes the Blues Is Just a Passing Bird, and either one could have been on my list; I chose the one with more songs. I just can't get enough.

7. Sleigh Bells, 'Treats'
This was a lightning bolt on a winter's day -- an unexpected full-throttle aural assault, almost obnoxious, ever fascinating and always on. Sleigh Bells is Derek Miller; he plays guitar and writes the music and sets up aggressive, sometimes relentless loops on his laptop. Alexis Krauss is Miller's collaborator and Sleigh Bells singer. Sometimes, that singing is as menacing as the music, but there are moments on the record when the songs go from a din to a wall of sound, and at those Phil Spector  moments (you can hear it in "Rill Rill"), I find delight in Krauss' voice, and also a promise that there's a future to this band that isn't defined by volume and outrage. I hope I get to hear that record, too.
8. The Red River, 'Little Songs About The Big Picture'
There is beauty in the day-to-day. There's elegance in the unremarkable. Little Songs About the Big Picture by The Red River celebrates the mundane. At times, the way songwriter and lead singer Bill Roberts writes about the wonder of life, it's reverent, bordering on religious. And when his eight friends join in -- on viola, French horn, keyboard, drums, guitar and other voices -- and this nine-piece band does its slow build, it feels spiritual and sentimental.
9. Josh Ritter, 'So Runs The World Away'
I've said this before, but it's worth repeating: I've come to expect good records from Josh Ritter, but this one took my breath away. The music has always been good on Ritter's albums, but on So Runs the World Away, this band kicks hard while understanding the power in restraint. The songs are more cinematic, and Ritter's characters and stories feel more off the deep end then anything he's ever written. That drives the music, too: The great words and tales of mystery drive the musicians to find the unimaginable: The percussion in "Rattling Locks" is the sound of sticks beating on a stove top. And, speaking of "Rattling Locks," just listen to the guitar part: It's a journey that builds to some frightful climaxes on an album full of musical and lyrical treats.