Carrie Brownstein's Top 10 (Plus One) For 2010
When I mentioned to some of my friends that I was compiling a list of my favorite music from 2010, many couldn't recall a release specific to the past 12 months. I was often met with the reply, "That came out this year?" Though certain record releases had felt momentous and special at the time (Spoon! The National! M.I.A.!), it was as if the anticipation -- the pre-release of a single or two, a sneak preview of the artwork -- created a more tangible feeling than did the very existence of the album itself. And this sense of transience was not always due to a disappointing album. The music was often just fine, and sometimes it was great, but how many runners can one keep track of in any given race?
So I'll admit that I'm not quite certain how to sum up an entire year in music anymore; not when music has become so temporal, so specific and personal, as if we each have our own weather system and what we listen to is our individual forecast. I've written a lot about music bringing people together, fomenting community, and many albums still did act as bonfires in 2010: Arcade Fire, LCD Soundsystem, Kanye West. But many of us are also walking around with a little lighter in hand, singing along to some small glow that's stuck around long enough to make us feel excited to be alive.
Here are some albums and songs I enjoyed this year, not in any particular order:
Carrie Brownstein's Top 10 (Plus One) For 2010
Royal Baths, 'Litanies'
Song: After Death
from Litanies
by Royal Baths
This is a band that I wish more people knew about. There are such great guitar sounds on this album, fuzzed out and wicked, and there's a real sense of melody and craftsmanship to these songs. Unlike a lot of groups that blend noise with sweetness, Royal Baths turns the vocals up; it's pure satisfaction. The easiest way to explain it is that Litanies is a cool record, psyched-out and stoner-y, with a fully realized and beautiful force behind it.
Kanye West, 'My Beautiful Dark Twisted Fantasy'
Song: Power
from My Beautiful Dark Twisted Fantasy
by Kanye West
This album is as self-aware as it is self-aggrandizing; it's boastful and brainy; it's celebratory, but only because it's seen desperation. Not many records can sound like a "greatest hits" album on the first listen -- that's raw power.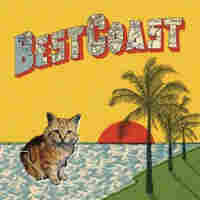 Best Coast, 'Crazy For You'
Song: Crazy For You
from Crazy For You
by Best Coast
Best Coast makes pop hooks seem easy, and that's how you know the band is ace at writing them. Singer/guitarist Bethany Cosentino has a strong, confident voice. Her melodies hint at familiarity, which is why they're instantly alluring but soon veer off into the unexpected, which is why they're actually memorable. Beneath the garage-y pop sound and the teen-beat lyrics is a touch of discord, churning guitars and a faint snarl. Seeing them live, their sound reminded me of The Wipers, dark but still dreamy. I'm pretty sure Best Coast is a grunge band.
Joanna Newsom, 'Have One On Me'
Song: '81
from Have One on Me
by Joanna Newsom
I've said it before and I'll say it again: Any year that Joanna Newsom puts out a record is a good year for music. Have One on Me is epic and stunning and so incredibly, wonderfully long; it asks the listener to discover something off the beaten path, to seek and to soar. The songs flirt with traditional structure, with hooks and choruses, but it's hard to own them, which is why the best way to approach this record is with awe and wonder. Newsom's voice is part jewel, part beast.  There is no one like her.
Deerhunter, 'Halcyon Digest'
Song: Memory Boy
from Halcyon Digest
by Deerhunter
Come on! This record is incredible. Play it for yourself a thousand times and then for everyone you know. This is the best of the best. How can chord progressions make me cry?
Grass Widow, 'Past Time'
Song: Fried Egg
from Past Time
by Grass Widow
Everyone is soloing, everyone is singing, everyone is coming together to form a striking and unsteady pose. The members of Grass Widow are fantastic players and singers whose songs manipulate off-kilter moments, pushing them toward the ramshackle and frenetic while never losing sight of the underlying shape. High-wire pop, taut.
Surfer Blood, 'Astro Coast'
Song: Twin Peaks
from Astro Coast
by Surfer Blood
Sometimes an album comes from people who you can tell love some of the same music as you. And when they interpret the bands you both love, when they run it through their own brains and hearts and hands and amps, instead of sounding like a watered-down version of the progenitors, it sounds fresh and heartfelt and energized. That's Surfer Blood for me.
Ty Segall, 'Melted'
Song: Imaginary Person
from Melted
by Ty Segall
I think the title of this album refers to what happens to your face after you hear these songs. Every year, some undeserving, middle-of-the-road band gets credit for rip-roaring riffage, but most of the time the best version of that gravelly and bruising sound is coming from somewhere a little more underground. Melted is a jump-on-your-bed kind of record, and might I suggest that your bed also be unmade. This is a good reminder to mess things up a bit.
Secret Cities, 'Pink Graffiti'
Song: Slacker
from Pink Graffiti
by Secret Cities
I'll be honest: I first put this CD on because I thought it was something else. But when I got to this song, I took notice. The beginning of it sort of reminds me of "Oscillate Wildly" by The Smiths. I'm putting "Slacker" on the year-end list because it really is specific to 2010; I may never revisit it again after this year, but it went round and round in my head for more than a few weeks, and kept me humming and hooked.
Rihanna, 'Loud'
Song: Only Girl In The World
from Loud
by Rihanna
There were a lot of pop hits that (for better or worse) got stuck in my head this year, and even writing these song titles down is a little risky: Katy Perry's "Teenage Dream," Taio Cruz's "Dynamite," Far East Movement's" Like a G6." But Rihanna has guts and she always seems to be singing from someplace honest, dark and fierce. "Only Girl in the World" is a tell-it-like-it-is, lay-it-on-the-line song. In the chorus, the music sounds like it's getting sucked away, losing its breath while Rihanna's voice takes over and gives it life. I've probably listened to this song more than most of the albums on this list.
T.I., 'No Mercy'
Song: Welcome To The World
from No Mercy
by T.I.
Finally, an album I wish hadn't come out only a few days ago: No Mercy. I already love it and it's the only thing I've been listening to this past week. Oh, well, on to 2011... (Language Advisory: This video contains explicit language not suitable for all audiences.)