The Best Album Covers Of 2010
I'd struggle to find too many friends these days who think much about album covers, let alone actually name a favorite. For most, music comes to us in digital form rather than a physical one, and rarely do we see our collections as anything more than a list of songs on a screen. I used to walk the narrow aisles of music stores, scanning over the rows and rows of CDs, and if some image jumped out, that could be just enough to entice me to find out what was inside.
The size of the CD has already marginalized the power of record covers, at least compared to the LP. So now that so much music lives in digital formats, and now that album art is so often relegated to tiny thumbnails on our phones and blogs, what role do album covers serve in 2010?
Still, though I'm hardly what you'd call an expert when it comes to design, covers remain crucial in terms of how I select a piece of music. I still regularly scroll through iTunes to see what I'm in the mood to listen to. But more importantly, the best art sets a tone for how we visually imagine the music in our minds. Sometimes the album art is a perfect fit; other times it's really not. It can try to make a provocative statement, or just be an evocative image that invites you in. Or it can just be an excellent example of photo composition and design.
Here are 10 of my favorite album covers of 2010, in no particular order.
Broken Bells, Broken Bells
I love the visual aesthetic of Broken Bells. The cover art for the band's full-length debut — as well as for the singles "The High Road" and "The Ghost Inside" — was designed by Atlanta-based artist Jacob Escobedo, who has also done work for Gnarls Barkley and the Dark Night of the Soul album. All three Broken Bells images have a cohesive feel and color palette, with a weathered quality that makes it look like an old record found in a bin in the basement. The imagery is both cosmically alien and antiquated, as if it's what we imagined the future to look like in 1973.

S. Carey, All We Grow
The cover to All We Grow is one of the most evocative photographs I saw this year. That washed-out and grainy look of the image — with the hazy horizon line and slight lens flare — recalls the feel of an old family Polaroid. It immediately conjures memories of long-forgotten childhood summers, and once you listen to the delicate, hushed music of S. Carey, it's a perfect tonal match.
Philip Selway, Familial
The cover to Radiohead drummer Philip Selway's solo debut Familial is a distorted yet ornate embellishment of a typical family portrait. The mother, father and child in this painted-on photograph pose against a minimal background. But because their faces are obscured by masks of feathers, flowers and cracking soil, something both disturbing and regal invites you to examine it further.
Suuns, Zeroes QC
I just love the simplicity to this cover and how it encapsulates the music of Suuns. The stark black-and-white photograph, which depicts a young woman nearly dissolved into the shadows and barely accentuated by light from above, is a remarkable example of how to tell a story without revealing too much. It's sexy and mysterious, but it's also ominously hinting at danger.
Owen Pallett, Heartland
Owen Pallett's Heartland is a highly ambitious and gorgeously layered amalgamation of dissonant harmonies, symphonic motifs and odd metered percussion. But where the cover art could be just as spacious and grandiose as the composer and violinist's music, the art remains expertly restrained by a clean design and an eye-popping red-on-pink color scheme. Every time I pass over this cover, the shock of red color of that circular photo illustration calls out for me to listen again.
Lower Dens, Twin Hand Movement
I'd heard the music of Jana Hunter before, but when Twin Hand Movement came across my desk, I had no idea Lower Dens was her new band. Still, there was something to the cover's understated black-and-white photograph and understated typeface that was enough for me to set it aside, suspecting I'd probably like the record a lot. Once I heard the dark atmosphere and Hunter's inward-looking voice, I was won over.
Agalloch, Marrow Of The Spirit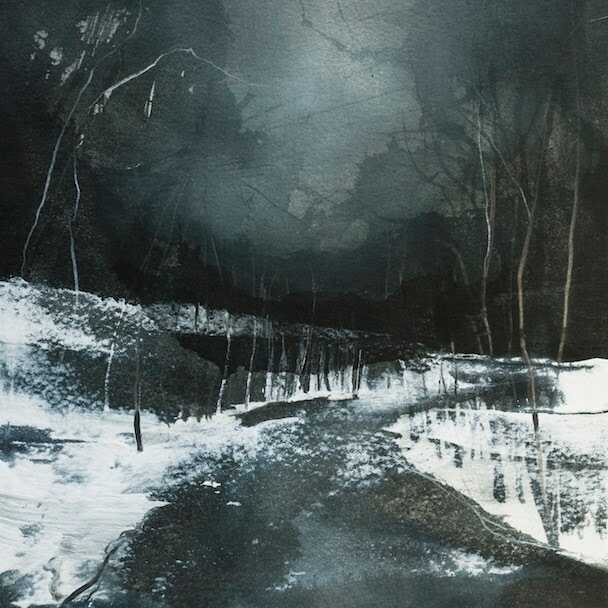 I'm not always taken with the art choices when it comes to a lot of metal or prog-rock album covers, but Agalloch's bleak winter scenery hits the sweet spot for my sensibilities. This cover — which looks to be a mix of photograph and perhaps watercolor — encapsulates the dark, cinematic nature of Marrow of the Spirit, a stellar metal record with thick layers of distortion, ominous string arrangements and breathtakingly dreamy soundscapes. Had it not been for this ghostly image of a cold abandoned road, I might have overlooked this record completely. I'm glad I didn't.
Kanye West, My Beautiful Dark Twisted Fantasy
When the artwork to Kanye West's latest album leaked on the Internet, it arrived, unsurprisingly, with controversy. The original cover — a portrait by George Condo that shows West straddled by a nude, winged and armless white female set against a striking red cover — was rejected by many music outlets for being too graphic. It was later revealed that this initial image was one in a series of five portraits by Condo that would be packaged with the record. As with Arcade Fire's own multiple covers for The Suburbs, there's a sleek, unified theme throughout all of West's variations that ties them together, and to his boldly ambitious album.
The Besnard Lakes, The Besnard Lakes Are The Roaring Night
When describing The Besnard Lakes' music, the word "epic" comes to mind. The band's songs are huge landscapes of shoegazer noise and prog-rock fury built around soaring pop melodies and heroic guitar lines. And, much like the music, the album cover captures the energy of the music with a romantic painting of flames and burning red smoke on a watery horizon. I can't think of a more appropriate cover for these songs.
Land Of Talk, Cloak And Cipher
Between the anonymity of the figure or the lettering that appears to fade away into the background, Land of Talk's cover establishes a feeling of being lost and directionless, a theme touched upon in Elizabeth Powell's songs. It's a painting that invites questions about who we are and what makes us different from everyone else, but it's also just a beautiful and distinct image that grabs our eye.