360-Degree Video: Craig Wedren's Stunning 'Are We'
Former Shudder to Think frontman Craig Wedren is about to release a new solo album, Wand, which doubles as an interactive film. The first cut from it, "Are We," marks the debut video in the series.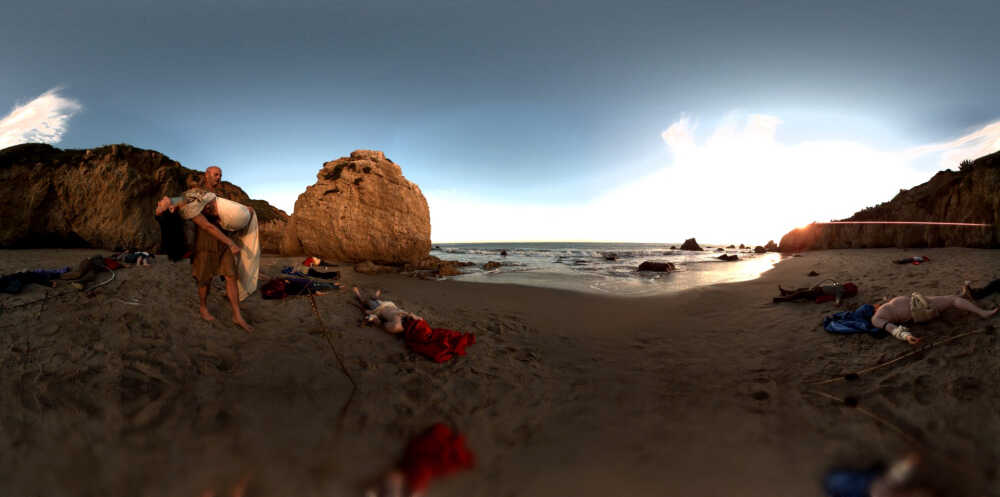 Wedren's project engages the audience throughout the length of the piece. The visuals utilize a panoramic 360-degree technology with which viewers may interact. Through clicking your mouse and dragging the cursor in any direction, the video's frame shifts accordingly. But do take your time exploring each scene to fully absorb the oomph — and to avoid the spins.
Tim Nackashi directs the video, which takes a full-circle, dreamy journey. Shots travel from a stark beach to a morbidly decorated tree to the suburbs and back to the same sandy stretch, which gets a bit more crowded. Dark, surreal tones and eerie lighting cloak the terrain of each locale visited. Slow floor-tom drumbeats and ethereal choral singing intensify the feeling.
Wedren offered some thoughts on the project:
The concept for a film version of my new record, WAND, had been lurking about since the music's inception, but I needed someone to bring the visual side of things to life. After developing the songs and story, I ran into old buddy Tim Nackashi at a party thrown by the band OK Go (whose video for the song "WTF" Tim had just directed). We began gabbing, and after seeing the hot psychedelic lollipop that was "WTF," Tim seemed the perfect partner.
Tim brought the whole 360-degree concept to the project. I'd previously been thinking about WAND as being viewed in a more traditional theatrical environment — an album that you go to the movies to hear and see. But from the moment Tim showed me the technology, it was clear that 360-degree panorama could be a great way to give the old rock film/music video a much-needed upgrade.
Hopefully it's a tantalizing, seductive intro to WAND, with more to come throughout 2011, including the release of the album proper in May. We're crazy-excited about this, and hopefully you will be, too!
Director Tim Nackashi shared this:
When Craig approached me about making a video together, he wanted something more multifaceted than the typical music-with-visual experiences — hoping to conjure some of the surreal qualities of '70s rock films such as Tommy or The Wall. Craig already had the story in his head and asked me to put forth innovative ways of telling it. At the time, I had been exploring shooting in panorama. The word really just means "wide view," but I think today we think of panorama as meaning that more than one lens was used (or the same lens was used multiple times). I'm pointing that out because achieving a multiple-lens panorama in modern terms turns out to be pretty complex. And I wanted to shoot a video in 360 degrees, capturing the full scene around the camera — and to allow the viewer/listener to choose their own perspective of the entire scene. Almost everyone has seen still images that have a panoramic feel, or even a still image in 360. But video in 360 is a relatively new frontier.
I had done some semi-successful home-spun tests using my digital SLR and cheating things: First, the process involves shooting video with lenses simultaneously pointed in every direction. Then you process the video files as a series of still frames because you have to "stitch" each of these multiple-angled images together to get a "panoramic frame." And this has to occur 15 times per second (because I shot at 15 frames per second). The tests I did were manually shot and manually stitched, which was a huge pain, but I did it! At this point you have an "image-sequence," if you will, that cannot be viewed in a normal movie player because it combines a super-wide view, with an additional camera angle which is pointing directly upwards. So you end up with an image that we pano-nerds describe as "spherical." But there is software out there that can play spherical movies, giving you the chance to click around and look at whatever you want to look at. So I cobbled something together and showed those tests to Craig, and he totally freaked out and we started working on it.
We both felt that there was something otherworldly about the having the ability to watch a scene in a video, and then to "turn your head around and look at what's behind you." So we decided to exploit that strangeness in this music-driven film experience and to see how it felt.
Get your trigger finger ready and experience the stunning "Are We" here.