Robin Hilton's Top 10 Albums Of 2010
It was a year of surprises for me. Sufjan Stevens finally returned with a new album of songs (which was amazing), and it sounded like nothing he'd ever done. I started loving singer-songwriters again for the first time in years, thanks to the evocative poetry of artists such as Sharon Van Etten and The Tallest Man on Earth. And I found myself falling in love with sounds I don't normally go for, like the new-wave-inspired guitars and simple beats of Lower Dens. Many of the songs I loved most in 2010 were also studies in extreme contrasts: Play something from the band Sleigh Bells and follow it with a song by Candy Claws, or compare the epic sound of Stevens' record with the quiet intimacy of Deerhunter.
I heard and loved a lot more music this year than what's on this list. But these are the ones I came back to the most; that grabbed hold of my heart and mind and wouldn't let me go.
Robin Hilton's Top 10 Albums Of 2010 After The Jump
Robin Hilton's 10 Favorite Albums Of 2010
1. Lower Dens, 'Twin Hand Movement'
Song: I Get Nervous
from Twin-Hand Movement
by Lower Dens
The members of Baltimore's Lower Dens occupy a sonic space that doesn't always resonate with me.  They've borrowed a large part of their sound, particularly their guitars and simple beats, from '80s new wave, a period of music I've never really cared for. But there's something in Twin Hand Movement that's incredibly alluring. It may be because Lower Dens is less angular and more atmospheric; more organic and less packaged or processed. And singer Jana Hunter's sometimes distressed voice adds a heavy dose of heart and soul to the mix. At first listen, it may sound like a simple little album without a lot to unpack. But Twin Hand Movement is deftly layered -- it crept under my skin this year more than anything else I heard.
2. Deerhunter, 'Halcyon Digest'
Song: Helicopter
from Halcyon Digest
by Deerhunter
Deerhunter is one of the few bands that can make me want to zone out in a deeply meditative state and dance at the same time. Much like the Jonsi record (though with a completely different vibe), Halcyon Digest is more about a mood and feeling than any specific or narrowly defined narrative. It's transporting. There's a sense of longing, perhaps for the innocence of youth or quiet days of solitude, wrapped in a warm blanket of guitar fuzz and ambient drones. Halcyon Digest isn't without upbeat or celebratory songs; check out "Revival" or "Memory Boy." But the band is at its best when it opens up and gives its gauzier tracks room to drift and evolve. This isn't my favorite Deerhunter record, but it's a great addition to the band's growing, and glorious, canon.
3. Sufjan Stevens, 'The Age Of ADZ'
Song: Too Much
from The Age of Adz
by Sufjan Stevens
No one saw The Age Of ADZ coming. Sufjan Stevens hadn't released an album of new songs in five years. He'd given interviews saying he never intended to finish his "states" project (his supposed plan to release one album about each of the 50 states), and he questioned the point of making music at all. Then, when The Age Of ADZ appeared, it was like nothing fans had heard before. Stevens replaced his trademark banjo lines, precious melodies and quirky string and horn arrangements with processed vocals, huge analog synth lines and hip-hop beats. It's an epic sound and an epic accomplishment. Albums are rarely this adventurous, or have a sound this expansive, while remaining so intimate and inspired.
4. Sharon Van Etten, 'Epic'
Song:
from Epic
by Sharon Van Etten
While many singer-songwriters dole out painfully obvious details about their own heartache, Sharon Van Etten writes and sings about the world she inhabits with beautiful and uncertain curiosity. Her songs are heartfelt without seeming overly earnest, her poetry is plainspoken but not overt, and her voice is elegant but wrapped in enough rasp and sorrow to keep from sounding too pure or confident. I'll be reaching for Epic to give my cold black heart a jolt for years to come.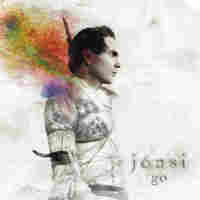 5. Jonsi, 'Go'
Song: Animal Arithmetic
from Go
by Jónsi
I can't think of an album more exuberant or joyful than Jon Thor Birgisson's Go. Listening to his epic orchestrations, pounding tribal rhythms and playful melodies sung in a soaring falsetto, it's hard not to believe the world is beautiful and full of love and magic and wonder. I barely understand a word of what he's singing about, but it certainly feels like a celebration of life. It's hard for an artist to produce something this earnest and intentionally artful without eliciting at least a few eye rolls. But Birgisson makes it all feel real without seeming too twee or mawkish. I love the gloomier, atmospheric music of Birgisson's band Sigur Ros, but I can't wait to hear what else he comes up with on his own.
6. Sleigh Bells, 'Treats'
Song: Infinity Guitars
from Treats
by Sleigh Bells
I wouldn't fault anyone for finding this album obnoxious. It's terribly loud, incredibly brash and full of screaming, and the whole mix is heavily processed and blown-out. The rhythms are explosive blasts more than drum beats, and the synths are piercing and caustic. But every time a song from Treats comes up on my iPod, I just feel so alive! It's a take-no-prisoners album. Every track makes me feel as if I could rip my house off its foundation. I can't say Treats is an instant classic or one critics will be talking about a generation from now, but it's one of the year's most potent and unforgettable recordings.
7. The Tallest Man On Earth, 'The Wild Hunt'
Song: The Wild Hunt
from Wild Hunt
by The Tallest Man on Earth
Cracker said it best: "What the world needs now is another folksinger like I need a hole in my head." For much of the past 10 years, I've avoided folk singers -- those ubiquitous, sentimental artists armed with an acoustic guitar and a cache of heartfelt ballads. But 2010 marks the year I started to love them again. This is largely because Sharon Van Etten, Conor O'Brien of Villagers and Kristian Matsson, otherwise known as The Tallest Man on Earth, all took a worn-out formula and injected it with a new jolt of life. The strength in their music lies in their evocative poetry and stories, and they're all captivating live performers. Matsson in particular can take hold of an audience and leave everyone standing there slack-jawed and misty-eyed. The Wild Hunt, Mattson's album this year under the Tallest Man on Earth name, is little more than him and his guitar, but he somehow makes it sound like a symphony.  It's one of the most enchanting albums I heard in 2010.
8. Sea Of Bees, 'Songs For The Ravens'
Song: Gnomes
from Songs For The Ravens
by Sea of Bees
The death of Sparklehorse's Mark Linkous earlier this year left a hole in my heart, and Sea of Bees came along just in time to put a Band Aid on it. Julie Ann Bee, the band's sole member, makes songs imbued with the same spirit as Sparklehorse's -- music that's dark but uplifting, gritty but elegant and richly textured. Bee possesses one of the most distinctive voices I heard this year, and her debut album under the Sea of Bees moniker, Songs for the Ravens, was in heavy rotation in my music library for months. Years from now, I think it still will be.
9. Broken Bells, 'Broken Bells'
Song: The High Road
from Broken Bells
by Broken Bells
If I picked my best-of-the-year albums based on how many times I played them, this would probably be No. 1 on my list. There's nothing particularly splashy or mind-blowing in the music of Broken Bells (a.k.a. James Mercer and Danger Mouse), but damn, is it catchy. From the opening strut of "The High Road" to Mercer's falsetto in "The Ghost Inside" and the sweet harmonies and clanging guitars of "The Mall & Misery," I couldn't get enough of this record. After nearly a year of listening to it, Broken Bells feels like an old friend.
10. Candy Claws, 'Hidden Lands'
Song: Silent Time Of Earth
from Hidden Lands
by Candy Claws
If you need to escape the crushing weight of the world, reach for Candy Claws' Hidden Lands: The album is a delightful, gauzy trip through an aural wonderland. Ryan Hover and Kay Bertholf say they hadn't a clue how to play the synthesizers they used to create the record, so they just started making stuff up. Their willingness to embrace the unknown led them into some wonderfully rewarding territory. Each track contains parts of all the other songs on Hidden Lands, and the lyrics were taken from Richard Ketchum's 1970 nature book The Secret Life of the Forest. Hushed, reverb-soaked vocals, waves of ethereal synth sounds and spare rhythms make Hidden Lands my favorite headphone record of 2010.