SXSW 2011: How To See 100 Bands In Four Days
The South by Southwest music festival is a ball of fun. Thousands of bands play in downtown Austin, Texas, many in bars and clubs, but many show up to perform at ice-cream shops, candy stores and beauty salons, too. My goal at SXSW is to see as many new, unknown bands as possible. I hardly go to anything by anyone I've seen before unless they have something new that's particularly compelling. (For example, I'll be at the Bright Eyes show, and we'll video webcast that Saturday night.)
Strategy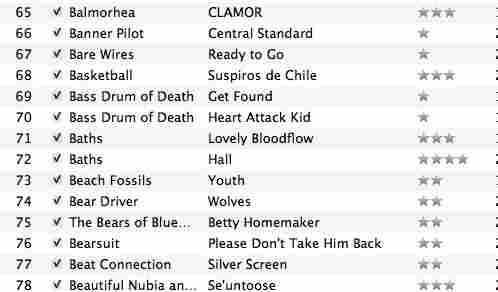 In the weeks leading up to the festival, I listen to bits of as many bands as I can. This year, we pulled together MP3s from 1,273 bands and artists coming to Austin. I put all the songs in my iTunes library, then listened and gave every track a rating of one to five stars.
4 and 5 stars: I definitely go to these shows if I've never seen the band before.
3 stars: I put them on the calendar and try to see as many as I can.
1 and 2 stars: I stay far away.
Most of the songs I rate only get one or two stars. Maybe only 10 percent get three stars, and there might be 20 total artists that earn 4 or 5 stars. That might not seem like much, but it gives me about 140 shows to see, and given about 75 waking hours of festivities — and hosting duties for our live coverage — it's a lot of music in really not that much time.
How To Organize It All
So I go to a site called Sched.org — and this calendar in particular — and begin marking the calendar by checking off the bands in my iTunes with between three and five stars. I like this calendar because it includes more than just the "official" SXSW events. It's got artist descriptions and venue names, though I wish the mobile version showed addresses. Sometimes, I'll have six bands on my calendar at one time, and I have to pick which one to see. I'll read the description in the calendar, or I'll look to see if this is the last time I can catch that band. (Most artists play multiple times.)
But for all the advance planning, stuff just happens. Friends or fans come up to me and ask me if I've seen this or that and make suggestions, and I'll just drop everything and try something I hadn't planned to see. So the checklist is never completely checked, but that's just fine. In fact, it's more than fine — some of those unplanned shows are the most memorable ones I end up seeing.
If you want to see my schedule, go here. As of today, I'm still working on it.
Are you going to SXSW 2011? Who are you most excited to see? Who should I add to my list?