Laura Marling's Experiments In Awkwardness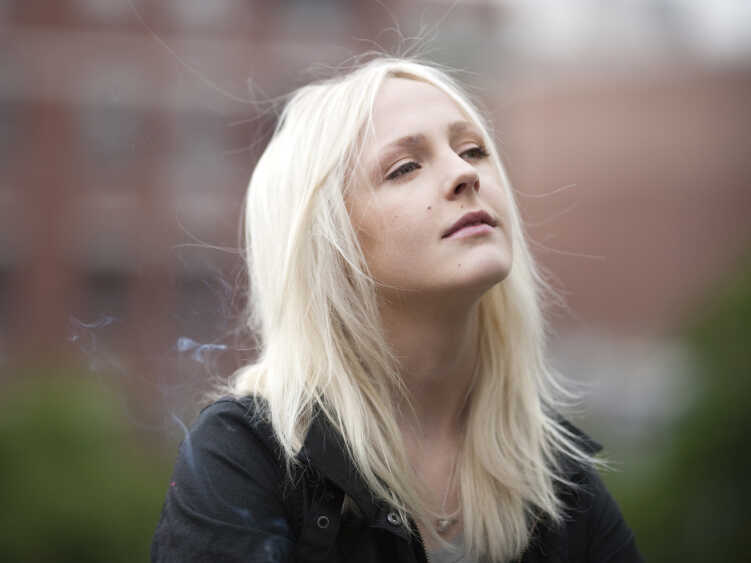 Laura Marling's mysterious project "Experiments in Awkwardness" was born in Glastonbury a few months ago and built around a simple idea: Take two strangers, put them in a room and play them one song for a very short, very exclusive concert. No frills; no cameras, microphones or accompaniment.
On a recent Wednesday, Marling brought her experiment stateside for the first (and, according to her publicist, probably last) time. I'd heard vague stories about her "experiments" taking place in England this past summer. And yet, when I bought a copy of Marling's new album A Creature I Don't Know and was randomly handed a golden ticket to one of her experimental shows with my receipt, I couldn't help but feel giddy, anxious and deeply curious. At England's Wilderness Festival in August, the lucky participants had reportedly taken a steamboat ride to a tent on a jetty for their private show with Marling. I was eager to see how the sessions in New York would compare.
When I got to work on the appointed date, I immediately sought out my manager. "So I have this... special thing I need to do on my lunch break that might take a bit longer than an hour," I said tentatively. Luckily, he didn't ask any questions. I don't know how I would have explained it.
At 1 p.m. sharp, I arrived at a small, nondescript storefront in the East Village and took my place in the short line on the sidewalk.
Thick white shades were drawn over both the window and door of the makeshift space. I had been instructed to bring a guest, but I was promptly separated from my friend and paired with a guy standing behind me. "You guys are strangers, right? Absolute strangers?" Marling's publicist asked. "Yeah, just met this moment," my new partner Joel responded.
When we were ushered through the door, we found ourselves in a blindingly white room. White floor, white walls, white ceiling. We took our seats side-by-side and, after exchanging a few words, waited in silence for what felt like an eternity. Just when I started to think the whole thing was a joke and began to suspiciously scour the room for a camera or a two-way mirror, a door opened and in stepped Marling with an acoustic guitar. Across from me and my partner was a third chair, but instead of taking it as expected, Marling perched on the small bench between us and, without a word, began to play a song so new, it wasn't on her latest album.
As I sat, staring into Marling's eyes and watching her fingers glide across her guitar, the wild excitement I'd felt upon entering the room quickly morphed into a strange sense of calm. Marling's voice ricocheted off every surface of the small room and enveloped me like a thick security blanket. Though I can't speak for Marling — who never met my gaze — I realized that it wasn't awkwardness I felt in that strange white room. It was a level of intimacy rarely experienced, let alone with strangers. I was so close to Marling that at one point, I actually found myself counting the freckles on her face.
When she finished the one song, Marling rose and left the room without a word.
We've reached a fascinating period in the history of music. In many ways, artists are more accessible to us now than ever before. That singer-songwriter who only plays house shows in Iceland? You can hear her music and watch a video of her performing a song in her bedroom. Heck, you can carry a solid month's worth of music with you on a device no larger than the palm of your hand. But in spite of the innumerable opportunities that new technologies afford us, something also gets lost. For many, music has become a solitary activity, enjoyed most often through headphones. We listen and disengage from the world — and sometimes from the music itself. We're so used to communicating through screens that we forget what it's like to be in communion with each other. So often, we confuse intimacy with awkwardness.
Though I had begged Marling's publicist to let me record the session, I suddenly understood why cameras had been forbidden. This feeling? You could never capture it; never take it with you. That moment, that memory, was something that only happened for the three of us, and there's something special about that.