'Big Easy Express': Three Bands, One Train, A Ton Of Music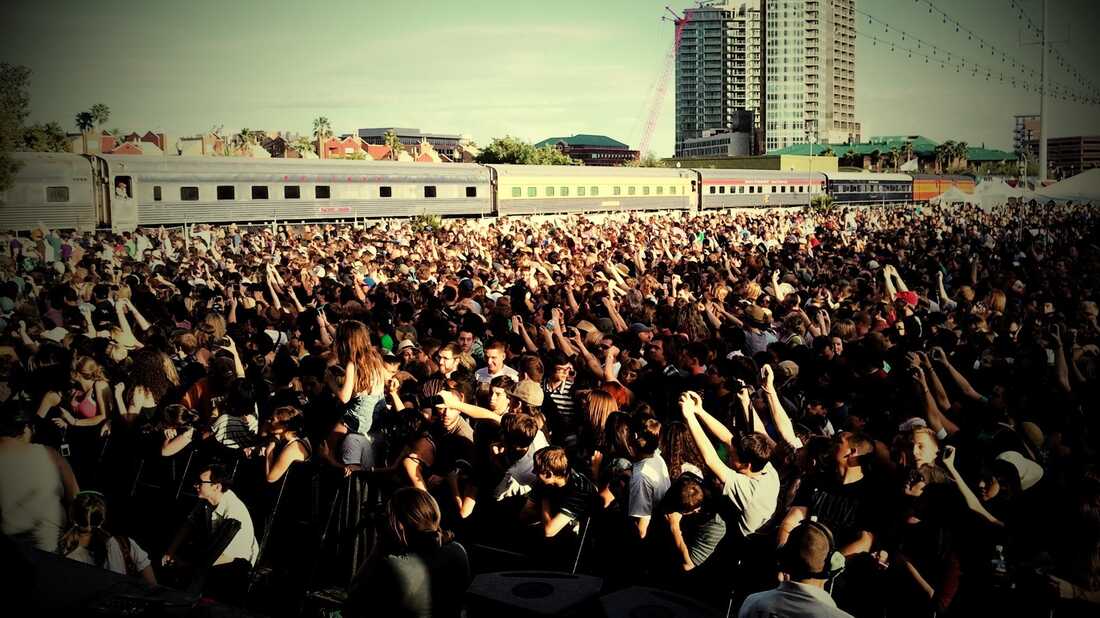 Attention fans of Edward Sharpe & the Magnetic Zeros, Mumford & Sons and Old Crow Medicine Show: You are bound for glory! Big Easy Express is a new film featuring all three bands and their whistle-stop journey from Oakland to New Orleans aboard a vintage train. The film (and yes, this was shot on film) launches this week on iTunes, months before it gets an official theatrical release. It captures magical and spontaneous performances on board and on stages along the way, which included unusual performance spaces like a shipping port in Oakland, a train yard in San Pedro and a vacant lot in Tempe. Each night, once the live performances were over, it was back on the train for good times and more jamming until the sun rose. Here's the trailer for Big Easy Express.
These are three bands from very different backgrounds, but they share a common love for old-timey music: Woody Guthrie with a stash of 1960s love tossed in. Big Easy Express was directed by Emmett Malloy, director of the White Stripes documentary, Under Great White Northern Lights. The camera work is so beautiful, a mix of slow motion, black and white, lo-fi and gorgeous lush imagery that keeps the film interesting while the bands kindle friendship and song.
I had the pleasure to interview the two producers of the film, Mike Luba and Bryan Ling, on stage at a documentary film festival called Silverdocs this past weekend. They assured me that what looks seamless — from train to stage and back again — was actually pretty chaotic and exhausting. But what is genuine are the friendships and the loving music that was made along the way. It will make a bigger fan out of anyone who knows these bands and will find new fans among those who have a passion for honest folk music and performance from the heart.