Song Premiere: Meshell Ndegeocello With Valerie June, 'Be My Husband'
Song Premiere: Meshell Ndegeocello With Valerie June, 'Be My Husband'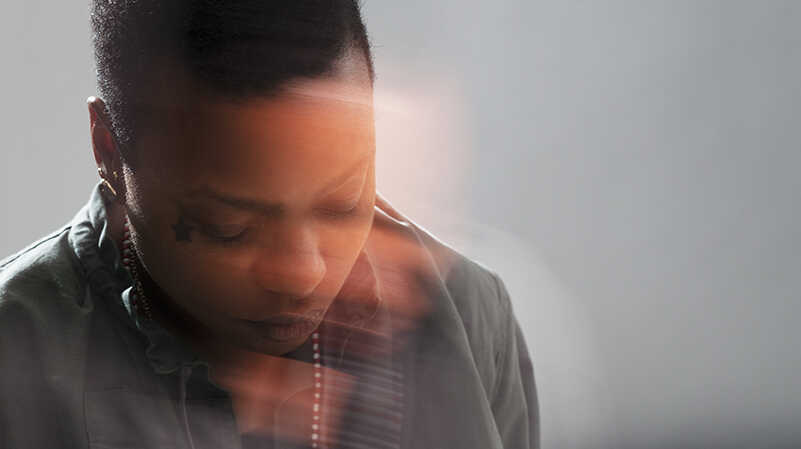 The word "uneven" gets tossed around in critical parlance to signify artists whose fingers stray from the quality-control button — to suggest that they don't know their own genius when they hear it. Meshell Ndegeocello probably hears that she's "uneven," but the world needs more musicians like her: Creatively restless and ambitious, she's released albums of rambling jazz (Dance of the Infidel), excursions into genre-bending pop (Plantation Lullabies), funky and deeply felt protest music (the ludicrously underrated Cookie: The Anthropological Mixtape), and breathtakingly evocative R&B (Bitter), just to name a few. You might like one Ndegeocello record, hate the next and love the one that comes after that, but you have to listen every time.
Listen to 'Be My Husband' by Meshell Ndegeocello with Valerie June
Song Premiere: Meshell Ndegeocello With Valerie June, 'Be My Husband'
Be My Husband
from Pour Une Ame Souveraine: A Dedication To Nina Simone
by Meshell Ndegeocello
Ndegeocello returns Oct. 9 with Pour Une Ame Souveraine ("For a Sovereign Soul"). It's one of her many creative hairpin turns: a tribute to one of her clearest spiritual forebears, Nina Simone, who knew from creative hairpin turns herself. Simone's catalog spanned some of the 20th century's greatest standards — "Feeling Good," "Don't Let Me Be Misunderstood," "Black Is the Color of My True Love's Hair" — but she was also fiercely, fearlessly uncompromising politically. Her songs became civil-rights anthems, to the point where it's impossible to separate Simone's art from her activism. Ndegeocello makes a natural accomplice to that legacy, and she tackles these songs with all due respect and understanding.
Ndegeocello herself takes on a supporting role in this cover of the classic "Be My Husband" — written by Simone's ex-husband and former manager, Andrew Stroud, who died Saturday at 86 — turning lead-vocal duties over to young up-and-comer Valerie June. Playing bass alongside guitarist Chris Bruce, keyboardist Jebin Bruni and drummer Deantoni Parks, Ndegeocello helps flesh out the original's rhythmically inventive stomp, then swoops in to lend sweet vocal harmonies to a pair of unexpectedly swoony choruses. The resulting concoction stays true to Nina Simone's spirit, while still taking liberties — a move worthy of a subject who never sat still for anyone.