This Week's Mix: Local Natives, The Who, Gospel Claws, More
Bob Boilen has had a ban on seeing arena rock shows for more than 30 years, but it may ending. He recently saw The Who at a mega-dome concert, performing one of Bob's favorite albums in its entirety. On this edition of All Songs Considered, hear a cut from that record and why Bob loves it so much.
Also on the show: Hear a cut from the upcoming Local Natives record, Hummingbird, the band's much-anticipated sophomore followup to 2010's Gorilla Manor. We've also got some fantastic new discoveries, including the ambient-rock group IO Echo, dreamy electronica from Blackbird Blackbird, and the mesmerizing voice of singer Angel Olsen. Plus we check back in with the Tempe, Ariz. band Gospel Claws, a group we first featured on All Songs Considered back in 2010.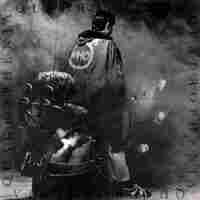 The Who
Song: Love, Reign O'er Me
from Quadrophenia
Local Natives
Song: Breakers
from Breakers
Blackbird Blackbird
Song: Tear
from Boracay Planet
Gospel Claws
Song: Hambone
from Put Your Sunshine Away
For more on this record, visit the artist's website.