This Week's Mix Brought To You By The Letter 'B,' From The Bad Seeds To Bombino
This week All Songs Considered is brought to you in part by the letter "B." Robin Hilton starts it off with Louisiana natives Brass Bed and the song "Cold Chicory." Then Bob Boilen shares a new cut from the artist Bombino from Niger. We've also got the otherworldly sounds of Benoit Pioulard, a moody return for the Bad Seeds (fronted, as always, by Nick Cave) and the blissfully infectious band Brainstorm.
The theme starts to fall apart a little when Robin plays a new song by Waxahatchee, but at least there's a "B" in the song title, "Hollow Bedroom." But then NPR Music's Lars Gotrich totally blows it away by introducing us to the really, really loud trio KEN Mode and the group's song "Your Heartwarming Story Makes Me Sick."
Artists Featured On The Show
Brass Bed
Song: Cold Chicory
from The Secret Will Keep You
Bombino
Song: "Amidinine"
from Nomad
Nick Cave & the Bad Seeds
Song: Waters Edge
from Push the Sky Away
Waxahatchee
Song: Hollow Bedroom
from Cerulean Salt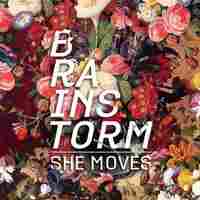 Brainstorm
Song: She Moves
from She Moves (Single)
KEN mode
Song: Your Heartwarming Story Makes Me Sick
from Entrench