How To Never Miss Another Concert
I love live music. But figuring out who's coming to town and when and where isn't so easy. I could go to every club's website to compile a list of upcoming shows, but that'd be cumbersome. Newspaper listing are often incomplete, don't look ahead and certainly don't filter or highlight who's in town based on my musical tastes. But now mobile apps such as Timbre, BandMate, Songkick, Bandsintown and Shows make concert planning and decision making a bit more informative and fun.
Going to shows is a huge part of my week and mobile apps are a huge addition to this process. I've been using many over the past year, here are the elements I think make up a great concert app:
Let's start with the obvious: I want to see a full list of concerts in my area or wherever I'm heading.
I want the app to know what I like. With so many bands playing on any given night in towns such as L.A., Chicago, New York or even D.C., it helps when an app can scan my music library and recommend shows it thinks I'll like.
If I see a show I like, I want to be able to add it to my calendar.
If I see a band I don't know, I want to be able to hear their music and see a bio.
I want to see showtimes and info including opening acts.
If I find a show I want to see, it would help if I could purchase tickets immediately.
With that in mind, the following apps come the closest to making sure I don't miss a great show.
---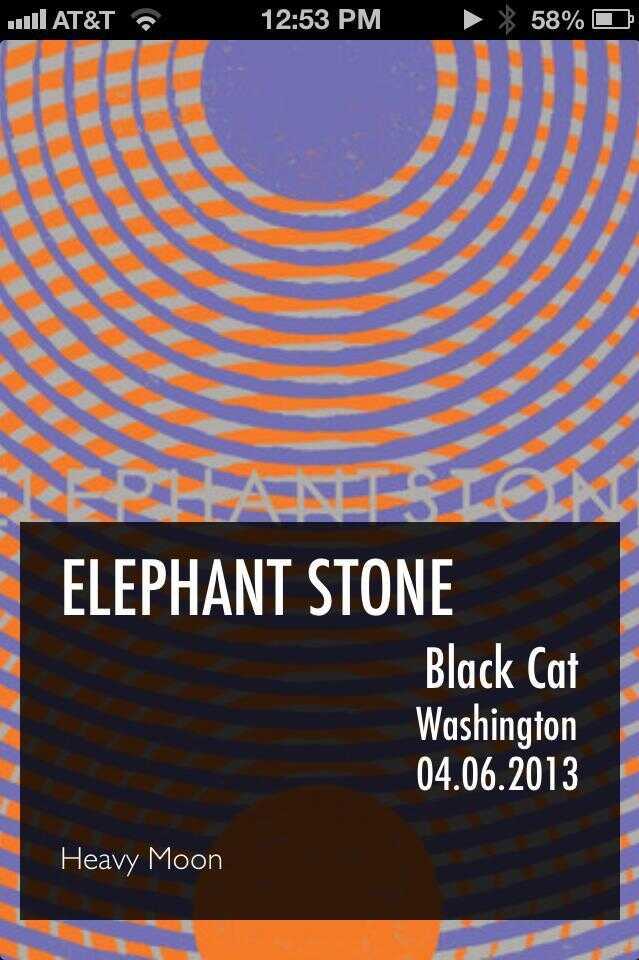 Timbre
The most beautifully designed of all the concert apps.
Good: Timbre is snappy, fast, concise and impressive. If I click on an artist, it immediately plays a clip of music. It's a feature I love, but one you can turn it off. You can search any city for the coming weeks, which is great for traveling. Like many of these apps, Timbre also lets you set a search radius, which is great bigger cities where you can choose to include or ignore shows in the burbs. You can Facebook, Tweet, email or text message the show to a friend. The text message is especially nice because it populates the text window with the band name, venue name and a link the concert you're going to.
Bad: One thing Timbre doesn't do drives me nuts: If I see a show I want to go to, I can't add it to my calendar. The only way to remind yourself of an upcoming event is to email it to yourself. For a smart app, that's stupid. Also, Timbre's list of upcoming shows is small compared to other apps, though it generally has the important ones.
---
BandMate
The most thorough of all the music apps I've used.
Good: It's the only app I've tried that allows me to add an event to my personal calendar. It scans my library to know what I like. I can hear song clips for bands I don't know, go to an artist's website, read their bio, go to their Facebook page, look at other tour dates, buy tickets, share it on Twitter, Facebook or email to a friend. If you find a show you like, you can hit a button marked "Event Lineup" that takes you to info on the opening acts. If, say, you just want to know who's playing the 9:30 Club tonight, you can search by venue. It's a fabulous app that always feels complete and highlights the artists I'm likely to care most about.
Bad: The upside to Bandmate, its thoroughness, also creates a small downside. The start up is slow. On my iPhone 4S, that takes about 15 seconds. Maybe that's due to the size of my music library, but it's a small price to pay for such a thorough app. Another annoyance: When I add an event to my calendar, it defaults to noon of the day of the show. Why it does this, I don't know. But I wish it would know the time the band hits the stage. One more: The bio info comes from Last.FM's database and the way this displays on my phone is tiny and cluttered with info not related to the bio. Personally, I'd rather see a Wiki.
---
Other apps I've tried but rarely go back to: SongKick takes too long to scan and load. Its list is tailored to me, but I can't find a listing of everything playing on a given night, and of course I want to see groups I've never heard of — don't you? Bandsintown has similar problems. The program crashes while scanning my library. Worse, its listings are incomplete. In the column "All Local Shows," it tells me the next one is three days from now, which is crazy. Shows let's me quickly star an upcoming concert that I'm interested in in, say, three weeks from now, and then automatically sends me an email in advance. I love that feature, though the app's database of shows is so incomplete. There are days with zero concerts listed. In a city like D.C., that just isn't true.
Do you use apps to help you find a concert? Which one(s) do you like? What features do you love or yearn for?