New Mix: Sleigh Bells, Omar Souleyman, Blood Orange, More
New Mix: Sleigh Bells, Omar Souleyman, Blood Orange, More
On this episode of All Songs Considered, NPR Music's Stephen Thompson stops by in his 1984 Dodge Omni to pick up hosts Bob Boilen and Robin Hilton for a trip down Memory Lane, revisiting artists they discovered years ago.
Stephen's most recent Good Listener column asked the question: "How do you get your parents into new music?" The gang talks about the dynamic of sharing music between generations, which prompts Stephen to play a cut both he and his mother love: Tracy Chapman's "Fast Car."
Also on the show: hear why Björk loves the sound of Syrian musician Omar Souleyman; Dev Hynes returns with a new album under the name Blood Orange; Sleigh Bells turn up the gain with a noisy and thrilling pop-rock record; and Irish singer James Vincent McMorrow takes a surprising turn from folk to R&B.
Songs Featured On This Episode
Sleigh Bells
Song: Bitter Rivals
from Bitter Rivals
As if it were even possible, the duo of Alexis Krauss and Derek Miller has gotten louder on the band's third album, Bitter Rivals. The title track wavers between noisy pop with angular guitars and vocals as sweet as hard candy.
Blood Orange
Song: Chamakay
from Cupid Deluxe
Multi-instrumentalist Dev Hynes has written songs for other artists such as Solange, Florence and the Machine and Sky Ferreira. As Blood Orange, he melds these different styles into smooth, R&B grooves. This cut, from his new record Cupid Deluxe, features Caroline Polachek of Chairlift.
Omar Souleyman
Song: Khattaba
from Wenu Wenu
Born in Syria, Omar Souleyman has written hundreds of traditional Middle Eastern songs, often for Syrian weddings, and many are never publicly released. The track "Khattaba" comes from Souelyman's latest record, Wenu Wenu, produced by Kieran Hebden (a.k.a., Four Tet).
Tracy Chapman
NPR Music's Stephen Thompson stops by to talk about his latest Good Listener column about turning your parents (or children) on to music you love. Thompson bonded with his own mother years ago over this 1988 tear-jerker from Tracy Chapman.
James Vincent McMorrow
Song: Cavalier
from Post Tropical
In an unexpected departure from his previous, more folk flavored work, Irish singer James Vincent McMorrow set out to make what he calls "the kind of stuff [he] listens to." In this case, it's R&B.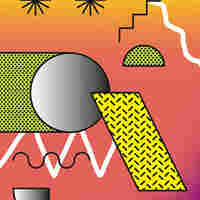 Ex Hex
Song: Hot and Cold
from Hot and Cold
Mary Timony is back with another new band. The Wild Flag and Helium singer's latest project is called Ex Hex, and their first single, "Hot and Cold," is a rough indie-rock jam with a new take on a familiar guitar riff.
Mind Spiders
Song: Steady
from Inhumanistic
The third album from garage rock band Mind Spiders is as noisy as the band's name is unsettling. On "The Steady," the Fort Worth foursome blends elements of the classic garage sound with '80s-inspired synths. Think Devo meets The Hives.