Our Favorite Discoveries From The 2013 CMJ Music Festival
Our Favorite Discoveries From The 2013 CMJ Music Festival
The View From Bob Boilen's Camera At CMJ
Bob Boilen

Bob Boilen

Bob Boilen

Bob Boilen

Bob Boilen

Bob Boilen

Bob Boilen

Bob Boilen

Bob Boilen

Bob Boilen

Bob Boilen

Bob Boilen
Every fall, hundreds of bands flock to New York City for the annual CMJ Music Marathon, a large festival where independent, new and emerging musicians hope to be discovered. All Songs Considered host Bob Boilen was among the countless journalists, bloggers, college radio DJs, record label reps and others who attempted to navigate the sea of live performances, hoping to find new music to love and share.
On this week's show, Bob's joined by music critic Maria Sherman and WSPN's Becka Schwartz to talk about and play some of their favorite discoveries out of the hundreds of shows they saw, including D.C. punks Priests, British multimedia duo Public Service Broadcasting, rockabilly singer King Dude, '60s-era soul from Nick Waterhouse and many more.
Priests
Song: Leave Me Alone
from Tape Two
Music critic Maria Sherman shares this cut from Priests, a group from Washington, D.C., that Sherman describes as "a female-fronted, arty proto-punk band," reminiscent of the District's bustling '80s punk scene.
Our Favorite Discoveries From The 2013 CMJ Music Festival
Eagulls
Song: Nerve Endings
from Nerve Endings
Becka Schwartz from WSPN in Saratoga Springs, N.Y., joins the show and brings with her a song from the British rock group Eagulls (not The Eagles). "Nerve Endings" is driving Brit rock with a Billy Idol-sneer.
Courtney Barnett
Song: Avant Gardener
from
Australian singer Courtney Barnett's brand of hazy pop has melancholy, but sweetly endearing lyrics. "Avant Gardener" is a fun jaunt with an off-the-cuff, stream-of-consciousness story.
Jacco Gardner
Song: Where Will You Go
from Cabinet of Curiosities
Another discovery from WSPN's Becca Schwartz, Jacco Gardner's "Where Will You Go" is a mysterious, dreamy pop wonderland.
Weekend
Maria Sherman rediscovered why she loves this band so much at this year's CMJ festival. Weekend's latest album, Jinx, is a mix of swirling, shoegazy guitars. But "July" is one of the brighter, poppier tracks.
Public Service Broadcasting
Song: Spitfire
from Inform - Educate - Entertain
An innovative British multimedia duo, Public Service Broadcasting, was one of Bob's favorite surprises from CMJ. The band borrows clips and audio samples for public service announcements and infomercials and turns them into music.
King Dude
Song: Holy Land
from Burning Daylight
"Holy Land" is a deep and imposing dust-up drowned in reverb. King Dude's rockabilly voice will likely remind listeners of Johnny Cash.
Nick Waterhouse
Song: Some Place
from Time's All Gone
Straight out of a 1960s jukebox, "Some Place" is soulful and rambunctious with a wailing brass section.
Arcade Fire
Song: Reflektor
from Reflektor
Arcade Fire played by far the most popular show at CMJ, so we thought it was a good excuse to share the title track from the band's upcoming new album, Reflektor. It's got supremely danceable synths, a writhing bass line, and a cameo by David Bowie.
Perfect Pussy
Song: I
from I Have Lost All Desire For Feeling
Reviewer Maria Sherman shares a track from Perfect Pussy, a smart, pop-punk band. "One" is a furious cut, teeming with overdrive, and lots of noise. It comes and goes in a flash.
Celestial Shore
Song: Rabbit Hole
from 10x
"Rabbit Hole" from Brooklyn's Celestial Shore evolves like a Dirty Projectors song, morphing from straightforward indie rock to John Zorn-inspired madness, and back again.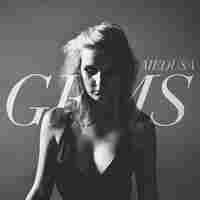 GEMS
Gems is a dreamy pop band from Washington, D.C., comprised of Lindsay Pitts and Cliff Usher. "Medusa" is the title track from the duo's first official EP.
Lucius
Song: Tempest
from Wildewoman
Lucius was one of Bob's favorite acts at CMJ. The band's performance coincided with the release of its phenomenal debut album, Wildewoman.
Yuck
Song: Middle Sea
from Glow & Behold
Though the group was without one of its founding members (Daniel Blumberg, who left to form Hebronix), Yuck proved with its performances at CMJ (and new album, Glow & Behold) that the band is as strong as ever.
Jonathan Rado
Song: Seven Horses
from Law and Order
Jonathan Rado is a founding member of Foxygen, one of the most talked about bands from CMJ 2012. A year later, he released his debut solo record, Law and Order.
Hookworms
Song: Away/Towards
from Pearl Mystic
One of the most intense acts at CMJ 2013, this Leeds-based group mixes pulsing noise with screaming vocals.
Shark Week
Song: Baby Maybe
from Santurce
As the group's name implies, Shark Week is a fierce, surfy rock band with a lot of charisma.
The Bots
Song: 5.17
from Sincerely Sorry
One of the more surprising acts at CMJ, The Bots are an L.A.-based duo featuring young brothers Anaiah and Mikaiah Lei. Though just 20, Mikaiah plays guitar, bass, keys and sings in the group, while his 16-year-old brother Anaiah handles percussion and background vocals. Their sound is not too far removed from The Black Keys or The White Stripes, but with a bit more R&B influence, and a dash of Jimi Hendrix thrown in.
The History of Apple Pie
Song: Don't You Wanna Be Mine?
from Don't You Wanna Be Mine?
The History of Apple Pie had by far the best band name at CMJ, and their sound is super raw.
Margot MacDonald
Song: Speed of Sound
from Canvas
Margot MacDonald is yet another artist from Washington, D.C. who stood out at CMJ. She makes her unique sound by layering live vocal loops with percussive beatboxing.
Anti-Parent Cowboy Killers
Joanna Gruesome
Song: Anti-Parent Cowboy Killers
from Weird Sister
One of the most talked about bands of the entire week, and a band we've featured on All Songs Considered, Joanna Gruesome was a big splash at CMJ, with a raucous, raw sound and a charismatic lead vocalist in Alanna McArdle.